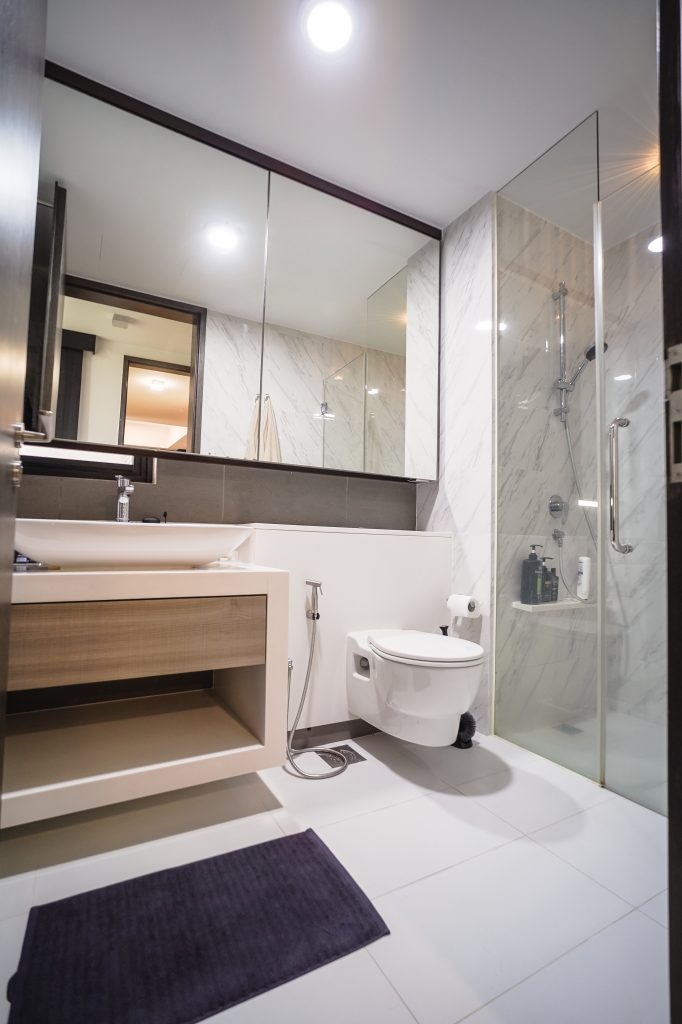 Living in this modern era requires you to be selective in making decisions, especially when you are planning to remodel your toilet. Your toilet might be the most favourite spot in your area after your bedroom, and having a nice interior design would never go wrong. The first thing you need is to do your HDB renovation toilet. Here are some things to consider before getting your best toilet renovation Singapore!
How Much Do You Need to Invest in a Toilet Renovation?
There are many toilet renovation contractors you can find in Singapore with their toilet renovation promotion that fit your budget. You can always have an option to start with a low budget to a high budget. Quick tip for you, keep in mind that you will get what you pay for. So, never set your expectations high when you only invest a small amount of your money.
If you are wondering how much it costs to renovate a bathroom, this online data of the toilet renovation cost in Singapore for you to consider before making your budget.
First, to hack a bathroom you need to spend your money for about $1,200-$1,500. While doing plumbing is around $1,200-$1,500. Tilling will cost you around $3,000-$4,000. However, you need to spend $600-$850 for shower screen. Lastly, vanity renovation will cost you around $850-$1200 but depending on the size.
Things That Can Change Your Toilet Renovation Budget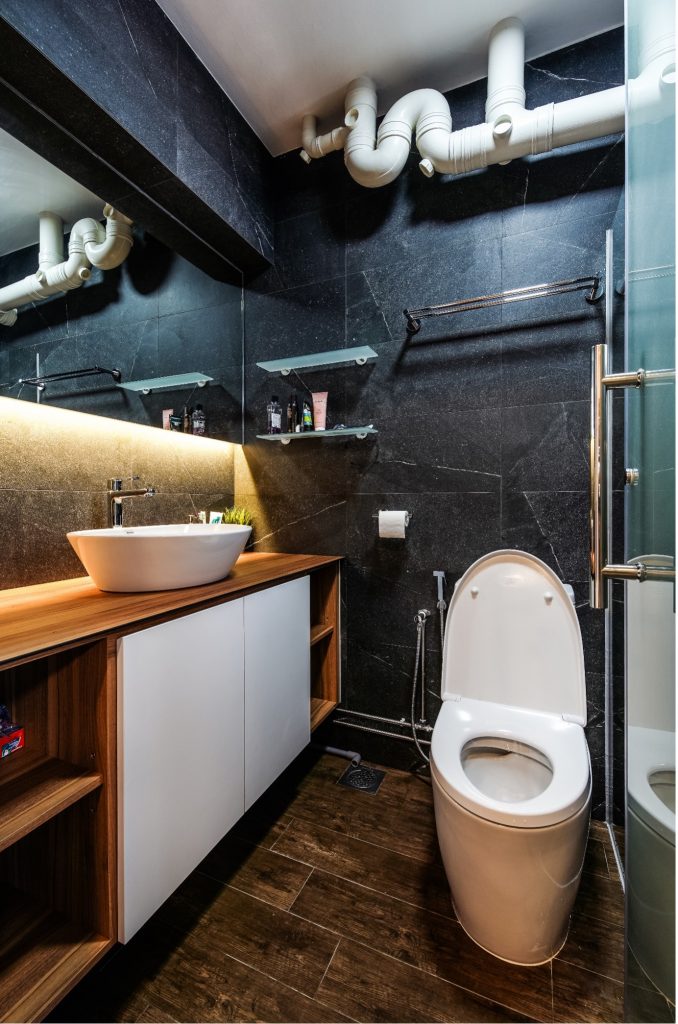 Before you wonder how much your HDB toilet makeover will cost you, you should take notes on some aspects that might be crucial for your renovation. Here are examples you might need to consider and affect how much money you need to spend.
If you are looking for certain fixtures, it will probably cost slightly more than regular alternatives. It is because the construction process for this would be clearly different from regular ones. For example, a wall hung shower, WC, and taps will cost you more. So, be mindful of every aspect of your toilet design in Singapore.
However, you also need to examine your toilet for any damage or leaks. If it is possible to repair the toilet by yourself, do so before looking for new toilet renovation ideas and the professionals.
Moreover, after you have completed the repair, you can also purchase new accessories to replace the old ones. It will definitely save you more money.
In addition, the size of your bathroom can also alter your budget, so consider it very carefully before you make a budget plan or choose an interior designer. Plus, you need to determine how many things you have inside your bathroom.
Whether large or small one, you should make this area well organised and saving more space can also save your money while you can still maximize the furniture in the room.
You can also transform your basic idea and vision of your dream bathroom into a sketch by yourself. This way can help you to save your money and make the time more efficient. But it is okay if you need professional help, an interior designer will definitely provide you the best offer and help you to build your ideas and turn it into design.
How Much Is To Renovate A Bathroom?
You may be thinking about renovating your bathroom but don't know where to start. We've got some tips on what to look for when choosing a contractor! Renovations can be expensive, so it's important to choose a contractor that will provide quality service at an affordable price. Here are some things to consider before hiring a contractor.
Ask For References.
Before you hire any contractor, ask them for references. This will give you insight into how well they work with others and whether they're trustworthy. If possible, call the bathroom renovation references yourself to see if they're willing to talk to you. The person seems to work well with others and is likely trustworthy. They may be willing to talk to you about their experience with the bathroom renovation.
Check Out Reviews Online.
Once you find a contractor who seems reputable, check out reviews online. Look at the number of positive and negative reviews and read through them carefully. Also, make sure to check out the BBB's website (www.bbb.org) to learn more about the company. The company has a good number of positive reviews, but there are also a few negative ones.
Overall, we feel that this company is reputable and has a good track record. The BBB website has some information about the company, including complaints and reviews.
Do Some Research.
Before hiring a contractor, do some research. Find out how much the project will cost, what materials will be used, and whether there are any special requirements. Ask questions about the process, such as how often the work will be done, what kind of warranty the contractor offers, and how long the job should take.
What is the process for getting a contractor? There are a few ways to find a contractor. One way is to use online services, such as Yelp or Angie's List.
Find The Right Contractor.
If you're looking for a reliable contractor, ask friends and family for recommendations. Check online reviews and ratings to find contractors with good reputations. Also, check with your local Better Business Bureau (BBB) to see if there are any complaints against the company.
Check online reviews and ratings to find contractors with good reputations.
Check with your local Better Business Bureau (BBB) to see if there are any complaints against the company.
Ask family, friends and neighbors if they have had a similar experience
Look at the contractor's previous work and check references
Don't rely on a price alone, but also think about the quality of materials and the timeframe
Contact three or more contractors and get quotes, then compare them
Be Prepared.
It's also important to make sure you understand exactly what you want before hiring a contractor. Ask yourself these questions: Do I need a new bathtub? Are there cracks in my walls? Does my sink leak? Do I need a new toilet? Will I need to replace my flooring? Knowing what you want will help you narrow down your options.
If you're not sure if you need a new bathtub, check to see if there are any cracks in your walls or if your sink leaks. If there are, you may need to replace your walls or your sink.
Toilet Renovation Packages
The costs of toilet renovation are indeed high. To do so, you must do the calculations in detail. It is also critical to properly manage your finances before spending your thousands of dollars in renovation costs. Hiring an interior designer will help you not only designing and renovating your room but also creating a reasonable and efficient budget. So, it is important to know what is included in the toilet renovation package.
When you decide to do a complete toilet renovation, the professionals usually offer some essential things like; your new toilet items, hacking your toilet, plumbing work for new piping, waterproofing works, tile finish for your toilet, and shower screen.
Exqsite also has several different bathroom ideas you can consider. As a professional that has experienced team members, Exqsite will not only offer you with a toilet renovation promotion but also will provide you creative and effective solutions to all problems you might have during the renovation.
Many people would hire an interior designer to handle a variety of tasks such as plumbing, carpentry, flooring, and decorating to lessen the burden of collaborating with various vendors. On the other hand, if you're only doing small refurbishments like rearranging furniture or redecorating, hiring a contractor would be more effective for your budget.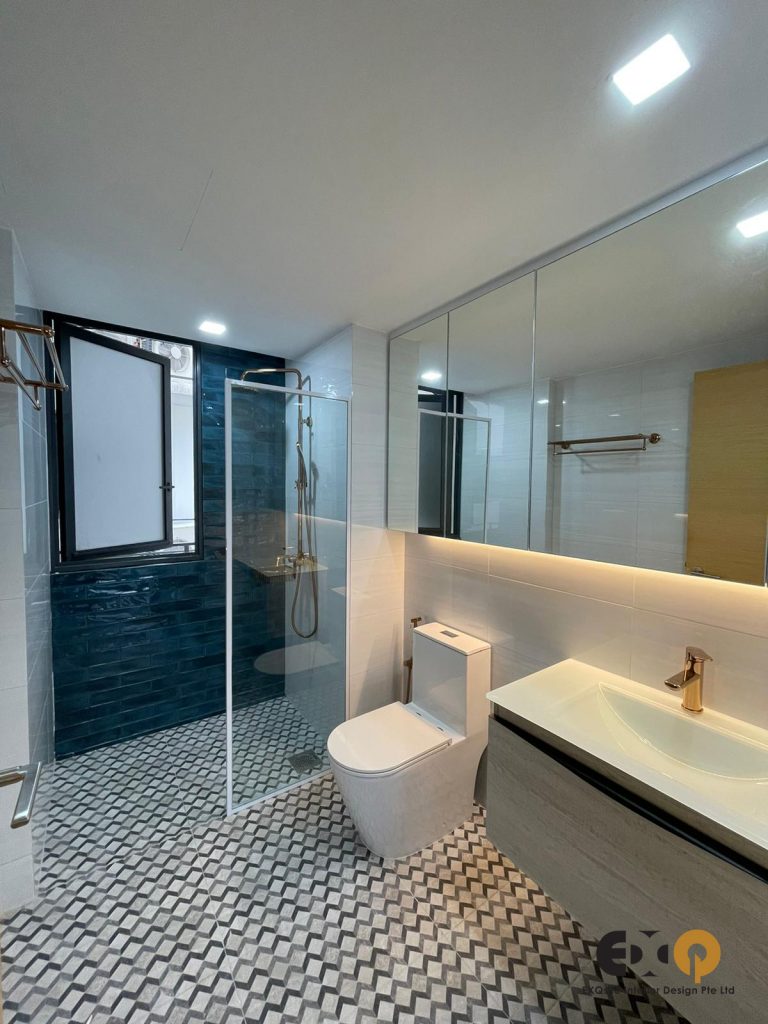 With Exqsite, No More Worries about Your Home Design!
A professional interior design firm like us will provide the best service you can have with efficient budget planning. We always aim to combine our creativity and visual aesthetic with functionality to create a magnificent styled home for our clients. You can call us or come to our workshop at 8 Boon Lay Way Tradehub for further information.
What is The Cost for Reasonable Toilet Renovation in Singapore