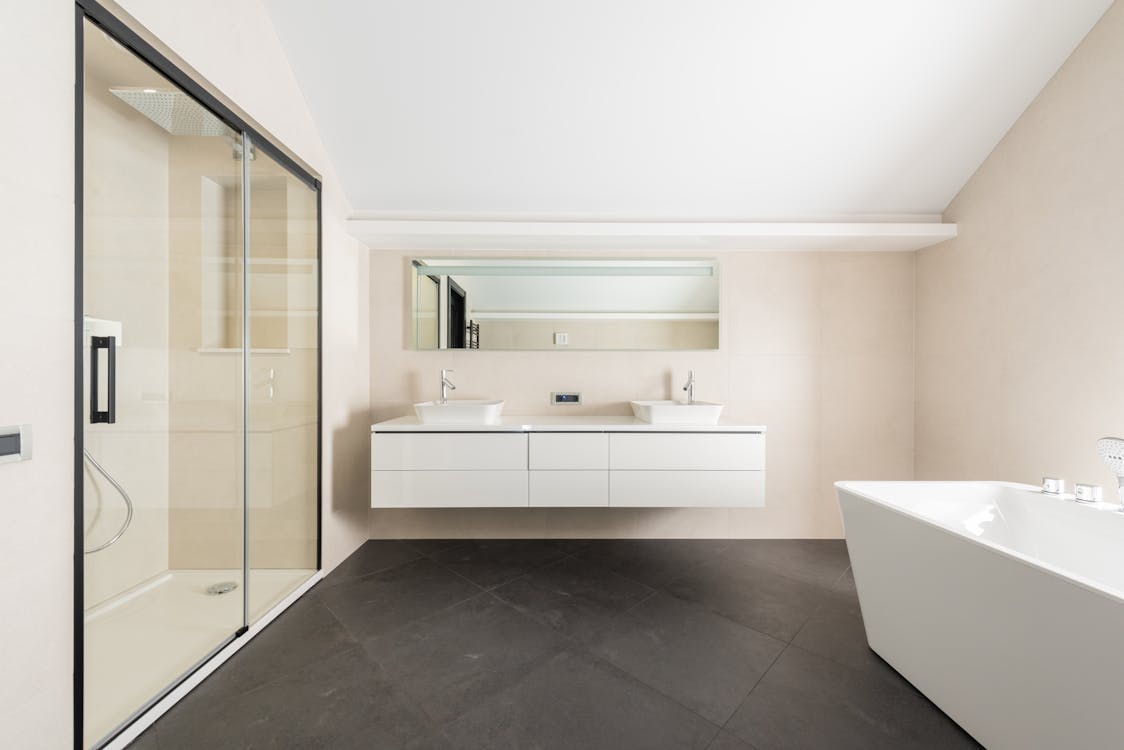 If you are a big fan of minimalist and monochrome-themed, then you definitely should add that to your interior design for bathroom ideas in Singapore! Especially for the bathroom, black and white themes can make the bathroom seem bigger. Why? Because it gives you an illusion of a simple, modern, and luxury vibe. So, how to design black and white bathroom decor ideas in Singapore?
What's the Point of Having a Minimalist Bathroom?
Having a minimalist bathroom means that you embrace the simplicity within the toilet design in Singapore. It also shows the personality of calmness. If you just bought a new HDB flat in Singapore, or landed property, trying to renovate the bathroom is a good move. Besides, if you are interested in decorating your bathroom with a monochromatic design, try to have black and white bathroom accessories as well!
The two-tones natural colours in the bathroom will result as an elegant black and white bathroom. Because it only consists of two main colours, the bathroom will look more fancy and luxurious. Additionally, black and white interior design cost less than normal-themed colours.
If you want to have a beautiful black and white bathroom design, you can contact Exqsite Interior. We can provide you with several interior designs for the bathroom, all based on what you desire!
5 Black and White Bathroom Ideas in Singapore
Do you wish to know about the best black and white bathroom ideas in Singapore? Check these out!
Add a Touch of Subway Tiles
People often ask about "How to apply for the best black and white shower tile ideas?" The answer is, subway tiles! It has been a viral trend that most people use in Singapore to make their bathrooms more satisfying. The good news, you can also add them to your own bathroom!
Rather than applying the tiles horizontally, try to arrange them vertically. Different is better, right? The linear patterns will make the wall decor become less dull. It is also adding a touch of fun. Compared to seeing a fully white wall with no additional accent, and seeing a white wall with black lines, which one is cooler? Definitely the second choice!
Minimalist Is Better!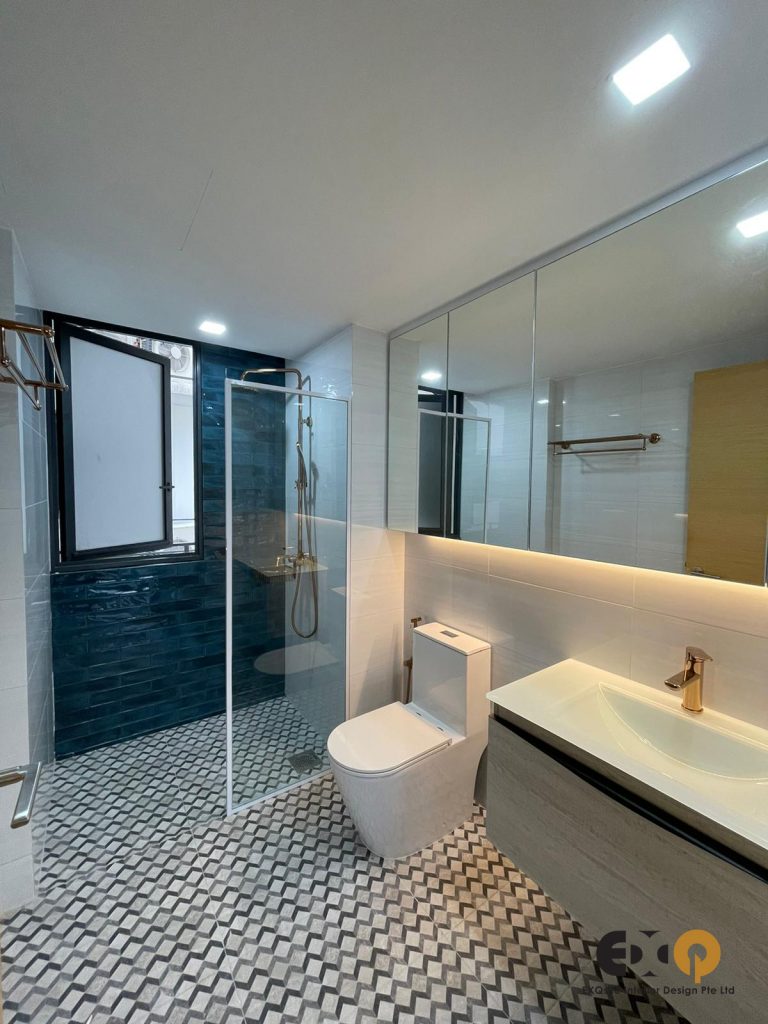 Usually, the Japanese-inspired minimalist style for bathroom interior design will be a perfect match for you! Because, it will put less effort, but still gives you a classy finish. How to do it? It is easy, just by putting exposed piping, then, your bathroom will look more industrial. Besides, the industrial look is unique and it has become a new trend.
A Glimpse of Nature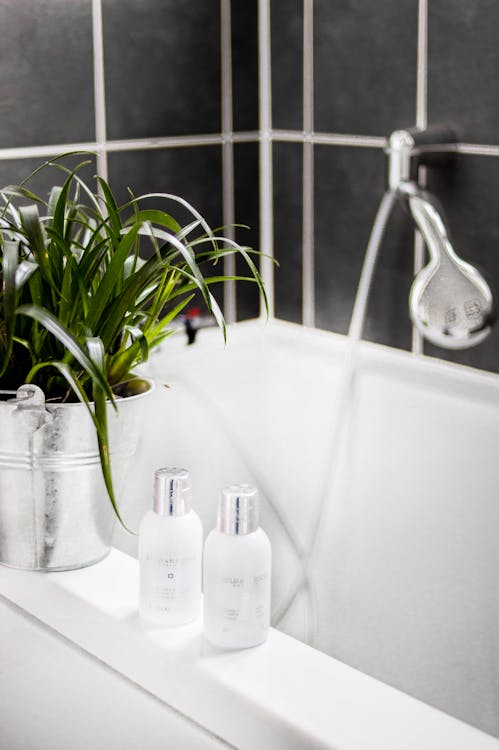 To avoid having a boring and monotone bathroom interior, you can put some plants! It will provide a fresher look and enliven the area. Since it is a black and white interior design, you do not have to put too many plants. Just two pots of flowers, and it is done!
The green elements will also add a more aesthetic look through visual presentation. The color of the pot can be varied, but it is better to match the pot's color with the same bathroom color palette. Besides plants, you can be more creative by putting some decoration stones inside the pot.
Marble, Make it More Valuable
Who says that marble elements can only be used to decorate a big bathroom? The fact is, if you want to spend more money on walls and floors, you can apply marbles for a small bathroom as well. For example, black and white bathroom tiles in a small bathroom, especially with marbles, will result in an elegant design.
But, if you think marbles may be too pricey, Exqsite Interior will find you the best elements with the best quality besides using marbles. With Exqsite Interior in Singapore, you will always obtain feedback from us regarding interior design choices and inspirations.
Mirror, Mirror on the Wall!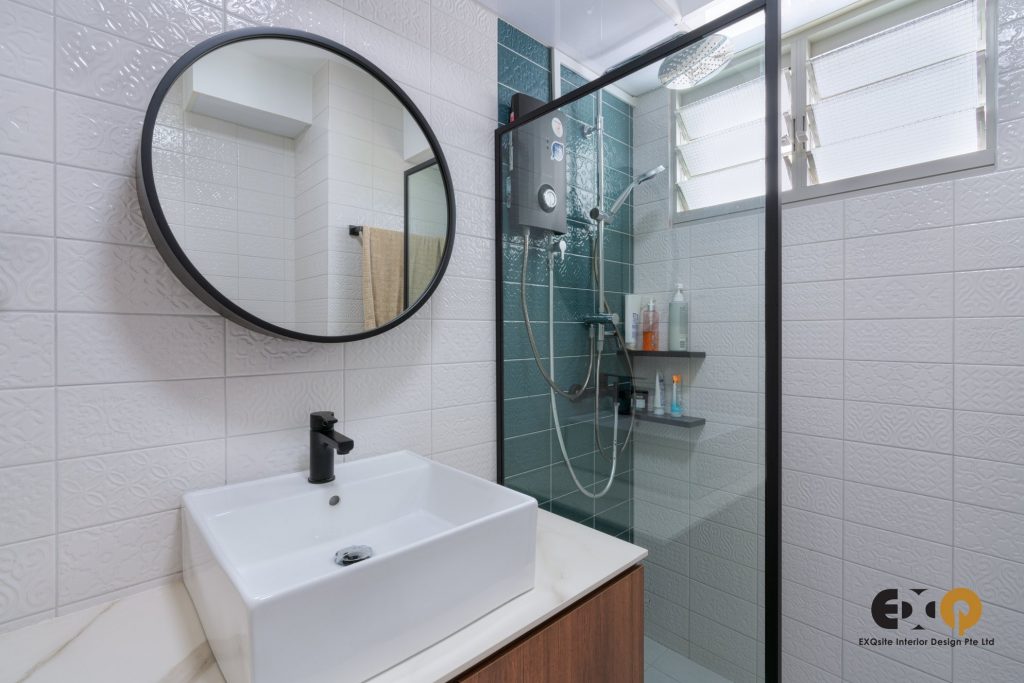 Who is the fairest of them all? Well, the perfect answer is your black and white bathroom interior design! There is no way that a bathroom does not have a mirror, because for most people, they do their skincare and bodycare routines in their bathroom. Yes or yes?
So, a simple mirror or a back-lighted mirror is going to make your monochromatic bathroom look bigger because the mirror itself gives an extra illusion toward the space. Go and try it yourself!

Are black and white bathrooms timeless?
Yes! In order to have black and white bathroom decor ideas, you need to apply for some beneficial features that have been mentioned before. It will not only make your dream bathroom come true, but also present the bathroom as an elegant, classy style, with minimum budget.
Exqsite Interior in Singapore, Solution for Your Bathroom Design
Trying to renovate or create interior design for your bathroom, whether it is in HDB flat or landed property, you can always give Exqsite Interior a call! Exqsite is trusted, given achievements of HDB licensed renovation contractor, bizSafe Star, and more, we can assure that you can get great black and white bathroom ideas in Singapore!
5 Black and White Bathroom Ideas in Singapore