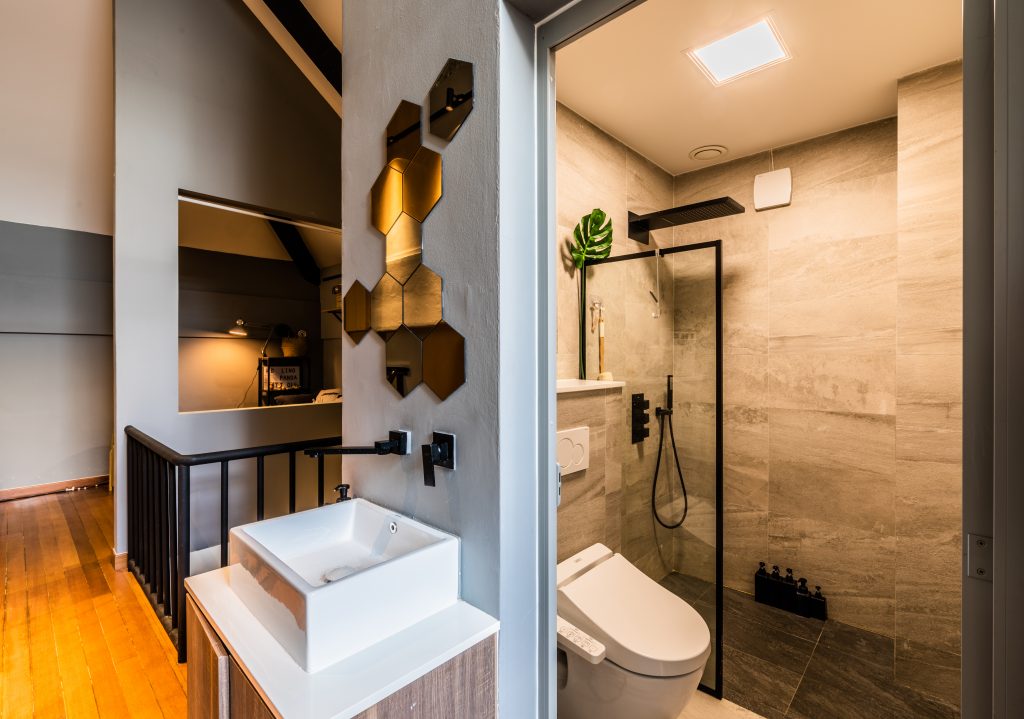 In getting a roomy bathroom, the first step you might want to take is to find toilet renovation packages Singapore. Exqsite Interior will provide you with the best plan for your 3-room HDB toilet design in Singapore! With 20-year experienced workers, Exqsite Interior will present you creative and effective solutions to all problems including giving you the best toilet renovation ideas Singapore. If you are interested, you can always visit our showroom at 8 Boon Lay Way Tradehub, Singapore.
Do you wish to have a more spacious bathroom in your HDB? Or the current design of your HDB toilet bores you to death? Then you should consider having an old HDB toilet renovation! The limited space of an HDB will not stop you from having a bigger bathroom. In order to own a larger bathroom, it is better for you to find references for your HDB small toilet design.
Sliding Door Never Wrong!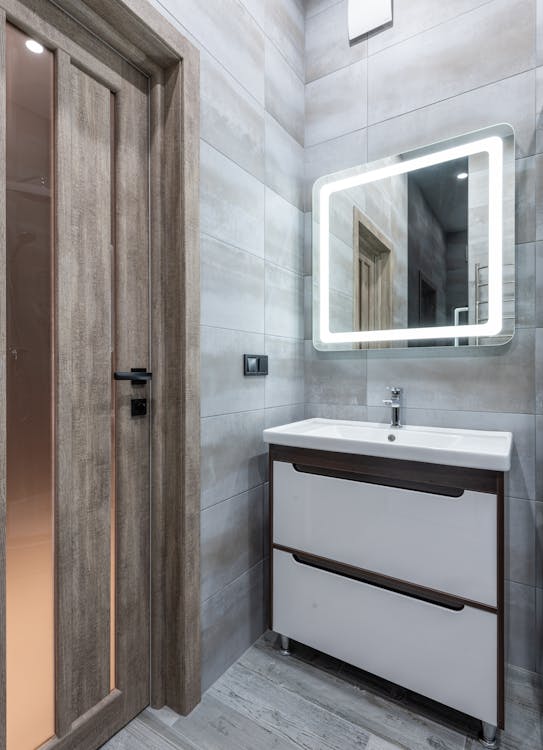 Do you ever feel like it is hard for you to enter and exit your own small bathroom? That means, you probably need to replace your regular door with a sliding door! Why? Because installing a sliding door to your small toilet will save more space than you usually have. It will give you freer room for to work with.
If you are a newbie sliding door user, you will have to choose the right material for your sliding door. Light materials such as wood or glass are recommended to be applied because of their lightness, it will put you at ease when you want to enter or exit your bathroom!
A Corner Tub or Shower Tub Combo? Go for It!
Who says that a tub will not fit in your small bathroom? Most people say that, obviously. Well, if you want to have an HDB toilet makeover, you should definitely give a corner tub or shower tub combo a go! After having a rough day at work, we all want to have a nice relaxing shower, right? Owning only a standalone shower will not give you the pleasure of a relaxing bath. Say no more! It is time for a shower tub combo to shine! You can install a shower and tub all in one space!
If you still want to separate your shower and tub, you can install a corner tub. Since your small toilet will not support a large bathtub, you can go for a corner tub which will only take a small room in your toilet.
Shelves in The Wall
Every space in a small bathroom is important. So, utilizing a little space will give a big impact to make your small toilet seem bigger. Instead of having a regular cabinet or shelves to put your toiletries, you can try to build shelves into your toilet walls. This idea of toilet renovation will show you that adding more storage will not take up more space!
If you are not experienced enough in creating this type of renovation, Exqsite Interior will definitely be your assistance! What customer needs and requirements are our number 1 priority. The process of renovation will also be monitored and inspected well by our experienced employees, so you do not have to worry any more!
Similar Floor and Walls with the Same Tone Color and Texture
The inconsistency of using floor and walls tile designs will cause you even a smaller-looking bathroom. The key to designing a small bathroom is using the space wisely. Most people who are looking for ideas on how to design their bathroom often look at large bathrooms because they think that it will seem more spacious and luxurious.
It's important to remember, however, that in a smaller bathroom you don't need as many items or furniture pieces. This post provides some great tips on how you can create an elegant and serene atmosphere with your limited space.
Besides, applying different designs to your toilet floor and wall will cost you more. Bathroom renovation cost Singapore are varied, so as a small bathroom owner, it is recommended for you to have the matching floor and wall tile design including its colour shades and texture to minimize your expense.
In addition, installing one-tone floor and walls will create an illusion of a bigger space. Surrounding your small HDB bathroom Singapore with light-coloured walls and flooring tile design will also illustrate cleanliness and even make your toilet more stylish than before!
The Bigger Mirror The Better!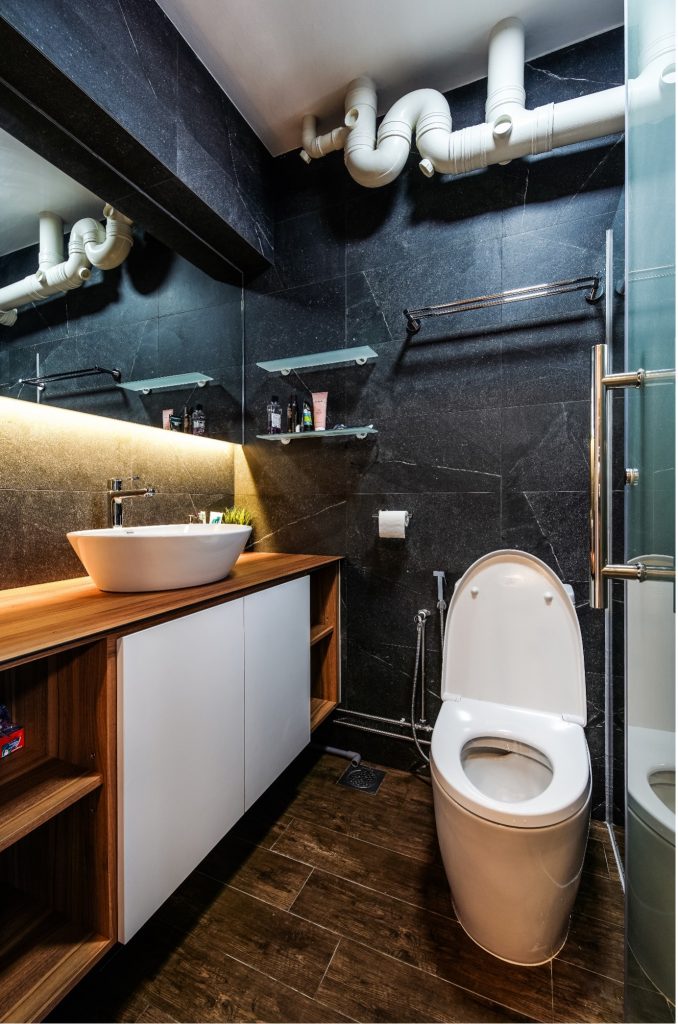 Besides its function as an asset for getting ready, the mirror in your bathroom also gives an illustration of a larger room. Smartly placing your mirror is as important as getting a double-sized appearance of your minimalist bathroom.
The reflective factor that a mirror has is not only to make your bathroom brighter but also will give you an aesthetically pleasing visual. If you find it hard to choose the right mirror design for your bathroom, sometimes the mirror for your HDB bathroom Singapore comes along in the HDB toilet renovation package, so you do not have to worry about it that much!
You might find that renovating a small HDB bathroom in Singapore will be as hard as creating a new bathroom. In fact, with the right planning and a broad knowledge regarding how to remodel a tiny toilet, you will get the minimalistic toilet you aspire to have!

Exqsite Interior for Your Interior Needs!
With multiple achievements such as ACS registrars, bizSafe star and HDB licensed renovation contractor, Exqsite Interior has been trusted by many people all around Singapore. The good feedback we always obtain proves that we will professionally assist you in renovating your HDB small bathroom renovation in Singapore. So what are you waiting for? Give us a call now!