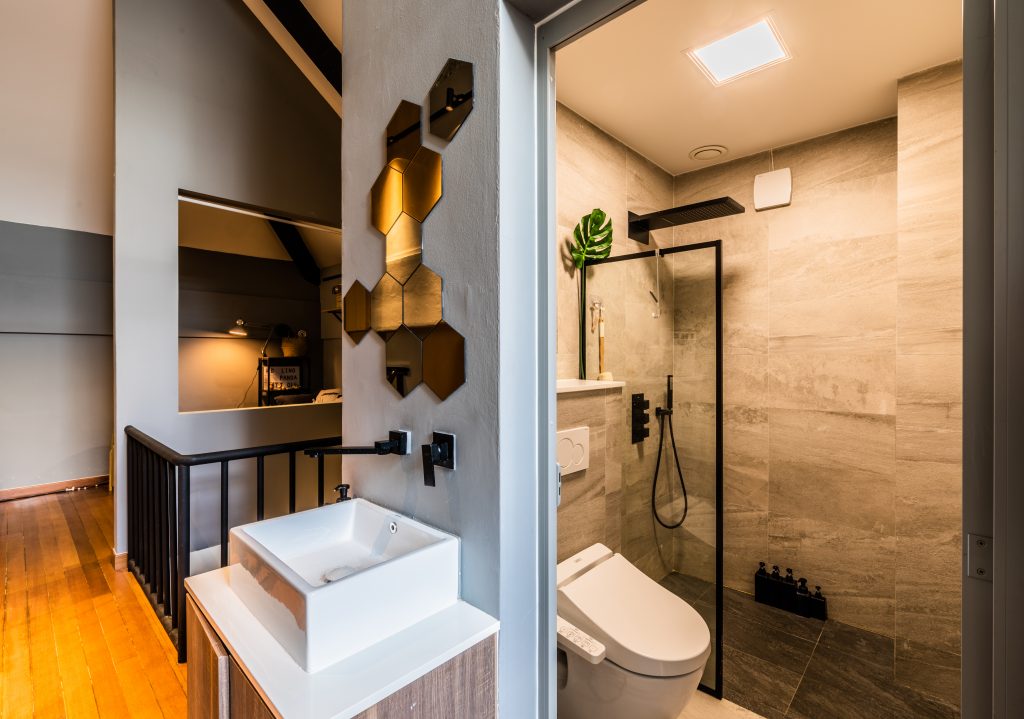 How is your bathroom design and your toilet design? Are you bored of seeing your bathroom interior design? and you are looking for practical bathroom design ideas in Singapore? If so, then you're not alone. The bathroom is one of the most-used rooms at home and it's no surprise that people want to make sure they have ample space to relax and unwind after a long day.
How much does it cost to renovate a bathroom in Singapore?
The cost of renovating a bathroom will depend on the size of your space. A common rule is to allocate $20-25 per square foot but you need to take into account that this can be misleading because it doesn't factor in other costs like electricity, plumbing fixtures and materials for renovation which aren't included in that number. It's best to consult an expert who will provide a more accurate estimation of how much would fit within your budget as well as what are some practical solutions!
That's why many homes have small spaces which can be challenging when trying to create a modern bathroom design or expansive bathroom design. Luckily, there are simple ways to solve this problem!
Practical Bathroom Renovation and Design Ideas for Small Spaces
1. Say Yes to Mirror Walls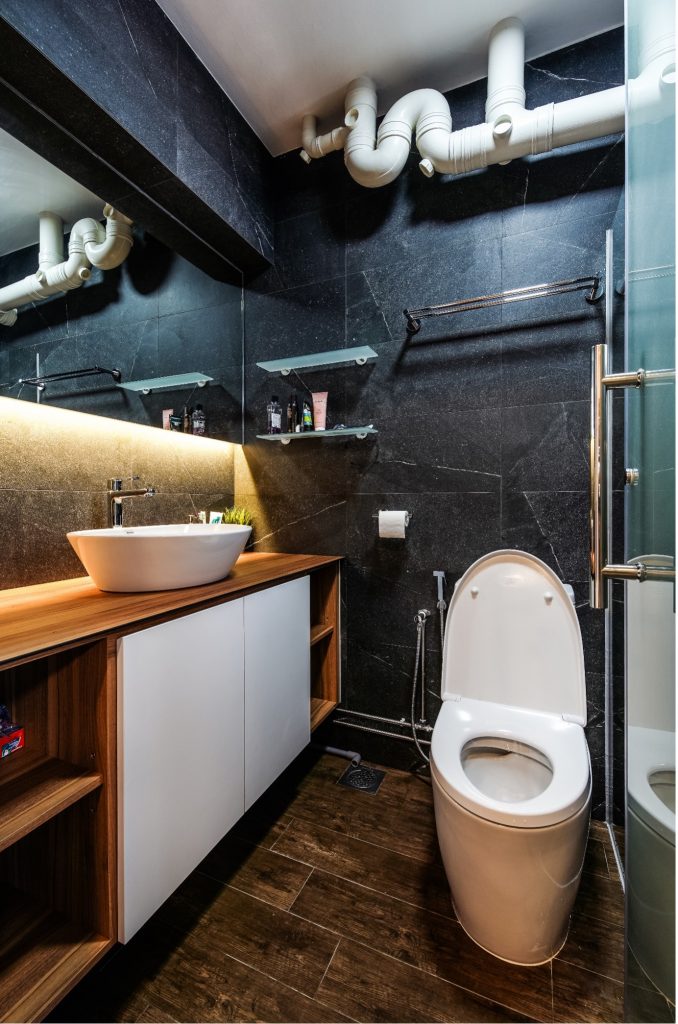 Mirror walls are a great way to make any small bathroom look bigger and feel more airy. It also reflects natural light which helps brighten the room! Mirrors can be used to reflect the light, so you can get more lighting in your bathroom. To save more space, you can also try to install built-in storage behind the mirror. So, you can utilize your mirror as storage as well.
2. Say Yes to Multiple Sinks
If you don't have enough space for one big sink, consider installing two smaller sinks next to each other or even adding in a basin with an integrated faucet as seen above. This is perfect if your family members want privacy when getting ready in the morning but still wants access to water at all times.
3. Bring Nature Indoors
It can be daunting trying to create a relaxing atmosphere when there isn't much space but this doesn't mean it's not possible! Start by placing plants inside your bathroom so that they're visible
4. Install a sliding door
This is a great way to maximize the space in your bathroom without it feeling too cramped. Sliding doors are also perfect if you want extra privacy when entering or exiting the shower.
Moreover, install a swinging entry door in our bathroom which takes up a lot of space in our small bathroom. To save some space, we recommend switching your regular swinging entry door into a sliding door. After Installing a sliding door, you can have more space that can make your bathroom look bigger.
5. Avoid Using Mirrors as Shelves
It may seem like an efficient use of wall and floor space but this will create more reflection from light sources which can often be distracting for those who have sensitive eyesight so avoid using mirrors as shelves!
6. Move Furniture Around
If there's not enough room for everything, try moving furniture around until you find that sweet spot where nothing feels squished together. It can feel overwhelming at first but once everything has settled down, you'll find yourself with much-needed new storage options! If possible, dedicate one side of
7. Remove your tub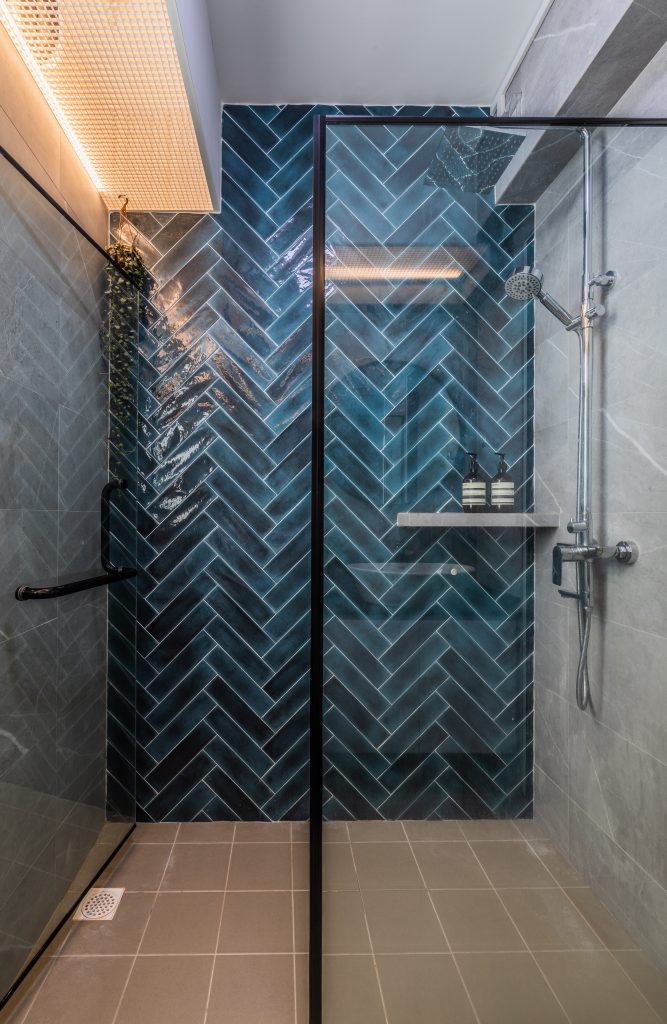 A tub is a luxury and definitely not necessary in Singapore. Removing your tub can free up enough space to find furniture that works for you while also giving the bathroom a sleeker feel.
8. Avoid using doors as bookshelves
Some people may think it's an efficient use of wall space but if there are too many items on these shelves, they will end up blocking easy access to some spots which could be problematic when trying to reach something quickly!
9. Don't forget about lighting fixtures
The right light fixture can change the whole mood of any room so make sure you take lighting into consideration before committing to anything else! Fortunately, we have plenty of options here at HDB Design Centre–just ask our experts who know what looks best
10. Use Small Sinks and Floating Vanities for minimalist bathroom design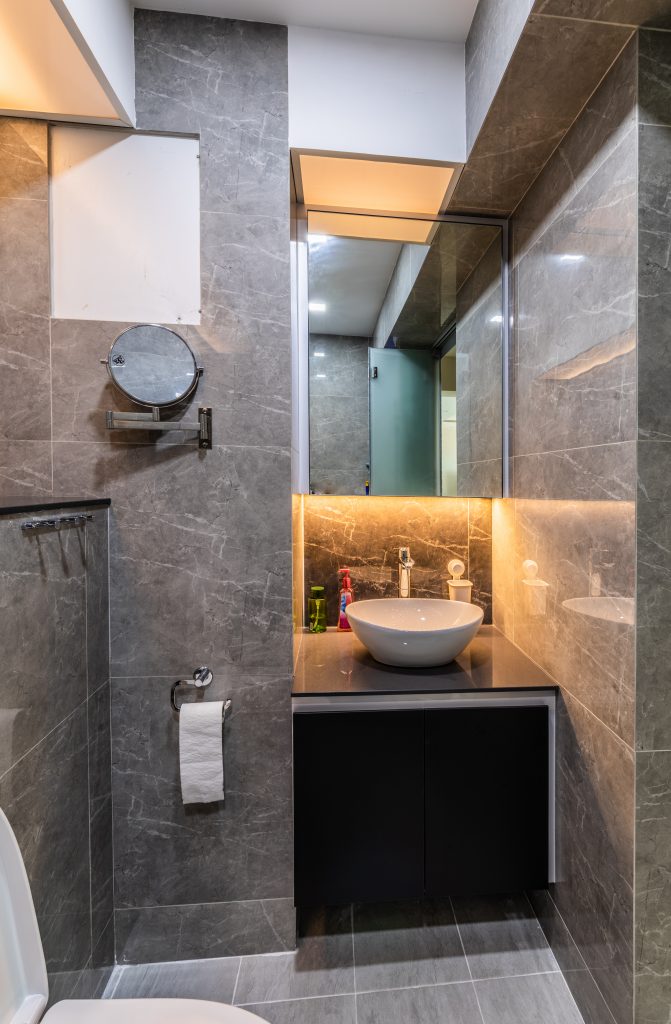 If you're going for a minimalist and simplistic look, it's best to use small sinks or floating vanities that are as minimalistic in design as possible.
They will require less space and make the bathroom feel even more spacious! Plus, they may also be easier to clean since there is no raised countertop getting in the way of spills.
11. Use Mirrorless Vanity Cabinets for more storage options
While vanity cabinets with mirrors can double up on being aesthetically pleasing while providing plenty of additional storage (and beauty), many people don't have enough room for them! If this sounds like your situation but you still need lots of extra storage, then our mirrorless vanity cabinets could work wonders. They give off an elegant vibe without taking
12. Dark Floors and Brighter Walls
Color is the key for the small bathroom. You may not use dark color for your bathroom's walls because it will make your small bathroom look even smaller. A bright color wall will reflect more light and make your bathroom look wider. Use a dark color for the bathroom's floor and a bright color for your bathroom's wall.
You can use the monochrome color for your bathroom. It is a great combination that will make your small bathroom into a luxurious style and present simplicity.

Many homeowners are looking for a design that can fit into their budget. A three-room toilet is one of the answers to this question if they have low budgets and wish to save space at the same time.
We hope that we have given you some ideas for making your bathroom look bigger. We will continue to share more great tips with you in our future blog posts!
Remember, if the first step didn't work properly and none of these practical design ideas can do it by yourself and fulfil to your needs, then it might be time to start considering a consultation with exqsiteinterior
11+ Practical Bathroom Design Ideas for Small Spaces Within Singapore