While it is true that organizing or renovating your living room with a big budget tends to make everything easier. However, these days there are a lot of options for affordable furniture and decoration that can still boost your interior design living room Singapore. You also need to keep in mind that interior design does not merely depend on furniture or decoration but also on the overall design of a room as a whole.
Affordable Method to Decorate Your Living Room Interior Design
What is the cheapest way to decorate living room? When you want to maximize the potential of your living space but are a little tight on the budget, Exqsite as an interior design agency that aims for visual aesthetics as well as functionality has several suggestions for those of you who want to decorate your living room interior design Singapore.
Be Smart When You Choose The Materials of Your Room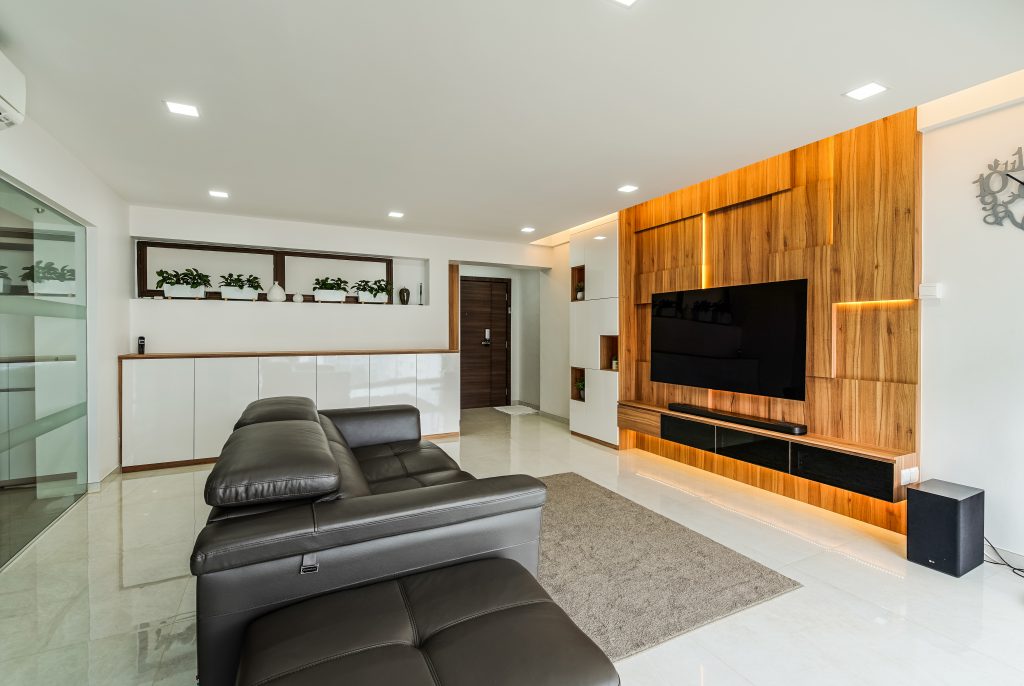 For those of you who are in the process of decorating your living room from scratch, in order to maximize the potential of your living room space while also stay on a low budget, you can choose finishing materials that can emphasize quality beyond their price. These finishing materials can be your HDB living room colour ideas, wallpaper, flooring, fabrics, etc. With the right planning, concept, and consideration, you can maximize your space with a low budget.
Flea Market, Carousell, and Furniture on Sale Are Your Friends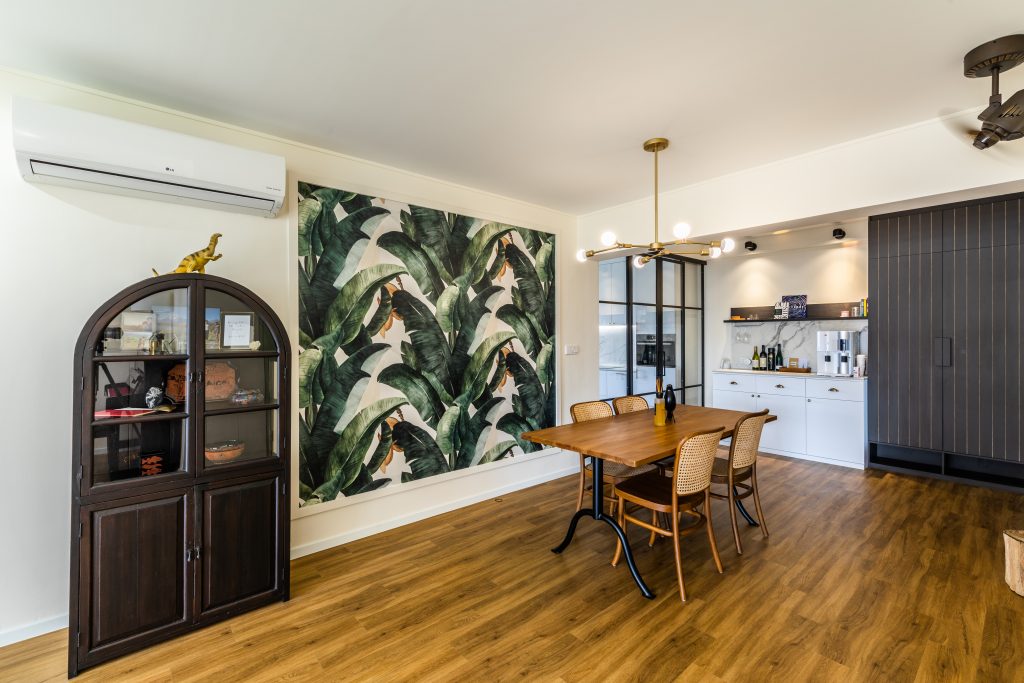 When you are searching for renovation ideas for small spaces or even decoration ideas for your living room, you might want to consider going to the flea market or looking for furniture on sale. Although you need to put a little more effort into finding good furniture especially on Carousell. In the end, all the effort would be worth it when you find the perfect furniture for your living room at a cheap price.
One Man's Trash is Another Man's Treasure
Don't get embarrassed to say "yes!" when your family or your friends offer you their hand-me-downs furniture or even electronics, such as a sofa or TV. Even though the furniture or the electronics are not quite to your taste or do not fit in your living room design, it is better to have a sofa in your living room rather than having a living room design without sofa Singapore or even having an HDB living room design without TV Singapore.
At the end of the day, you can save up so much money from these hand-me-downs furniture or electronics. All you have to do is to explore your creative side and create the best that you can do. You can watch DIY videos or other renovation ideas for small spaces on the internet.
How Can I Make My Dull Living Room Look Good?
A low-budget living space does not always mean a dull living room design. With the aims of putting homeowner's needs and requirements, Exqsite can help you to create a visually aesthetic space regarding the owner's needs. As an HDB Licensed contractor, ACS registrars, bizSafe Star, here are several tips from Exqsite that you can apply to liven up your living room space: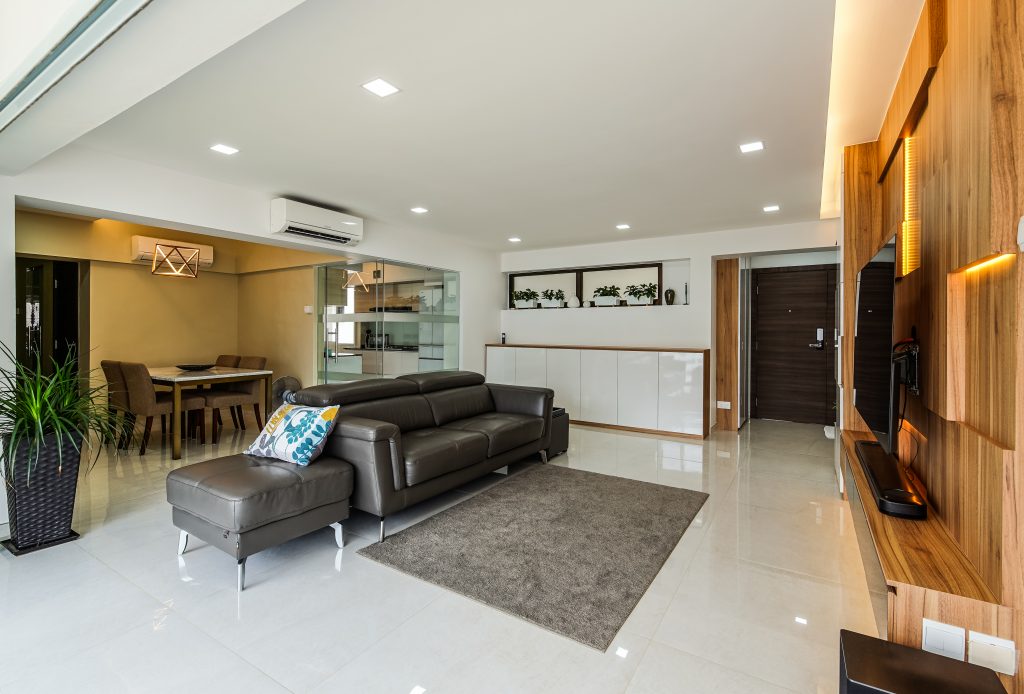 As an experienced interior design agency, Exqsite provides creative and effective solutions to all problems including wanting a specific type of room in a small space. When you want a living room as well as a study room but don't have enough space for both. Based on our experience, the answer would be having a study room in living room. The study room would serve as a decoration to your living room design styles if you can decorate it well.
We suggest study room ideas for small spaces such as decorating your study table with a vignette. Thus, you can get the duality concept of a study room as well as a living room in one space. A vignette is a type of decoration where you create a small group of objects together giving a certain look to the room.
Create Your Own Wall Art
Wall art does not have to be a specific high-class painting from a famous painter everyone knows. Instead of buying wall art from a department store that sometimes doesn't match your living rooms nuance or even your personality, you can liven up your living rooms just by buying inexpensive frames then fill them with free arts you can download online.
Choose a colour palette
For a specific design like Mediterranean and if you are going for color you will need to stick with the particular palette. After that you can pick a colour palette which compliments each one you can then add new furniture and paint. It will help keep the clutter and chaotic interiors of a room away from you and is a great way concentrate the eye. When we created a Lake Life apartment we adopted a vibrant palette of crisp pastels to appear larger. The soft grey colour of furniture and full-length curtains makes the interior feel warm and inviting. By choosing the right color palette our space in a smaller apartment was optimised.
Create a focal point
The perfect way to create a sense of calm is to make your living room the focal point. When they come into the room it is so the viewer can see their eye falling. You can make your own centre piece using artwork or other decorative items if it's not there in your room and is small. In a neutral shade we made the rooms bright to harmonise with an off white room colour that completed a marble finish on the focal point of the wall. We also selected grey pieces which were in our colour palette and checked that the furniture didn't distract attention off the wall. We constructed a neutral-toned love nest for the newlyweds at Bendemeer road.
Practical Furnishing
In an HDB flat you may find it hard to find a comfortable living room but there could be a way to make this go away. Please use lights-based furniture to achieve these effects. Make your house work on both functions as it optimises living space. Use a coffee table with ledges along the edges or a couch with compartments accessible using chairs liftable. Lastly provide yourself with an opportunity for conversation. Do you have any new designing techniques you want to try? Please send me your comments. We expect you've learned a couple of interesting ways of remodeling your HDB room. Recommend some creative tipping?

Create an Exquisite Living Rooms with Exqsite!
Decorating a living rooms with a low budget can be challenging. It would take two times more effort compared to those who have a bigger budget. With Exqsite in 8 Boon Lay Way Tradehub, you can get creative and effective solutions from an HDB Licensed renovation contractor. Moreover, with our workers who have more than 20 years of experience, you can get the best out of the minimum for your living room space in Singapore!
How Can I Decorate My Living Room in Singapore With Low Budget?