Renovating or organizing kitchen is usually seen as an exciting as well as an overwhelming situation due to the amount of furniture and decoration that have to be taken into account. That is why creating a focal point for kitchen space is quite tricky for most homeowners. The variety of kitchen design ideas Singapore create a quite hard challenge for those who are still not sure what they want to do with their kitchen space let alone deciding its focal point.
That is why as an experienced interior design agency, Exqsite will give you ideas on how to make a focal point in the kitchen as listed below:
Bold Kitchen Backsplash Color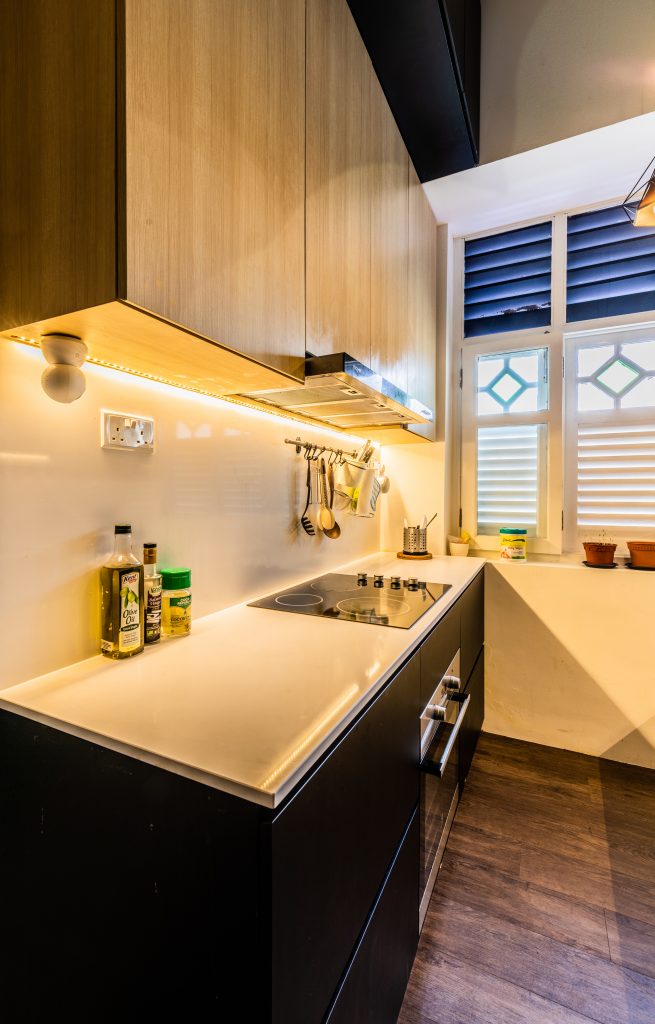 Kitchen backsplash meant as a cover or wall protection against the water, food, or drink that spat from the sink that often seen as a minor detail in your kitchen space while on the other hand, it holds a very important purpose that can be useful as your kitchen focal point. You can use small colorful tiles as a strong kitchen design element by implementing these small tiles throughout the space of your kitchen both as a symmetrical kitchen design or as asymmetrical kitchen layout.
Contrast Color in Your Kitchen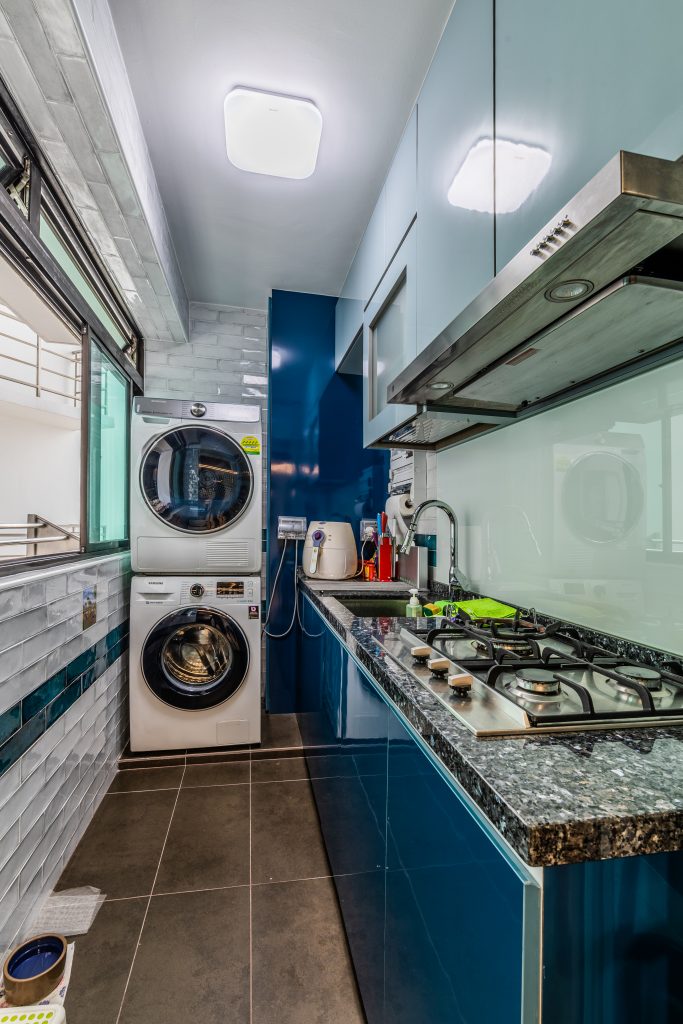 If you are planning to use monochromatic colors as your house concept, then it may be best to try these tips. You can apply this to your kitchen space by adding different principles of kitchen layout and design, such as using furniture or decoration with a contrasting color compared to the other things in your kitchen.
Therefore, you will bring more life to your simple layout color. Not to mention that it is also easy to apply especially for renters who want a new look to their kitchen.
Fun Furniture
Using fun furniture as your focal point serves as one of the golden rules of kitchen design. You probably have done some research about a kitchen focal point and always find this tip suggested by every website both as articles or magazine through kitchen design principles pdf. For example, you love blue but do not want it to be the main concept of your kitchen. In that case, you can simply add furniture that has a blue color contrast to other things in the kitchen.
Adding Wall Art
This is probably one of the easiest ways to create the focal point of your kitchen space. Although it would be fine to add any type of art, it is better to put in an original piece of art because you would be the person who likes it. Use art that would match your kitchen concept while also distinctively adding a new ambiance to your kitchen. Keep in mind that you still have to use care and consideration because the kitchen tends to be greasy and it can spoil the art.
Textured Wall
Textured wall are rarely used as a kitchen focal point due to their complexity and early planning. Plus, once you apply this design, there is no going back from it. Even though there are textured wall stickers that you could use, there are still few people that use this design. However, this design is highly recommended for those of you who want to plainly use the monochrome or natural concept and do not want to add any distinctive color.
With a textured wall you would get sheen as well as texture while also keeping the monochrome concept of your house. This design will liven up your kitchen space subtly. When you decide to use this design, it is better to discuss it with your interior design agency first such as Exqsite. As an HDB apartments licensed contractor, Exqsite will know which texture would match your kitchen space as well as your home design perfectly.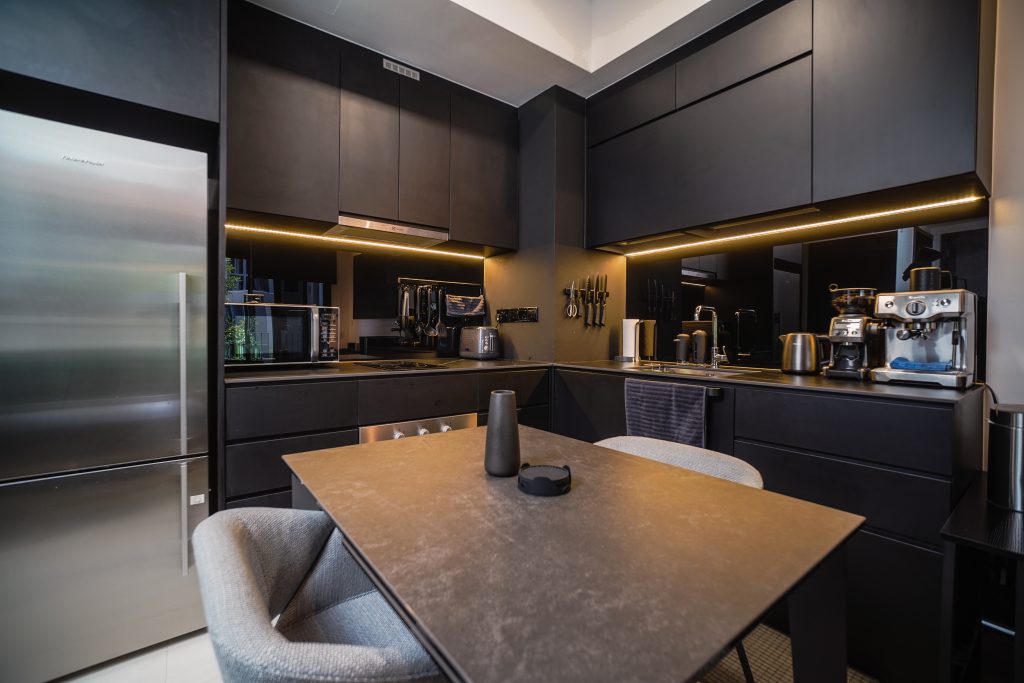 Do kitchen cabinets have to be symmetrical? The definite answer would be, no. Using asymmetrical kitchen lower and upper cabinets would surely create a strong focal point for your kitchen space. It is suggested that when you want to try this design as your kitchen focal point, discuss it first with your interior designers agency so that your kitchen concept, width, height, and other factors would be taken into account.
Kitchen Island
A kitchen island is a definite and most prized design in a kitchen. It also serves great function as a storage unit while also converting storage, food preparation area, cooking space or even as dining table. Save space by installing your kitchen, sink and storage appliances within your island. You can even arrange them with additional seats as you turn them into a dining room. Just be prepared when the island counter will fill and roll out when you want less. You don't have to stick it to an awkward kitchen island. A portable is a good way to incorporate kitchens with island counter counters.
U-shaped kitchen
In U-shaped layout kitchens a work space in the type Horse Shoe-inspired shaped is featured. Upper cabinets and counter walls against the three walls surrounded by an opening window which is accessible through this. It is designed a highly efficient layout – you can easily move between sink, cooking space and refrigerator. Having a three-way countertop should provide you with plenty of space to cook. Additionally he can easily access their appliance. The design of The 4 a Room follows the design of a kitchen designed for efficiency.
L-shaped kitchen
The construction consists of two walls adjacent to one another and perpendicular to creating a L shape. This layout works great in small and medium sizes. A L-shaped kitchen can also fit a kitchen island – ideal for those who need additional space for work or storage. The kitchen's ergonomic configuration has numerous benefits : The layout brings many advantages. This configuration best accommodates small-midsize houses and larger places.

Create the Best Focal Point of Your Kitchen with Exqsite!
Not sure on how to choose the best focal points of your kitchen space that would fit best for your house concept as well as your personal liking? Just visit Exqsite interior designers office in 8 Boon Lay Way Tradehub. With achievements such as ACS registrars, bizSafe Star, and HDB licensed kitchen renovation contractor whose aims are to provide the best for homeowners, Exqsite interior designer would surely solve all your interior design problems.
How to Make the Focal Point of Your Kitchen Design Ideas