Kitchen renovation ideas Singapore are not the same as what you would have in many other countries. The kitchens range from minimalist to elaborate. You can get a kitchen that is specifically designed according to your needs and tastes.
You should be sure to find a reliable remodeling contractor as well as using a good kitchen designer. The design of the kitchen is also important in order to make the most out of your kitchen remodel.
Kitchens are important spaces that should be more than just cooking spaces. Kitchens in Singapore often have several other uses that make them more attractive. The design of your kitchen is also important so that you can get the most out of it.
How much will a kitchen renovation cost you? This is a common concern among Singaporean homeowners. Whether you want to redo your entire kitchen or renovate it in sections, you must know exactly what you are going to spend your money on.
Before you renovate your kitchen, there are a few things you should know!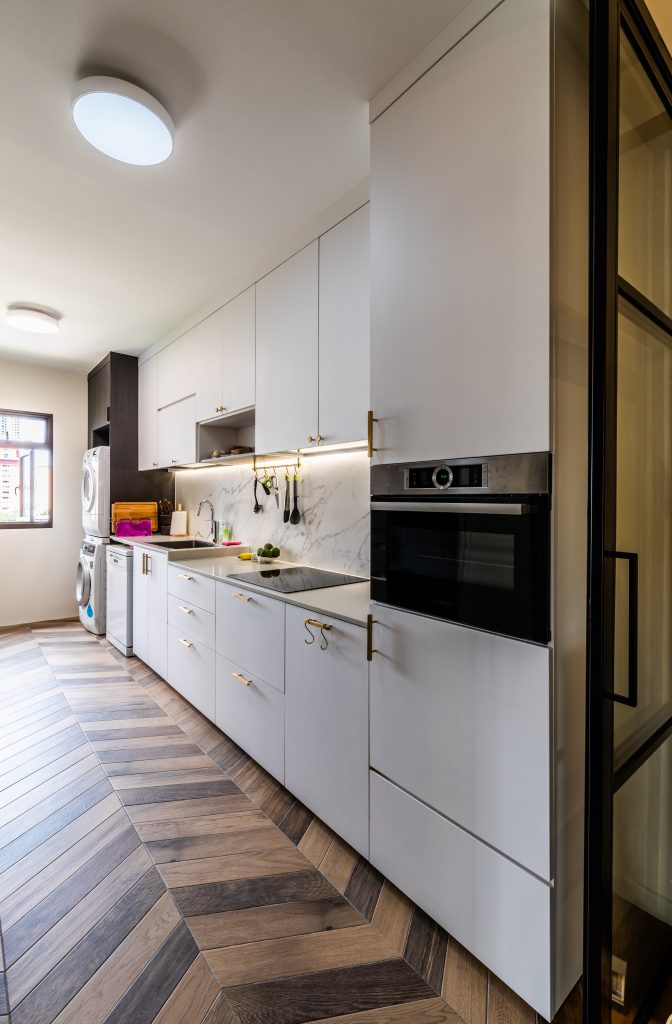 Before you begin renovating any part of your HDB, you must be aware of the government's rules in order to avoid any unwelcome surprises. While general rules include the types of contractors you can work with and the types of hacking activities that can be carried out in a HDB, as well as approvals, there are specific rules and regulations for renovation:
For plumbing
Mae certain that you only hire a PUB (Public Utilities Board) registered plumber.
For pipes
When remodeling your kitchen, you are not permitted to install any new concealed pipes. All new pipes must be installed outside.
Timing
On weekdays and Saturdays, general renovations are only permitted between 9:00 a.m. and 6:00 p.m.
For flooring
Before laying floor finishes in toilets, a waterproofing membrane is laid on the cement screed. This prevents water from leaking through the flooring and into the ceiling of the flat below yours. As a result, if hacking floor tiles is required, proper waterproofing should be performed to prevent water leakage. Furthermore, the toilet floor and wall finishes provided by HDB/developer must not be replaced for a period of three years from the block's completion date. You can, however, use adhesives to lay new toilet floor finishes over the existing floor finishes.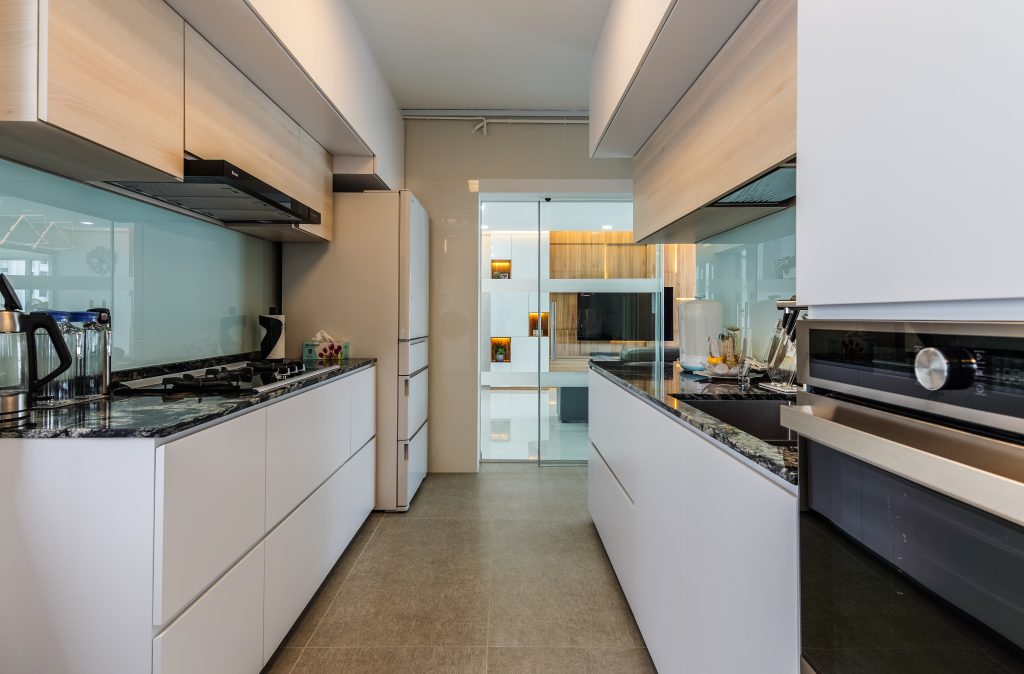 2 : Learn about the factors that influence the cost .
There are two kinds of renovations: partial and total. Of course, these are the major factors that will influence the cost . Sheik has listed some extremely common and significant factors here:
First, decide what will remain the same and what will change.
If all you need is to dismantle old kitchen cabinets and install new ones, you'll have to pay for hacking and new kitchen cabinets. The cost of new cabinets is determined by their length.
If you are planning a complete renovation, you will need to consider the cost of hacking the tiles, purchasing and installing new ones, as well as labor charges. Include the cost of installing new upper cabinets.
Because the kitchen is considered a wet area, proper waterproofing and ponding (the application of static pressure by pounding water on the internal face to detect water leakage) tests should be performed. This will also increase your expenses.
Finally, there is the cost of hauling the tiles after they have been installed, as well as the cost of acid-washing them.
3: Things to consider before renovating
According to Sheik, there are five major factors to consider before estimating the cost:
Space
You should definitely measure the space you're working with so you know how much staff you'll need for the renovation. More space would imply more personnel, more equipment, and, as a result, more labor hours.
Layout
Examine the layout provided in your HDB kitchen; it should be something you can work with. A change in layout would incur exorbitant costs.
Type of storage
Make a rough estimate of your storage needs before remodeling your kitchen. Because you will eventually realize that this plays a significant role in determining the cost .
Type of stove
Keep track of the type of stove you require for your kitchen.
Type of kitchen
Are you a regular cook, or will your kitchen resemble a show kitchen? Heavy cooking necessitates a slew of expenses in the kitchen. As a result, make this decision ahead of time.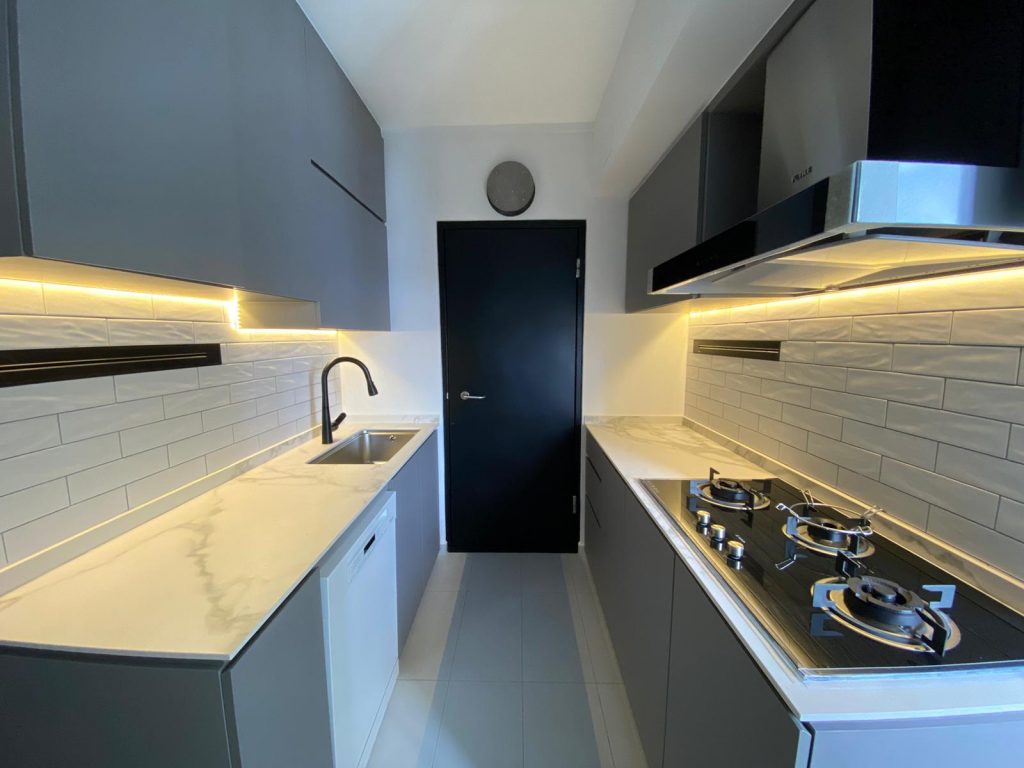 Here are some kitchen designs that you can use for renovation.
1. Shaker Style Cabinets
Shaker-style cabinets are what they're called. Shaker cabinets have a recessed panel and a frame-like outer corner, giving them a more textured appearance.
2. Kitchen Island
A kitchen island is an extension that sticks out from the standard L-shaped kitchen layout, converting it into a U-shaped layout instead. This design element is ideal for opening up a small kitchen and separating the wet and dry areas. Furthermore, it can function as both an kitchen island for food preparation and a high-table for a relaxing afternoon tea.
3. Galley Kitchen
With galley kitchen, your kitchen will feel lighter and more spacious. Owners of small kitchens, rejoice for galley kitchen! Save money by not installing upper cabinets and instead opting for a simple wall shelf or even wall holders. This will also help you save space and improve your kitchen's functionality.
To get an organized, stylish galley kitchen, try mounting a hanging rail on the wall above your sink for pots and pans. The hanging rail can be customized to suit your needs by adding shelves or hooks. This way, you'll have more counter space to prepare food with ease, thanks to galley kitchen.
4. Japanese Zen Kitchen
Zen is a traditional Japanese style that incorporates modern elements. It's sleek, modern, and understated.
5. Scandinavian Kitchen
Scandinavian-themed kitchens are easily the most popular design in Singapore (and around the world), and are extremely well-liked by homeowners. They are clean-looking, inviting, and add a touch of nature to your home – it's no surprise they are popular these days!

Conclusion
It's important to explore all options and come up with a plan that is absolutely perfect for your needs. Kitchens are not just about cooking, they should also be spaces that you can enjoy. We hope this article has been helpful in helping you decide on how to renovate your kitchen!
Do Renovate your Dream Kitchen Now with interior designer, and the result after kitchen design, kitchen remodeling process you will not only have a kitchen that is functional, but also aesthetically pleasing.
The kitchen's design is one thing that can make or break it, and with a good kitchen interior design it will always be in use. With interior designer Singapore, you can enjoy your kitchen; cook for your family and friends everyday!
Hire Professional interior designer for Efficiency, Contact us Now (+65) 6873 1800)
Kitchens – Should They Be More Than Just Cooking Spaces?