Do you live in a 4-room BTO and plan to have an open-concept kitchen? Do you think it's impossible to have an open-concept kitchen?
A 4-room BTO can be a great home for you and your family. It will be filled with lots of convenience and comfort. However, it can be a little intimidating and a little overwhelming to plan and install the kitchen in this type of house.
Many people think that when they own a 4-room BTO, it's difficult to apply an open-concept kitchen design due to the minimal space of the HDB. However, nothing is impossible! An open kitchen style is a good idea for BTO owners and it's possible to have it as long as you pay attention to some details.
An open-concept kitchen style can be applied to a 4-room BTO house. An open kitchen is when the walls are removed and there is a great amount of space between the cabinets. In other words, you don't have to worry about your countertops being hidden away. When you choose an open kitchen style, you can enjoy the space more and the space can be easily used. However, there are some things to notice when you apply an open kitchen style in your 4-room BTO house.
If you are looking to create an open-concept kitchen design for your 4-room BTO, you need to know that it is essential to keep an open kitchen style but you also need to make sure that you install your kitchen correctly.
In this article, I'm going to show you some details to notice when you apply an open-concept kitchen in your 4 room HDB design so it will make your kitchen a warm and inviting place for you, your family, and even your guests.
So if you want to be able to have a perfectly open-concept kitchen in your house, then read on…
Consider the Kitchen Location
A kitchen with an open-concept kitchen can be placed anywhere at home. However, people usually choose to locate it near the living room or dining room. If it's near the living room, it allows you to keep an eye on your children while cooking. If it's combined with the dining room, you can move around easily and it's practical to pass your food to the table.
The kitchen that is located near the living room or other areas isn't confined with bricks or any permanent partitions in order to give the impression that the kitchen is jointed with the other rooms. However, if a divider is a must, you can install a glass partition to create a spacious look to your kitchen.
Keep it Clean
In the past, many people thought that the kitchen is a part of the home that is taboo to be shown to other people, especially guests. It was because the kitchen was always the dirtiest area of the house. However, as time passed, that belief started to change since people are glad to serve their families or guests while showing their kitchens.
The open kitchen concept you apply at home makes you have to keep it clean. Don't let your open kitchen look dirty and become unattractive since it will make your family or the guests you invite uncomfortable. Do your lovely kitchen a regular cleaning, especially right after you cook.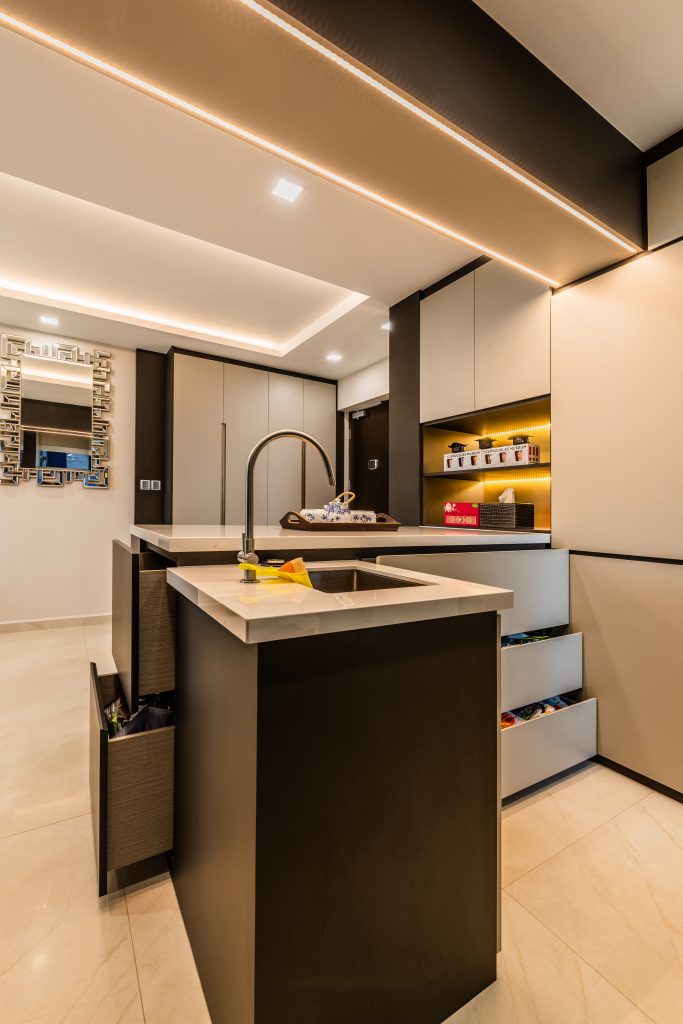 Install a Cooker Hood
An open kitchen has direct access to the other areas of the house making the smoke easier to scatter around. As a result, the other rooms will feel stuffy and fuggy, especially when you cook strong-smelled food. To overcome this problem, you can install a cooker hood. That device will absorb the smoke that is produced during the cooking so that the kitchen and the other areas will be free from smoke and fug.
Simple and Minimalist
It's always fun to select the perfect kitchen set for your kitchen. As you apply an open-concept kitchen style, a kitchen set with simple design will be perfect for your kitchen layout. If you choose a big kitchen set, it will make your kitchen and your BTO look more cramped. The advantage when you take a simple kitchen set is that it's easy to clean so that there's no grease that bothers your kitchen look.
An open kitchen with a minimalist concept is the best option for your home interior. This concept doesn't make your kitchen occupied with many utensils. Other than that, monochromatic colours for your kitchen make it look more spacious. You just have to make sure that your kitchen design is harmonious with your home interior design.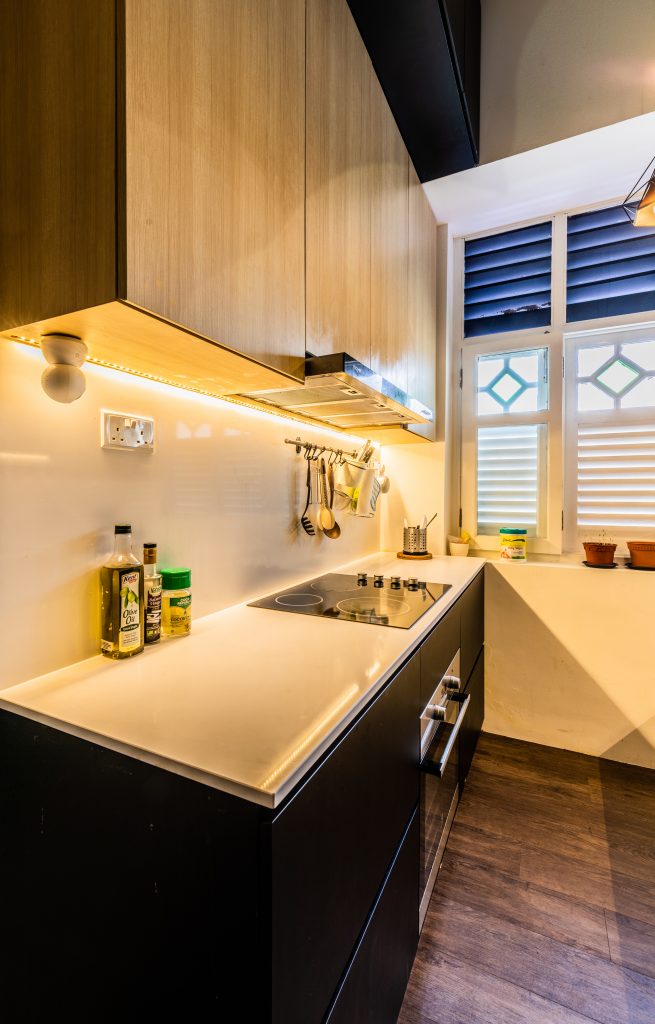 Windows
Don't ignore the windows around your open-concept kitchen. A kitchen with an open-concept will be advantageous if it's near the windows so that it has good air circulation. You can open the windows when you are cooking so that your kitchen doesn't feel musty. Windows near to the kitchen is a modern idea because most kitchens we know are closed without windows.

How Exqsite Can Help You?
An open-concept kitchen is always possible not only for 4-room BTO or HDB, but also for 3-room and 5-room BTO/HDB. As long as you pay attention to the details, you can own a perfectly open-concept kitchen without feeling overwhelmed about that. If you have a plan to install an open-concept kitchen or any kitchen designs for your BTO or HDB, but have no idea where to start, Exqsite will be glad to help. Our experts and designers will solve your dilemmas by giving you tons of kitchen design ideas. Call us or visit our website to kick-start the process!
Kitchen Design: Things to Notice When You Apply An Open-Concept Kitchen Style in Your 4-Room BTO