Do you live in a 3-room BTO and have a small bedroom? What kind of space does your bed take up? Does your bedroom look like a big mess of furniture?
Have you ever tried to fit everything into a small bedroom? If you have, then you know how hard it can be to create a well-designed room. When it comes to small bedroom design, most people who want to do it themselves will often find themselves overwhelmed by the amount of decisions to make and the amount of space to work with.
This is where most people give up and either settle for whatever they have or they just do what they can with what they have.
In this article, I'm going to show you some hacks and ideas to make your small BTO bedroom look more roomy and spacious without wasting space of your room's size.
So if you are looking to get a better-designed small bedroom, then read on…
Light Colour Scheme
Colours play a significant impact on how our bedroom looks and feels. Since we spend a lot of time in our rooms, it's essential to make our rooms the most relaxing and the most pleasant space for us. It's important to pick the right colours to give a comfortable vibe.
To create the illusion of a spacious bedroom, light and neutral colours are the perfect choices. For examples are white, light grey, beige, or pale yellow. They will make the light bounce around and make your space feel more roomy. Apply these colours for your walls and floors. Avoid using too many colours. Use a single colour scheme with different shades.
Design the Layout
In arranging your BTO bedroom, you'll need to draw the layout first. It will give you the image of what your room will be and where to place your furnishings and stuff efficiently. Vertical layout will give you easy access to move and put your objects. Keep the layout as simple as possible.
Start with placing your bed in the centre of the main wall. It will give the room more flow and breathing space and make it look bigger. After that, go with other furnishings. It is essential to choose furnishings that match your bedroom layout so you don't waste a single space. Legged furniture may be a great option. Not every piece has to have legs. It can be your bed, wardrobe, or dresser Choose at least one legged furnishing to enlarge the space.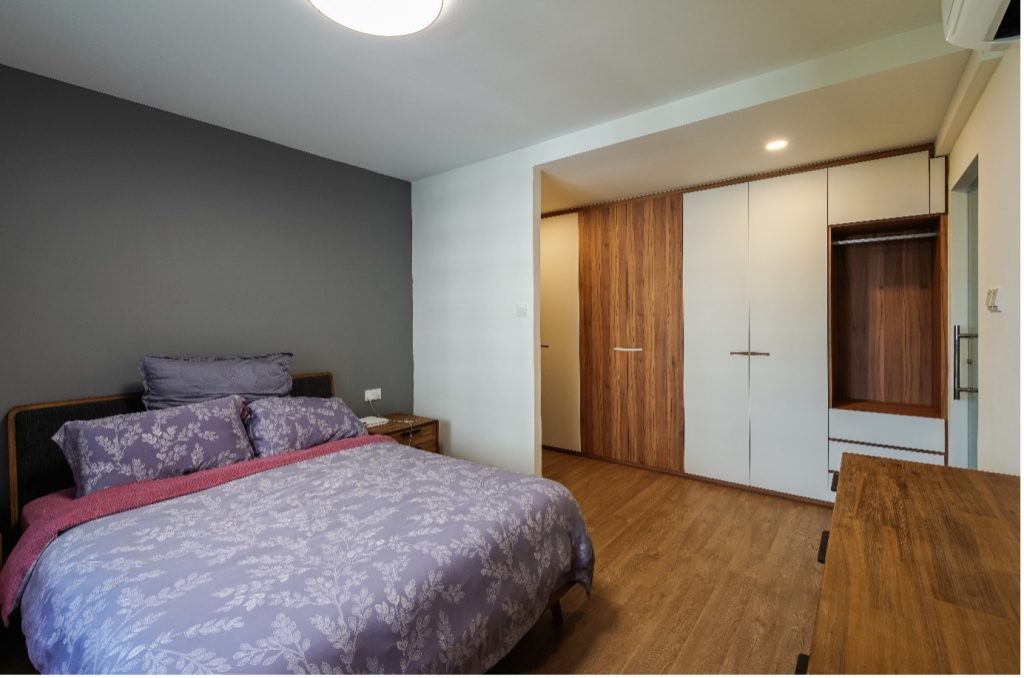 Simple Bed and Bedding
Choose a bed that doesn't waste your precious floor space. Make sure the bed gives you easy access to any other areas of your room. A bed with simple legs will create an airy and open feel. However, there are still a lot of choices. A Murphy bed, lofted bed, or storage bed is a perfect choice for your small room.
Other than that, don't forget not to pick bold and heavy patterns for your bed sheet, blankets, and pillows because it will make your space look cramped. Instead, use light coloured fabrics that match your room's colour scheme for a clean and simple view.
Install Floating Shelves
Install floating shelves to save more floor spaces. You can put it above your bed headboard or above the table. Don't forget to paint it in the same colour as the wall to create the illusion of a spacious room. Floating shelves can give you more storage to put your books, lotions, perfume bottles, or any small decorations such as frame pictures, flower vases, tiny plants, or even action figures.
Install Mirrors
It's such a classic trick but it always works! Yup, mirrors is a popular hack to make your room appear bigger. Placing mirrors with a strategy will give the illusion that your room is larger than it actually is. The strategy is to hang or lean a large mirror against your wall, opposite a door or a window or even artificial lights. It will reflect the light and trick your vision into thinking that your room is wider. For the options, you can choose a wardrobe with mirror doors, floor mirrors, or wall mirrors depending on your taste and budget.
Lighting
Plan your lighting scheme to make your tiny bedroom feel bigger. A poor and low lighting will make it feel more cramped and give a claustrophobic feel. Start from the lighting point in your room and how you use different areas of the room. An overhead light for the room will be a great choice but you may want a table or bedside lamp to read. You can install it in the wall to save more space. Other than that, try to put the lights near or in front of the mirrors to create depth to your space and allow it to look larger.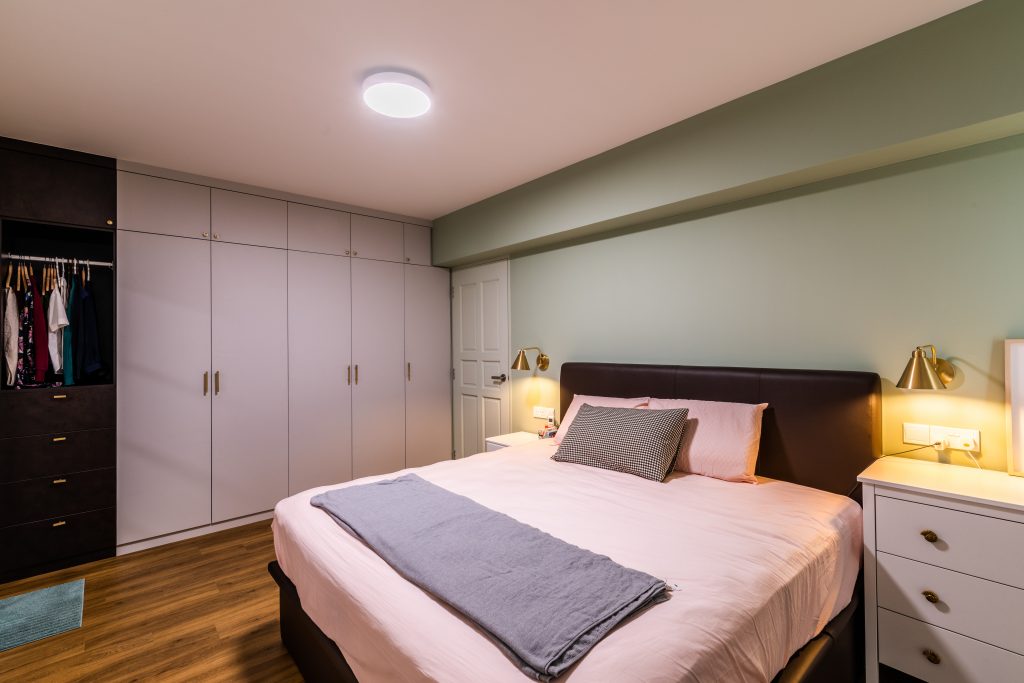 De-clutter is Free!
A clean and tidy bedroom is visually wider than it actually is. Do your room a regular cleaning to avoid mess and dirt. It's free. Clean your bed, your wardrobe, your dresser, your window, and even your curtain. Change your bed sheet regularly. Don't crowd your space with useless decorations and pieces and don't clutter your walls with too many paintings and photographs. Just keep it simple!
The best BTO bedroom design ideas can give your room a new look and more space than you think possible. A new layout of your bedroom can make a huge difference and provide more space. If you're thinking of upgrading or renovating your BTO bedroom or any interiors of your home (kitchen, living room, bathroom), just simply tell Exqsite your requirements. We offer BTO and HDB renovation services with reasonable prices for any homeowners in Singapore. Don't hesitate to make a call!

Hacks to Design a Small 3-Room BTO Bedroom