What makes bedroom interior design looks good in Singapore? How to choose a bedroom for the best room. What are some of the factors that make a bedroom look attractive and what is the minimum size required for an individual's bedroom. These are some of the questions we will answer in this blog post, as well as provide information on how you can improve your rooms or even start a new renovation project!
There is no comfort zone other than your bedroom. It has always been the cosiest place in every house. And if you agree, you must think that every bedroom should look the best for its owner. Whether it's exquisite bed, calming color palettes, or unique decorating objects, devoting close attention to your design selections may result in a sophisticated area for relaxation. And here are some ideas for bedroom interior design Singapore!
The bedroom should be a place where a person can find peace and relaxation. It is the most private space in every house, so you should remember to choose a bedroom design carefully for your needs. There are many possibilities of bedroom designing with various styles and color schemes, but it all depends on specific desires and preferences.
However there are some basic rules that deserve attention when deciding what kind of room will suit you best:
Size – You have to pick a suitable size for an individual's bedroom; otherwise your interior won't look good at all! Usually, this type of rooms has available space from three up to four meters long by two meters wide or more;
Lighting – Lighting also influences how the bedroom looks because we spend a lot of time sleeping here during
What are some of the factors that make a bedroom design look attractive? and what are the different color schemes for bedroom interior design Singapore?
Colour scheme – can be anything from monochrome to pastel shades, depending on your personal taste;
Furniture arrangement – it is important to give enough space for everything you need in a bedroom: wardrobe and drawers for clothes, bedside table with a lamp or reading light where you can enjoy relaxing evening before going to sleep. Don't forget about shelving units which provide easy access to magazines, books and other things that make it feel more comfortable when you're home! It also helps if they are located near a window so natural lighting doesn't get blocked by curtains all the time.
Soft furnishings – adding pillows of various shapes and sizes will not only look visually pleasing but also protect the headboard against scratches caused by chairs.
Curtains and blinds – depending on the size of your bedroom, you may want to have a curtain or two for privacy and additional light control which is great if you spend more time in bed than anywhere else! If not, vertical blinds are an option that creates a minimalist look without too much fuss.
Patterns – go with what feels comfortable: traditional geometrics using stripes are always nice but so are fresh shapes like polka dots or zigzags; it's up to you!
Colours – as long as they're pleasant on the eye there isn't anything wrong with choosing wall hues such as mint green, sky blue or peach pink. Just don't forget about accent colour which should be lighter or darker than the main shade.
Furniture – they should complement your bedroom interior design, not overwhelm it! Pick pieces that are sleek and simple bedroom design with clean lines in neutral colours for best results; avoid heavy or bulky items like armchairs or ottomans.
Artwork: while you might be tempted to go big due to high
How Can I Decorate My Bedroom Interior?
Decorating a bedroom is not an easy task. There are many things to consider, from the size of your room and available space to The first step is to find a creative interior designer who can combine creativity, utility, and visual style to create an exclusive home for you, and Exqsite can be your number one choice in Singapore. And after that, you can check these bedroom interior design Singapore ideas.
Space and Movement
When it comes to decorating your bedroom, one of the most important factors to consider is space. A decent bedroom is a room with adequate space. Make sure to always consider your space, so that your mobility in the room is not restricted. Avoid overly massive and expensive furnishings, especially if your space is small. Always consider the efficiency of the space you have with the furniture.
Colors in the Room
Bedrooms are designed to be soothing, pleasant environments. The best colors for your room may also have an impact on this because your favorite colors are meant to show your personality. For instance, neutral colors such as whites and creams, as well as a light color palette such as lavender and light blue.
But some people also will go for the bold colors and it is totally fine! Make sure to bring your favorite elements in your room, and your favorite color can be one of them.
Good Lighting, Good Vibe
Lighting is a major concern in arranging a bedroom. Therefore, choosing the suitable lamp will improve the ambience in the room. Rather than focusing just on a table lamp or an overhead light, this is also a good idea to layer the lighting in your bedroom, which means providing multiple light sources which you can turn on and off for optimal efficiency and cohesiveness.
However, to layer your lighting, you do not need a chandelier. You can consider many basic light sources available in your bedroom (such as natural light from outside, floor lamps, bedside lamps, ceiling lights, table lamps, dimmers, reading lights, pendant lights, and torches) and you can choose a few to add.
Soft Touches to Make It Look Different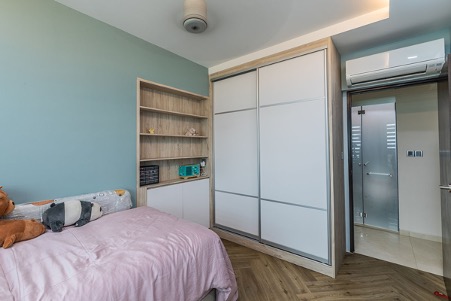 Every bedroom has one enormous soft item, the bed, which is generally the center point of the space. In helping balance out the visual softness of the bed, consider integrating that softness in one or two other spaces. This will keep the rest of the room from seeming too 'hard' in contrast. Curtains, carpets, and soft throw blankets are ideal ways to carry the soft touch all over the space.
Room's Corner Is a Must
Bedroom is your private area and having a room's corner has to be essential. Your bedroom also should feel like a place where you can only feel calm and relax. If you have the capacity and want to add a little bit more to make your bedroom feel more comfortable, consider creating a quiet area for yourself. It can be a window seat, a balcony, or simply a comfortable chair and footrest are excellent spots to give you some me-time.
Design Your Personal Taste
The most important thing when you decide on something is your taste. Your bedroom is your private place, so you need to create it with your style. While brainstorming ideas, do not be too caught up in some decorating tips on the internet that will only end up with disappointment. The right decision is always on you.
It is not difficult to improve the appearance of your bedroom as long as you understand the design concepts that fit your taste and personality. If you are interested in hiring an interior design firm in Singapore, Exqsite is the good choice!
Create Your Magnificent Bedroom Interior Design with Exqsite!


Established in 2017, Exqsite will bring creativity, functionality, and visual aesthetic to build a decent room only for you with over 20 years of experienced workers. Exqsite also provides creative and effective solutions to your interior design problems. Visit us at 8 Boon Lay Way Tradehub or you can give us a call!
What Makes Bedroom Interior Design Looks Good in Singapore?