In the modern world, lifestyle and convenience is at a premium, and there is hardly any space for personal storage or home decor. As a result, we are forced to compromise on every aspect of our living environment. While a flat might not be an ideal place to live, it does allow us to make full use of the space we have. For those who are thinking about making changes to their home décor but aren't sure where to start, we put together some great ideas for 5 rooms for your home that you think would be a great place to start. Some of these ideas would require a whole room or two to fully implement while others can be done.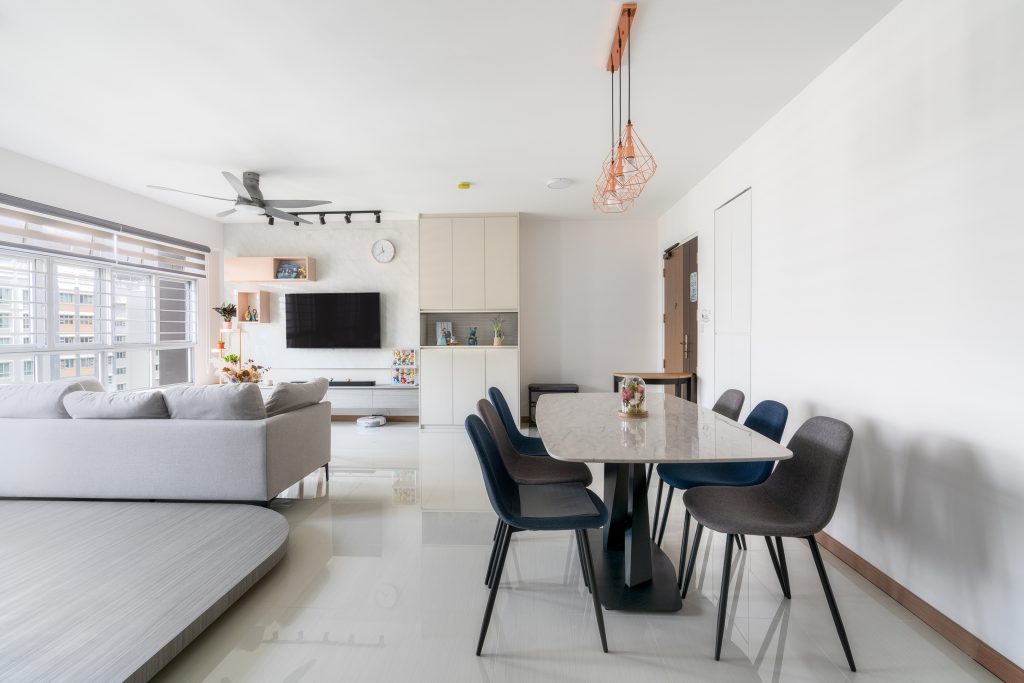 Avoid Dark Colours
No of the interior design style, dark colors can be more difficult to use and aren't necessarily for everyone. Darker colors have a tendency to make an interior room appear smaller, especially if you have no experience with interior design. In this aspect, there are a ton of 5 room BTO interior design ideas that you can look at and get ideas from, many of which use darker tones and color schemes. Therefore, if you want to make your house interior feel bigger, brighter, and airier, we would advise using lighter colors, which are better.
As your dominant color, you do not necessarily have to keep to an all-white palette because it can be cold and formal. Instead, you can choose any neutral colors like cream, brown, or gray that will go with your entire interior style. You can reduce the possibility of selecting a strange palette in this way. Don't go overboard with anything, be it a piece of furniture in a bold color or a focal wall. Otherwise, the interior design of your HDB 5-room may appear overly dominant and overwhelming in the incorrect places.
Dedicated Areas
The open concept has been popular for a while, and it doesn't seem like it will go out of style anytime soon. It is so well-liked because it figuratively expands your living space. It is one of the greatest 5-room HDB interior design ideas since you can use the extra room for special spaces that can be used for different hobbies, such as relaxing, working out, meditating, or any other of your favorite pastimes.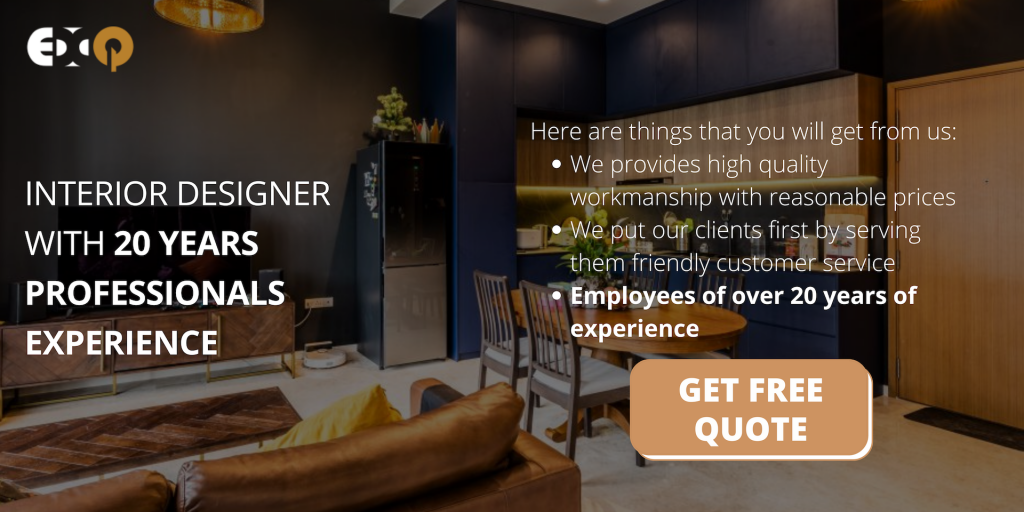 You can simply decide to leave your open space alone without adding any partitions between the different parts. Instead, you might use textured tiles or a rug with varying textures to divide the spaces. However, you should pay attention and precisely divide your sections; otherwise, you run the danger of having everything appear a little jumbled.
People want to make the most of their living quarters by designating sections for dining, working, relaxing, and entertaining. It must be harmonious with the home's general design motif and evoke the same design language. Dedicated spaces maintain a completely different function or atmosphere while allowing the remainder of the interior design to keep its aesthetic coherence. Installing partitions like sliding doors, inside windows, or wall partitions is a clever solution to this issue. By doing so, you may carefully regulate the amount of "openness" in your house while yet utilizing every square inch of the interior of your 5-room HDB apartment.
Transform your Home Layout
It's time to reconsider your floor plan and unconventional 5-room HDB home layout. The extra room that is provided in every HDB BTO 5-room interior design is one of the most important benefits. In other words, there is a ton of room for experimentation. Additionally, you can securely designate your multifunctional spaces. By this, we literally mean transforming that extra room in your HDB into the home of your dreams.
By tearing down walls and repurposing areas, you can shake things up. You can choose to partially or completely cut down the wall separating one of your extra rooms to create a walk-in closet or vanity area. Because of the larger master bedroom and attached walk-in wardrobe created by these 5 room renovation ideas, your interior will appear bigger and less cluttered. Your bedroom can have a small amount of solitude by being tucked behind a partially breached wall.
Consult with your internal design team if you're still unsure on what to do. The team of professionals will undoubtedly have some suggestions for using your space to accommodate several uses at once.
Use of Your Vertical Space
When considering what to do to make the most of your vertical space. Additionally, there are several benefits to using your vertical space, particularly if your home is small. A straightforward but distinctive shelving arrangement will help you get far. It can completely change the appearance of your space and create a fresher, airier atmosphere. The best approach to make a stunning feature wall in any room in your home is to have a shelf display that reaches all the way to the ceiling.
You'll make your space more organized than before, whether it's for storage or decorating, since the shelf provides plenty of room for individuals wishing to declutter. You should use shelving that complements the interior decor of your HDB 5-room apartment. Otherwise, you run the danger of installing awkward shelves and cabinets that defeat the purpose of your design.
One of the five HDB interior design suggestions you may employ in any apartment is to incorporate floating shelves. They will keep things slick and trendy whether you use them in your HDB 5 room renovation ideas or bathroom interior 5 room design ideas. Additionally, they will spare you from having to install large stands and racks.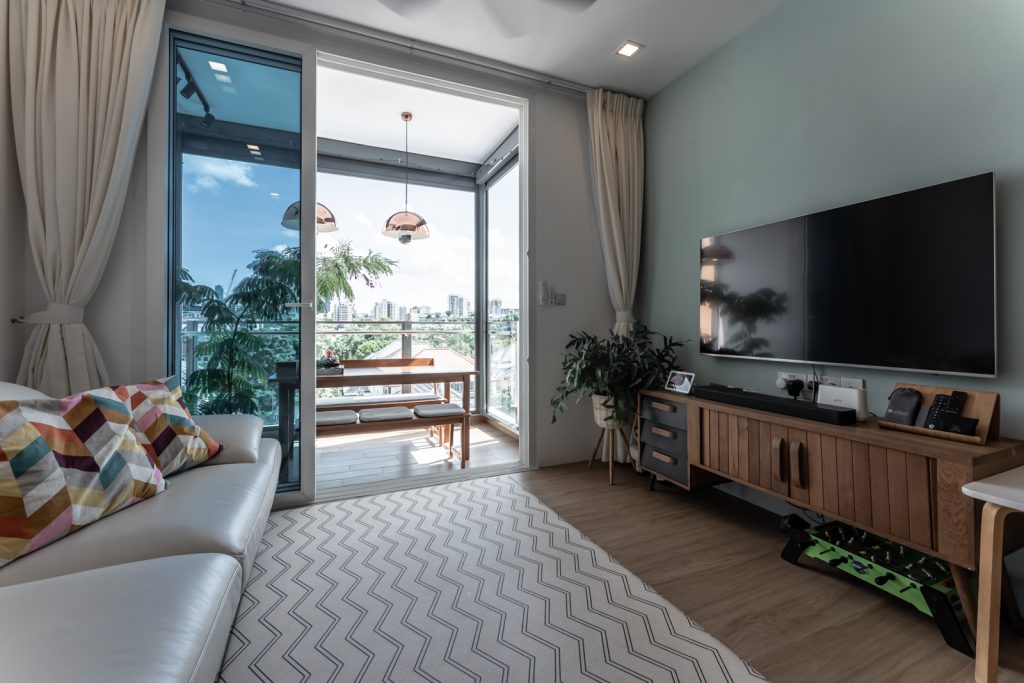 Add Depth Element
Giving their home's interior space a certain level of depth is one of the most frequent challenges faced by owners of 5-room HDB apartments. Even though a HDB 5-room interior design allows for much more creative freedom, having more space has its drawbacks. Fortunately, there are approaches you may take to solve this problem without going over budget.
Using numerous visual layers is one method to solve this problem. In order to create a sense of depth in an interior, it is common practice to stack furniture or decorations of various sizes and textures. Consider creating a contrast between each aspect as an effective way to achieve this. You can add textured materials by stacking patterned rugs, soft and fluffy throws, and several cushions over elegant surfaces. You can also put picture frames with artwork or photographs on your surfaces or walls. Finding the right balance between rough and soft textures in your home can be done by paying attention to these small things.
Although it may seem quite easy, you must be careful to maintain a balance of colors and textures to prevent adding to the clutter and damaging the outcome. As was previously stated, it is the little things that matter most in designing the HDB 5-room interior design of your dreams.
Separate your Work Space
Considering the busy social lives that the majority of us lead, it is essential to take a conscious break from our daily obligations. Fortunately, the interior layout of your HDB 5-room unit provides adequate room to divide your workstation from the recreation area. To get a good night's sleep, you must be at peace with yourself, therefore be sure to take the necessary precautions.
You enjoy watching your favorite TV shows and reading books. In either case, you'll want to maximize your free time. Put comfortable furniture in your designated living room or relaxation space. Additionally, you can add some plush cushions and a cozy blanket. These improvements will increase how cozy your rest place feels.
Exqsite specializes in home design for 5 room flat that allows people to make the most of every inch of their ultra modern 5 room BTO designs without having them look like a complete mess. With many years of experience in HDB 5 room renovation, we help you maximize your 5 room BTO design ideas in Singapore while keeping everything organized so you can find what you need quickly and easily whenever you need it.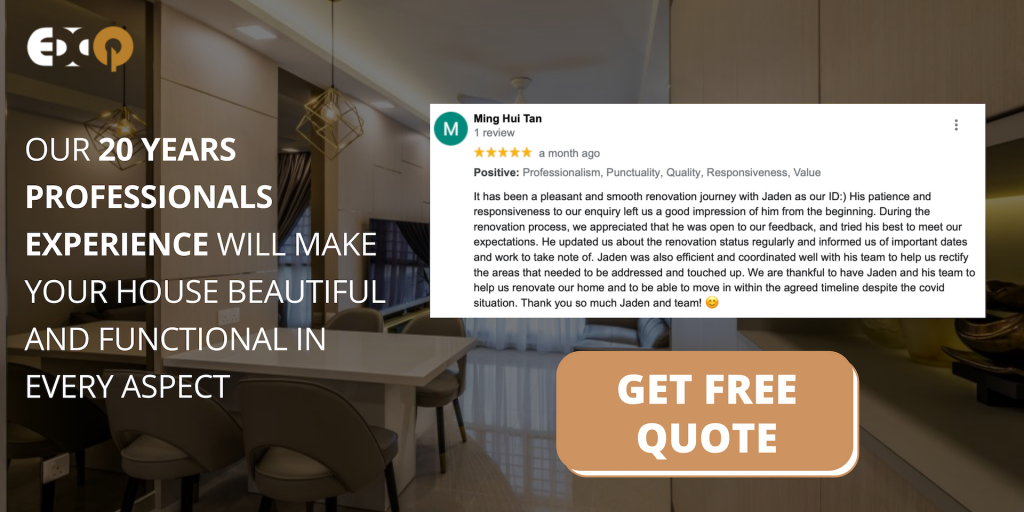 20 years professionals experience
In Exqsite, our team of 20 years professionals experience will make your house beautiful and functional in every aspect, with an eye on detail and perfection. We guarantee you will be satisfied! Here are things that you will get from us:
We provides high quality workmanship with reasonable prices
We put our clients first by serving them friendly customer service
Employees of over 20 years of experience
Make your renovation situation easier with us. Click here for the solution of your renovation problems.
6 Classy Home Design Ideas For 5 Rooms Flat