Home is where everyone belongs. Whether you are currently having a new home or are planning a new look for your home, searching for an interior designer company in Singapore might be so exhausting for you. But do not be worried, hiring a great designer will never be that hard if you know what you do.
What you need to do is get a strong vision of what you want your home to look like and find a competent interior design firm in Singapore to assist you create your dream home. We will help you to show some consideration before hiring the right professional helper for your home.
A designer creates safe, functional, and beautiful spaces by determining space requirements and choosing essential and decorative items.
They select fabrics for upholstery, carpets, draperies, other wall coverings, furnishings, lighting fixtures, and accessories, and install flooring. Interior designers also choose colors and styles that complement the rest of the room and help set a mood. The field has its specialized vocabulary.
Do Interior Designers need a license in in in in Singapore?
It depends on whether the company will be involved in decorating or re-decorating in Singapore. If this activity may include any construction, it will need authorization from the in in in Singapore Urban Redevelopment Authority.
If you are doing the decorating yourself, there will be no additional cost, and much more affordable in Singapore. However, if a professional decorator does the decorating, it would likely incur additional fees. The fees will depend on the type of work required and the contract amount.
How much do interior designers charge in Singapore?
For interior design packages, the usual cost range in Singapore for specific projects are
| | |
| --- | --- |
| Type of Housing | Estimated Cost |
| 3-room BTO | S$25,000 to S$45,000 |
| 4-room BTO | S$33,000 to S$58,000 |
| 5-room BTO | S$38,000 to S$65,000 |
| 3-room resale | S$30,000 to S$65,000 |
| 4-room resale | S$38,000 to S$73,000 |
| 5-room resale | S$50,000 to S$82,000 |
| Condominium (depending on size) | S$40,000 to S$120,000 |
Interior designers' work in Singapore is varied and extensive in terms of services and cost. Many types of IDs offer different plans. Some offer individual plans for each unit, while others offer packages. For example, HDB BTO or resale packages. If you're looking to hire a contractor for some DIY projects around your home or business. That is why you should consider finding affordable or luxury options if you are on a tight budget.
How do I find a good interior designer in Singapore?
Asks about Their Past Projects in Singapore or else
You should also learn more about your personal style, design aesthetics, and career history. Most interior design firms will have a web presence, so it would be good to ask them for their web address.
Explore interior design styles that match yours
Before hiring an interior designer, consider several questions. Do the right kind of things at the right time. If you want to choose the best interior designer, you need to know what the distinctive style of each i and how much cost it is. It's because there are so many firms with so many different styles. Most interior design firms in in in in Singapore usually concentrate on one type of design, such as luxury furniture, luxury minimalist design, or luxury modern design.
Set up communication
Communication is always the key to everything. You'll have difficulty if the person you are working with does not understand your design and how to keep it alive.
Things to Consider Before Hiring an Interior Designer
We will show you several factors to consider when choosing an interior designer and this is going to be very essential for the process of hiring an interior designer. You have to be very careful to look at every detail of it. And here are some things you can keep in mind.
Their Experience
Always look for a professional certified design interior company! A professional which is also registered with HDB can also be your consideration.This is because a HDB-approved contractor would understand what is allowed and what is limited by HDB, allowing them to develop a design proposal for you more rapidly and efficiently.
The Originality is a Must!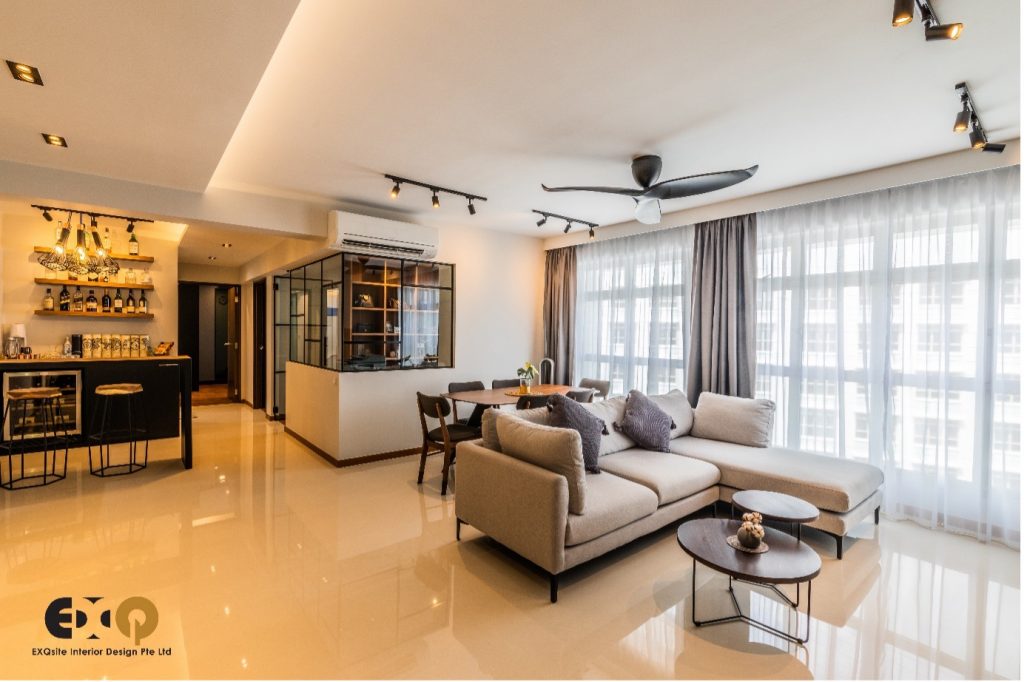 Originality is always a thing when it comes to design. You can't just steal someone's product and make it yours. No, it doesn't work like that. Every designer has their own identity that can be shown from their style. So it will be great to find a professional that can show their origin product to you.
Affordability
It is always a good idea to look for an interior design firm that offers the best service with an affordable price. Also, find out from the firm if there are any discounts available for massive purchasing of materials, as well as how payment would be processed.
Their Professionalism
When to engage interior designer, you can always search for their portfolio and you can find it on their website. The testimony from their previous clients would also be very helpful to see some recommendations. And this can also help you to know their professionalism.
Steps to choose an Interior Design Company
After you know some stuff to be considered to hire a professional for your home, you can do some interior design review to make sure of everything before meeting your designer. Here are some steps of how to choose interior designer Singapore you can follow.
The Reliability of an Interior Designer
This is the first thing you should do for consideration by asking a question of the reliability and what does an interior designer do Singapore. You should know that it is very important to take a look at their previous portfolios which can be found on their website.
A trusted and professional interior designer is the one who needs to have the HDB license as one of their business accreditation. Being a HDB-licensed contractor shows that the firm has undergone significant training and is familiar with housing projects renovation regulations. They are also required to have a 3 years of experience at least in home renovation.
A recommendation from friends might also be helpful! Asking someone you know about the best interior designer in town. A professional like Exqsite might be your perfect choice as well based on the experience we have and the most important is we are a HDB licensed renovation contractor.
Budget, Budget, Budget
When it comes to the budget for your home renovation, you should be aware of how important the budget is. It is the very basic thing you should think about before hiring any professionals. You must be realistic in setting the budget, so you will not spend too much money. However, This might be the most important interior designer guide you should take note of.
It can be started by discussing your financial plan with a potential interior designer. Most designers are prepared to work within any budget. It ensures that even if you only have a budget in mind, you still can be confident that you will get the best offerings from them.
Estimated Time to Complete The Project
Great reviews across various platforms
Exqsite are known for their refined style sense. They offer the 2-year warrant period for a repair of a renovated property. The primary goal of Exqsite is the transparency of its clientele with a complete implementation from communication throughout to the final project. They offer custom design services visualisation drawings, project management, internal carpentry services and interior decorating. Their Virtual Reality Home Tours can allow me to better predict the future space with a 3D perspective drawing so you also have a 360° view of your future home. There also exists a blog where people can share useful information for their renovation questions.
Setting your timeline needs to be done once you find your new interior designer, and this can be also included in the interior design process Singapore. Your interior designer should be able to interact with you about your home design, the predicted time required to finish the project, and any problems or delays that may occur along the way.
In the end, it doesn't matter how reputable an interior designer is or how much you trust their abilities and experience if you can't properly express what you want in your house. And when you have done considering and following some steps before hiring the interior designer, now it is time to choose the right and reliable one, like Exqsite.

With Exqsite, No More Worries About Choosing the Best Design for Your Home!
Exqsite, an will help you to transform your space to be magnificent by providing you creativity, functionality, and visual aesthetic to build a unique and one of a kind abode for every homeowner with our 20 years experienced workers. We always prioritize our clients and give the best option just for you.
What are you waiting for? Choosing an Interior Designer requires setting initial expectations. Check out these quotations and discover whether your proposals have value according to a designer. our website to see our previous portfolio or visit our showroom at 8 Boon Lay Way Tradehub, Singapore. We will be glad to welcome you!
What to Consider Before Choose Interior Designer Company Singapore?