Renovating your home in Singapore is an exciting venture that allows you to transform your living space into a dream haven. However, it's essential to understand the process and have realistic expectations to ensure a smooth and successful renovation journey.
In this article, we will take you through ten things to expect during a home renovation in Singapore, reasons why you should hire an interior designer instead of opting for a DIY approach, and common mistakes to avoid. So, let's dive in and discover the secrets of a successful home renovation!
What are the Things You Should Expect During Home Renovation?
1) Initial Consultation and Assessment
Before embarking on any home renovation project, you will typically have an initial consultation with your chosen interior designer or contractor. This consultation involves discussing your vision, requirements, and budget for the project. The renovation professionals will assess your space, understand your lifestyle needs, and provide valuable suggestions to help you achieve your desired outcome.
2) Design and Planning Phase
Once the initial consultation is complete, the design and planning phase begins. This is where your ideas come to life on paper or through digital renderings. Your interior designer will create detailed plans, including floor plans, 3D visuals, and material samples, to give you a clear understanding of the proposed design. This phase also involves finalizing the layout, color schemes, and selecting materials and finishes that align with your preferences.
3) Obtaining Necessary Permits and Approvals
In Singapore, certain renovations, particularly for HDB flats, require permits and approvals from relevant authorities. This step ensures that the renovation adheres to building regulations and safety standards. Your interior designer or contractor will guide you through the process, assisting with the necessary paperwork and liaising with the authorities on your behalf. Understanding the HDB renovation timeline and obtaining the required permits is crucial to avoid any delays or legal complications.
4) Budgeting and Cost Estimation
One of the most important aspects of any home renovation is setting a realistic budget. During this phase, your interior designer will provide a detailed cost estimation based on the proposed design, materials, and labor involved. It's crucial to have open and transparent communication about your budget constraints to ensure that the renovation stays within your financial limits. Planning for house renovation is all about striking the right balance between your aspirations and the available resources.
5) Selection of Materials and Finishes
Choosing the right materials and finishes is a key component of the renovation process. Your interior designer will guide you in selecting materials that are not only aesthetically pleasing but also durable and suitable for your specific needs. From flooring options to kitchen countertops and bathroom fixtures, each decision contributes to the overall look and functionality of your renovated space. Don't hesitate to ask for material samples and explore various options to make informed decisions.
6) Demolition and Construction
Once the planning phase is complete, it's time to bring your vision to life! Demolition work may be required to remove existing structures, such as walls or flooring, to accommodate the new design. Skilled contractors will carry out the construction work, ensuring that the project progresses smoothly. I think it's essential to have a renovation process flow that includes clear timelines and regular communication with your contractor to stay updated on the progress.
7) Installation of Fixtures and Fittings
As the construction work nears completion, the installation of fixtures and fittings begins. This includes installing electrical and plumbing systems, lighting fixtures, cabinets, and other furniture pieces. Coordinating these installations requires meticulous planning and coordination between your interior designer, contractors, and suppliers.
8) Painting and Finishing Touches
Painting is the stage where your newly renovated space truly starts to come alive! Applying fresh coats of paint to the walls, ceilings, and other surfaces adds the final touch and enhances the overall ambiance. This is also the time to add decorative elements, such as wallpapers, wall art, and window treatments, that infuse your personality into the space. The finishing touches will help create a cohesive and visually appealing environment.
9) Quality Control and Inspections
To ensure that the renovation meets high standards, quality control and inspections play a vital role. Your interior designer or contractor should conduct regular inspections to ensure that the workmanship and materials used align with the agreed-upon standards. This step helps identify any issues or areas that require improvement, ensuring that your renovated home is of superior quality.
10) Handover and Completion
Congratulations, your home renovation is almost complete! Before the final handover, it's important to conduct a walkthrough with your interior designer or contractor to make sure that everything meets your expectations. Any minor touch-ups or adjustments can be addressed during this phase. Once you are satisfied with the outcome, it's time to enjoy your newly renovated space and create beautiful memories in your transformed home!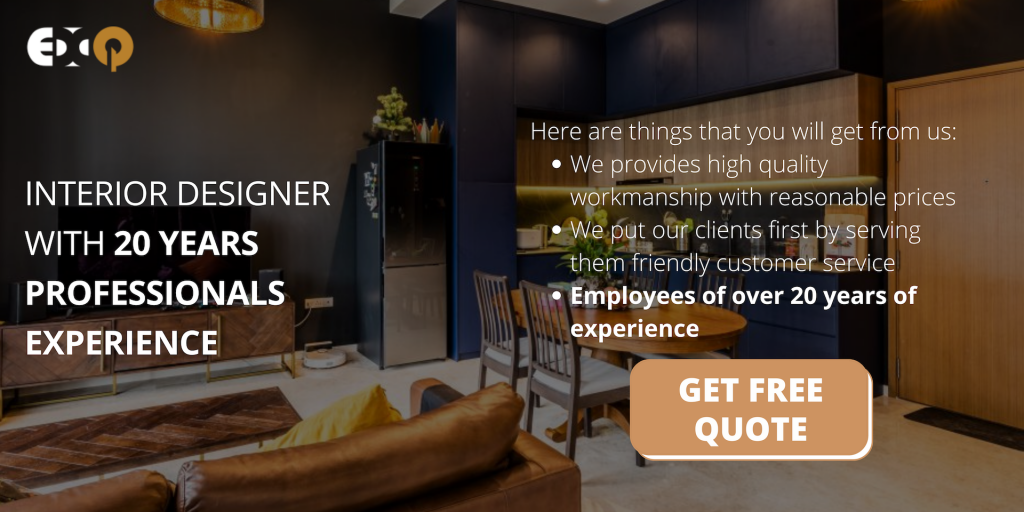 Embarking on a home renovation journey in Singapore can be an exciting adventure. Understanding the HDB renovation timeline, knowing how to plan for house renovation, and having realistic expectations are crucial for a successful outcome.
While DIY home renovation may seem tempting, hiring an experienced interior designer brings numerous advantages, including their expertise, industry resources, and time management skills. By avoiding common mistakes during DIY renovation and opting for professional guidance, you can ensure a stress-free and rewarding experience. Remember, your dream home is just a renovation away!
FAQs
Here are concise answers to the frequently asked questions (FAQs) about home renovation in Singapore:
What are the average costs of a home renovation in Singapore? Costs vary depending on factors like size, complexity, and materials. Basic HDB renovations range from SGD $20,000 to $40,000, while extensive private property renovations start from SGD $50,000.

How long does a typical home renovation project take? Timelines vary based on scope and efficiency. Basic HDB renovations take 6-8 weeks, while extensive projects can take 10-12 weeks or longer.

Do I need to hire separate contractors for each aspect of the renovation? It depends on your preference and project complexity. Some firms offer comprehensive services, handling all aspects, while others let you hire specialized contractors.

Can I live in my home during the renovation process? It can be challenging due to dust, noise, and restricted access. If the renovation is minor or alternative living arrangements are available, it may be possible.

What should I look for when hiring an interior designer in Singapore? Consider their experience, portfolio, reviews, communication skills, pricing structure, and proper licensing/accreditation.

Remember to seek specific and up-to-date information from professionals for your Singapore home renovation project.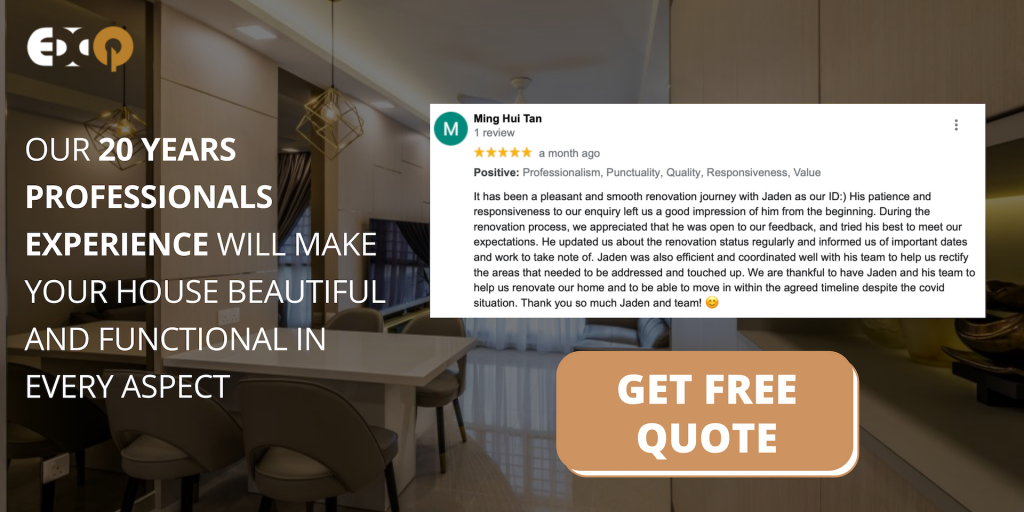 Elevate Your Home Interior with Exqsite Design Solutions
20 years of professionals experience
In Exqsite, our team of 20 years of professional experience will make your house beautiful and functional in every aspect, with an eye on detail and perfection. We guarantee you will be satisfied! Here are things that you will get from us:
We provide high-quality workmanship at reasonable prices
We put our clients first by serving them friendly customer service
Employees with over 20 years of experience
Make your renovation situation easier with us. Click here or visit our showroom at 8 Boon Lay Way Tradehub21 #01-18 Singapore, Singapore 609964 for the solution to your renovation problems.
What to Expect During a Home Renovation in Singapore?