The contents of your kitchen cabinet are like the deposit of your existence. On the other hand, the outside looking of your kitchen cabinet is what keeps you stay organize and festive at the same time. As an experienced interior design agency, Exqsite has dealt with so many interior design kitchen Singapore. For that reason, here are several ultimate guides to choose kitchen cabinet design ideas that fit your Singapore functional kitchen:
Metal Grate Cabinets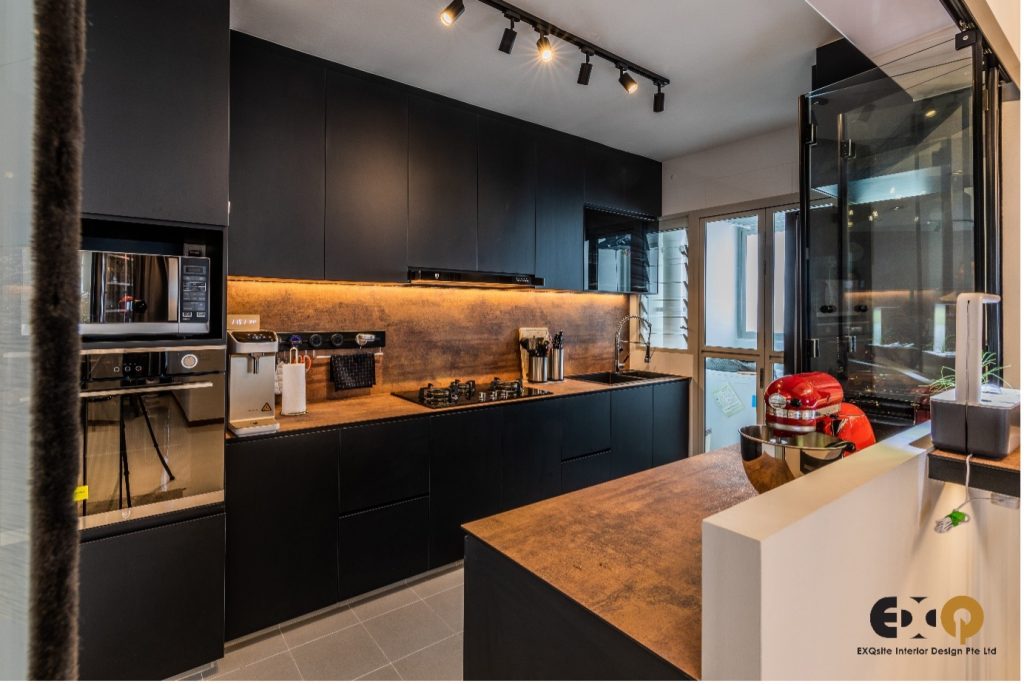 This kitchen cabinet material uses a metal grate as its fronts, unlike other traditional kitchen cabinets that use glass as their fronts. This design provides a closed-open look for your kitchen. The benefit of this design is that you do not need to beautifully manage or package all of your cabinet contents because you and other people can only get a peek inside.
Pastel Cabinets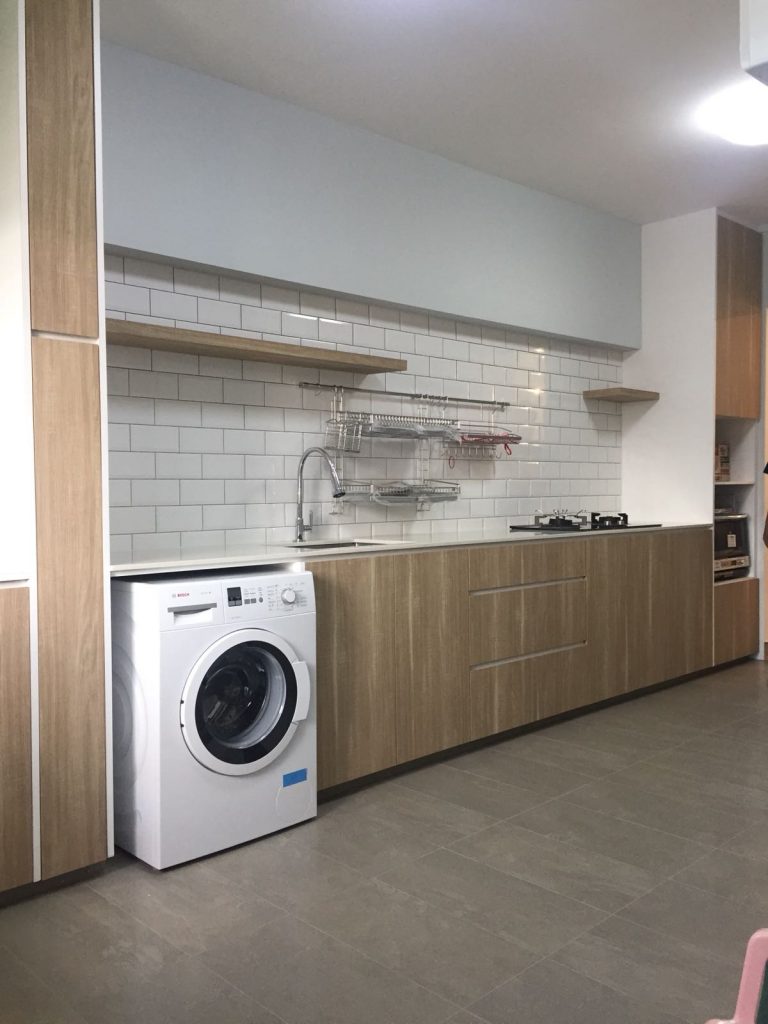 For those of you who like to have a more neutral look, you can try to build a pastel cabinet for your kitchen cabinet design HDB flat. However, it is suggested that you try pastel colors such as pistachio green. This will create a fresh and clean look for your kitchen but also still has a particular character other than just plain white.
Display Cabinets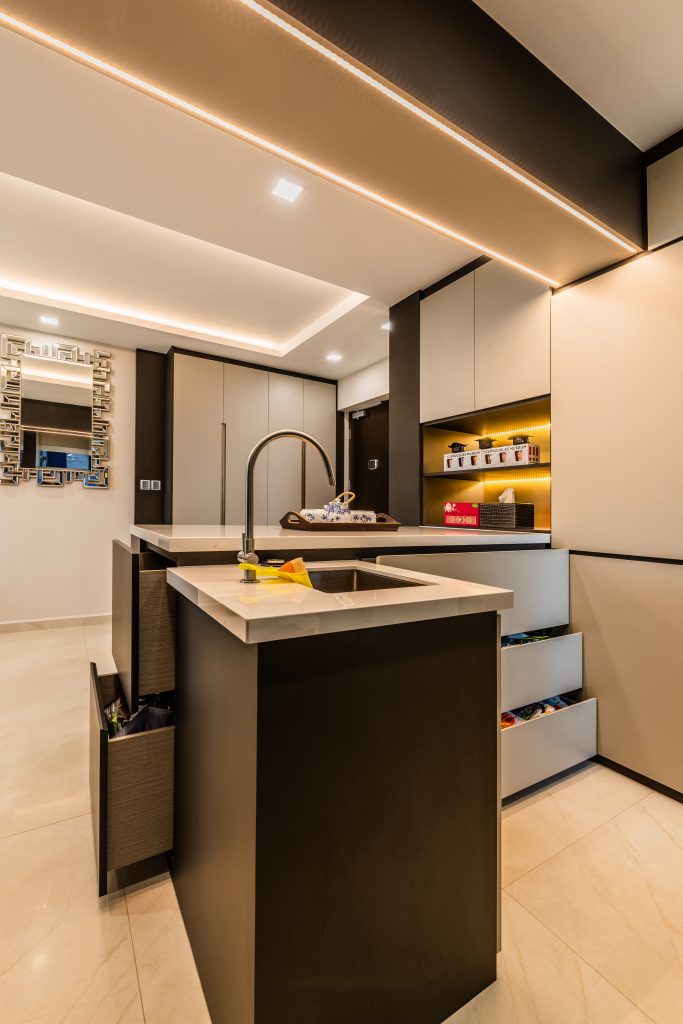 Display cabinets are best to be applied to those who have a dark layout for their kitchen. It is so because display cabinets can lighten up your dark-colored kitchen. Besides, you can also display your beautiful tableware and decorative objects. When you want to use this design, it is best for you to use glass as its front because it will create a more open and spacious feel to your kitchen.
Floating Cabinets
The floating cabinet design would be perfect for a kitchen cabinet design for small kitchen. Instead of having floating shelves as your tableware pictures gallery, it would be cooler to try small floating cabinets that blend in with the wall. This creates an industrial concept vibe for your kitchen. Plus, floating cabinets would not take up so much dimensional space in your kitchen.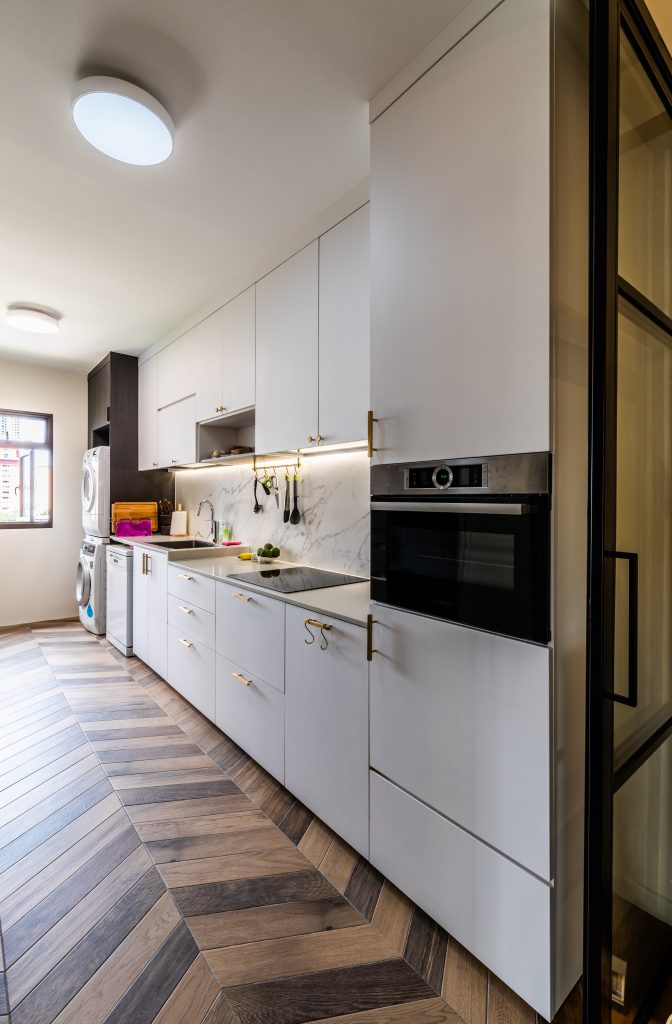 Handleless Sleek Cabinets
This cabinet design serves as a contemporary kitchen cabinet design Singapore HDB. It represents both modern and period concepts. A handleless cabinet is able to use various types of material such as textured wood, hi-gloss white, or even ceramics. The handleless style represents advanced technology in interior design due to its close and push-open doors.
Handleless sleek cabinets are a perfect option for those of you who have a small kitchen space as well as those who want to keep their large space open. When you want to apply this design, make sure not to put too many decorations or objects on its surface so that you will not spoil this design. The solution is that you should use drawers to keep your objects inside so that you can still be organized and get that sleek design at the same time.
Kitchen Cabinets with Wood Materials
Wood would be a perfect option for your kitchen cabinets material if you want to represent longevity, solidity, organic, and natural value. Using solid wood such as Oak, Walnut, or paint finishes for your kitchen backsplash and cabinet offers a natural look. The unique textures of wood that get better and better when aging would create more distinctive and attractive looks. and each piece. Another suggestion for you is that you can combine natural colors with painted finishes for glossy looks.
Kitchen is one of the most visited areas in every house, having a functional as well as an aesthetic kitchen design Singapore is important. Therefore, using an interior design agency to create the best out of your kitchen is highly suggested.
Kitchen Island as Cabinet
A kitchen island is a definite trendiest design of a kitchen. It is extremely functional also as storage as well as for meal preparation. Make a space saving change from a single cooking surface to an integrated kitchen or island by incorporating your sink into your island. You can even supply additional seating or even convert it into a dining area. A mini island counter will do exactly the same; roll it up when you need more space and put it somewhere when you don't need it! It's not necessary to be limited in kitchen to a large, stationary island. A portable is a good way to incorporate an island countertop in your kitchen as food preparation area.

Get Your Best Kitchen Cabinet Design with Exqsite!
With workers who have over 20 years of experience as interior designer, Exqsite can ensure you that you will get your dream kitchen look easily. As an HBD licensed renovation contractor, ACS registrars, and bizSafe star, Exqsite aims to integrate creativity, functionality, and visual aesthetic to build a unique and abode that will place the homeowners' needs and requirements first. What are you waiting for? Visit Exqsite office at 8 Boon Lay Way Tradehub!
Ultimate Guide to Choose Kitchen Cabinet Design Ideas That Fit on Your Singapore Kitchen