It can seem like an impossible balancing act to find the room to fit all of your essentials into your little condo while yet maintaining that catalog-worthy décor. The good news is that Singaporeans are among the world's experts when it comes to maximizing the space they have available. Here are some chic and space-saving small condo interior design ideas to get you motivated and demonstrate the potential of your residence.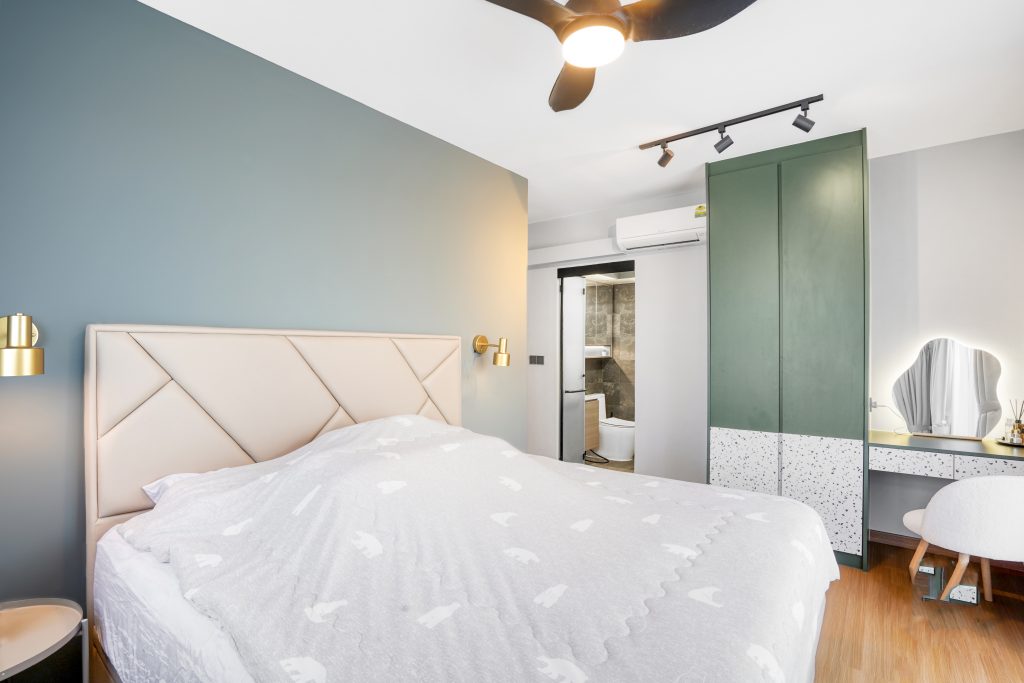 Keep it lifted
Making a tiny place appear larger than it is is the fundamental problem when furnishing a small space. Fixing furniture off the ground is a clever technique to accomplish this look. Our decorators affixed decorative items of all sizes and shapes to the walls of this opulent condo, and they also constructed a wooden storage box that is elevated to imitate a portion of the entryway. We free up a lot of floor space by elevating the decor and practical furniture, giving the entire condo a feeling of great spaciousness.
We added furniture with thin legs to create the illusion of floating above the ground to go with the raised interior design. The floor can appear more spacious by clearing it of debris, and if the client ever needs it, there is more storage space beneath the moving furniture.
In order to satisfy the client's love of Scandinavian design, we selected a color scheme centered on cream and added brilliant LED lights along parts of the furniture to further open up the room.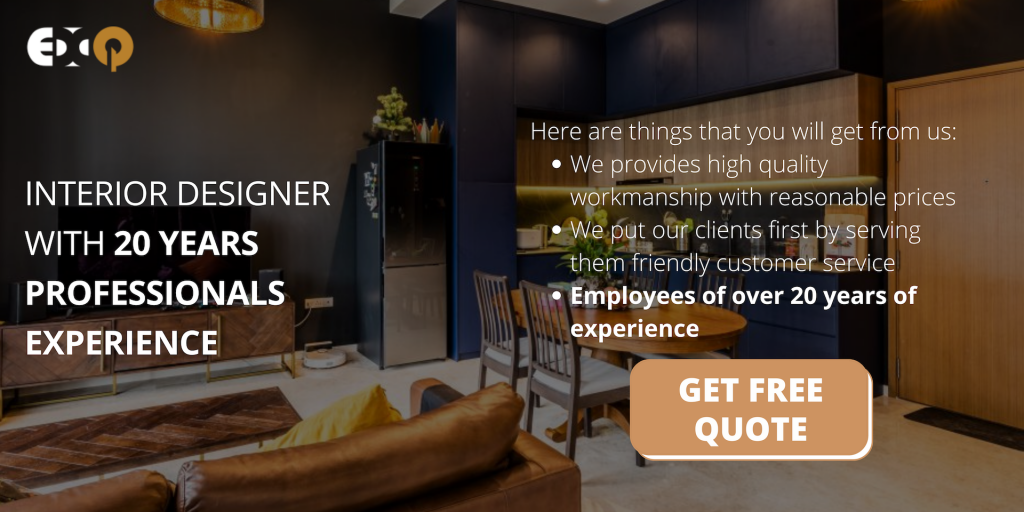 Modern condo with white and wood
Warm oak furnishings with stark white accents. The couple who is residing here chose to include their old wooden furniture into the interior decor of their new condo because they wanted to maintain a connection to their heritage. Their designer advised them to choose white as the main color since it would provide a wonderful contrast with the solid wood furnishings in their condo, which they wanted to look open and friendly. This house also boasts numerous artworks and traditional furnishings with complex designs in every crevice.
Low maintenance condo design
Look at the furnishings and finishing in this condo! These require so little upkeep. We also adore the fact that the master condo bedroom design has a separate sitting area just for unwinding. large comfortable kitchen, spacious living area, with lots of natural light. This condo interior design features particulars that you must not miss, like the mirrors that break up the monotony in the hallway leading to the airy balcony.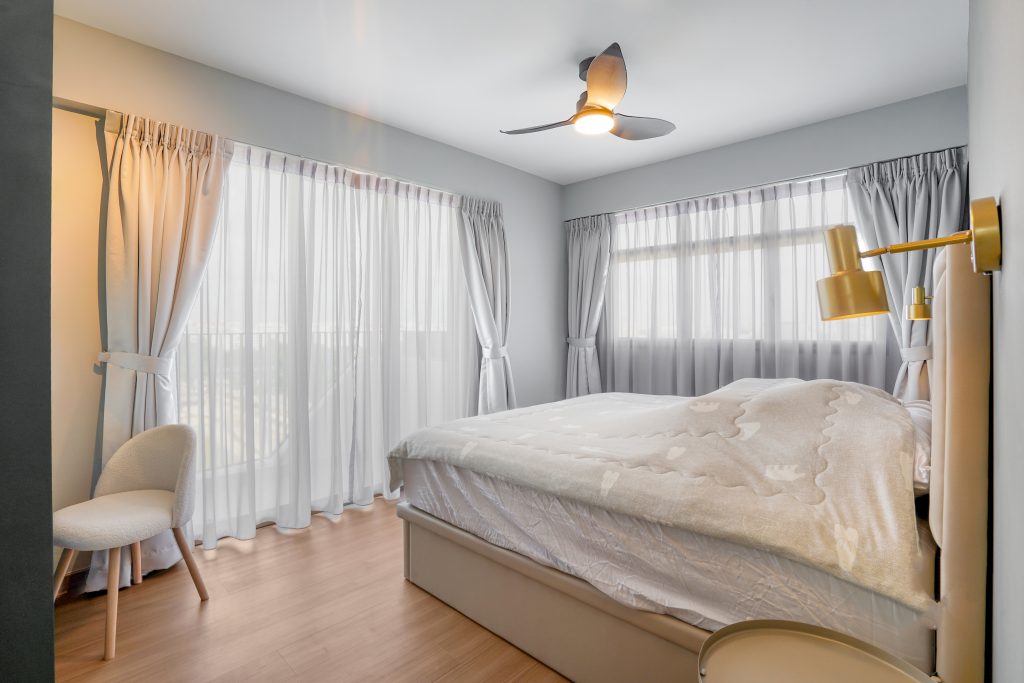 Build high condo
You don't have to become a minimalist if you live in an apartment to save room. Finding space for your six-foot-tall Terracotta Warrior statue inside your small Singaporean condominium will be a piece of cake if you hire a talented interior decorator.
The owner of this apartment requested a strong oriental motif throughout their residence with hints of contemporary style. We had to figure out how to distribute these items properly throughout the home without overcrowding any of the condo's spaces because oriental furnishings are recognized for their luxury and grandeur.
We created custom furniture and bookcases that spanned from floor to ceiling throughout the house to conserve space and enhance the vast, oriental vibe. Because it draws the attention as high as it can within a given space, placing large fixtures high or even smaller ones that add up to create a floor to ceiling illusion, like the area we built for the wine fridges and mounted glasses, makes a tiny space feel magnificent.
Japanese and minimalist style condo
Three words that come to mind when we think about Japanese interior design are quiet, uncluttered, and minimal. This condo interior in Singapore was intended to be filled with cozy wood and organic materials like stone. The couple living here had to travel frequently for work, so it had to be low maintenance as well.
One thing to watch out for is the fusion of designs that creates the ideal balance of form and function. Check out the tastefully decorated balconies, the plain, neutral walls, and the furniture in simple Japanese style.
Space-saving condo design
It's not about downsizing and having the barest minimum of decor in a modern, minimal home. Using the space well without giving it a cluttered appearance can also be important, especially for a small condo interior design like this. We have only done this for this incredibly little unit.
Both bedrooms include oak wood platform beds with lots of storage that have attached study cabinets that free up a lot of space. Don't forget to notice the well chosen shades and drapes in both rooms.
Unique and luxurious condo
This condo would be our top choice if we had to choose one because it is so stylish and opulent. The design emphasizes soft components and high-end finishes for an opulent appearance. Every space in this condo has its own design language and eye-catching features, while the communal areas are intended to be used for entertaining.
The rooftop sitout and the modern chandeliers in the condo's communal rooms are two characteristics we adore. Don't overlook the large walk-in closet in the main condo bedroom design either.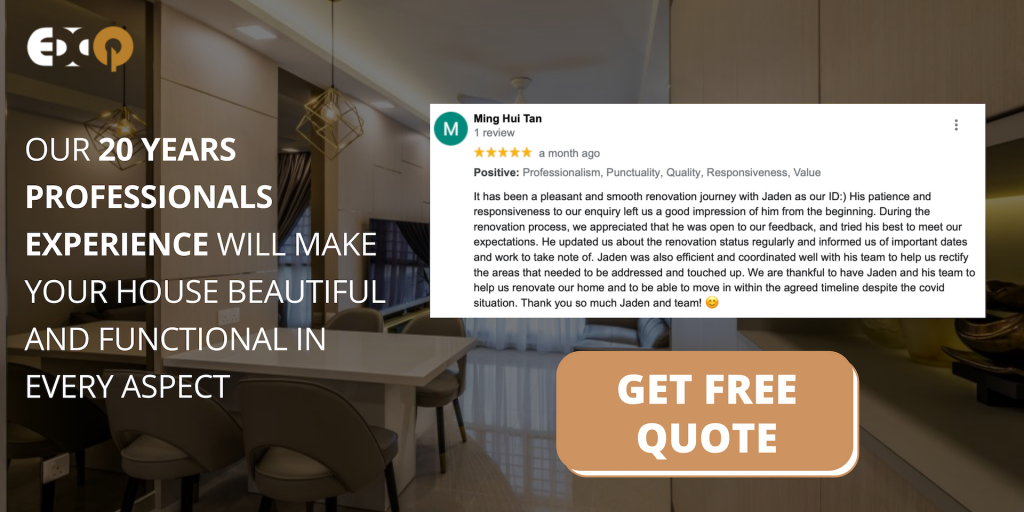 20 years professionals experience
In Exqsite, our team of 20 years professionals experience will make your house beautiful and functional in every aspect, with an eye on detail and perfection. We guarantee you will be satisfied! Here are things that you will get from us:
We provides high quality workmanship with reasonable prices
We put our clients first by serving them friendly customer service
Employees of over 20 years of experience
Make your renovation situation easier with us. Click here for the solution of your renovation problems.
7 Ways To Make Your Condo Bedroom Stand Out