The bedroom is one of the most personal spaces in the home, so it's important to get it right when choosing decorating elements for a contemporary living space. Take a look at this gorgeous room featuring a Bay window for a modern look. Many homeowners have transformed bay windows into more useful places, such as cabinets for additional storage, platform beds, desks, and even dressing tables, in small bedrooms and living rooms. Make the most of the limited area you have by utilizing these bay window bedroom design ideas Singapore.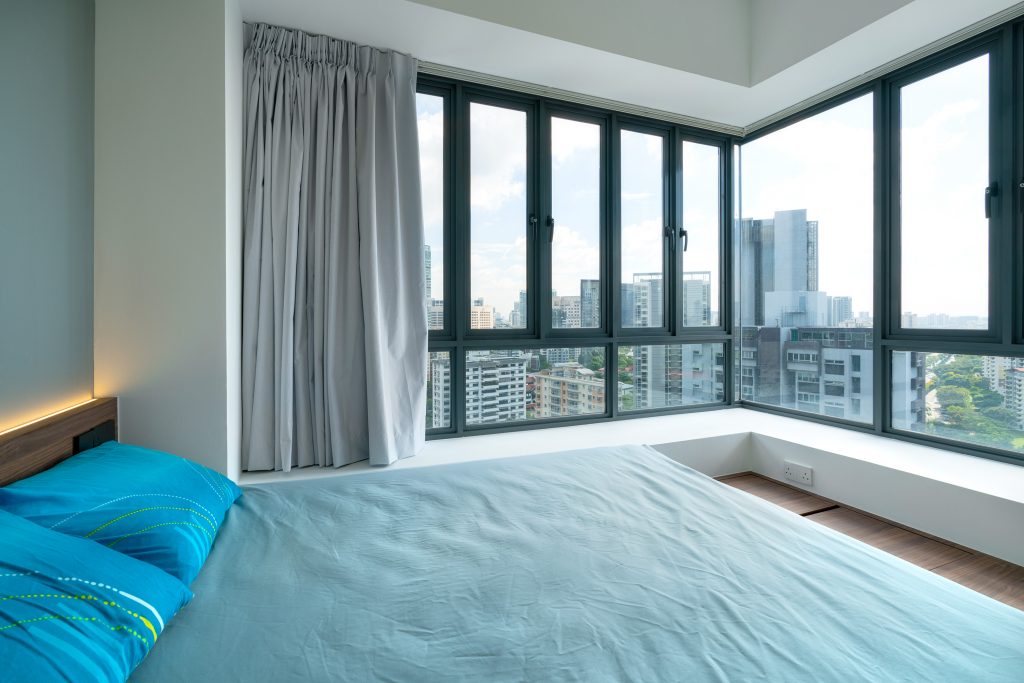 What is a bay window?
Structures called bay windows extend outside of the house. They are used at the end of the halls and historically belong to the English Renaissance. Modern homes are constructed to allow more natural movement inside the interior spaces, particularly in Singapore where residential interior design is concerned. Due to the fact that bay windows allowed after January 1, 2009 are counted toward the home's total floor area, this situation has become more widespread.
Bay window bedroom design ideas
Reading Nook
Do you have readers in your family? Create a space for them to hang out where they may disappear into their imaginations. Here are some suggestions for designing your personal reading area. For a more eclectic aesthetic, fill empty shelves with additional items like tiny vases, candles, and clocks. The amount of books you own should guide your choice of shelves. Consider adding a shelf that goes around the seat like in the first image if you have a significant collection. For a bolder design, consider a shelf up against the wall or taking up half of the seat.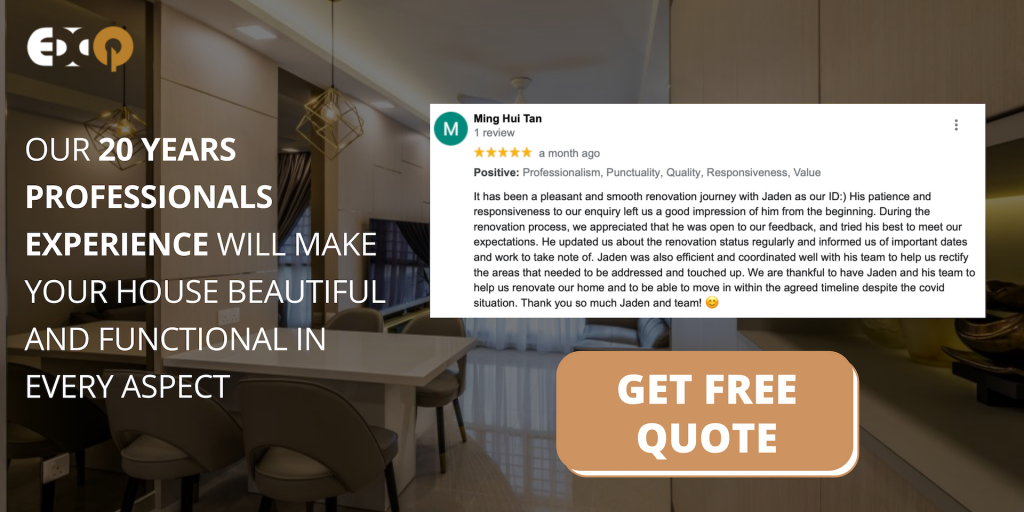 Build-in Seating Area
Making a bay window into a reading nook is one of the most popular ways to make use of one in a tiny condo interior design. Additionally, the built-in seating area can serve as extra storage space for a Singapore condo of reasonable size.
Create a Feature point
Fix the bay window's frame! The interior decorator chose a curved bay window for the interior of this house. As a result, the interior of the apartment has a cohesive design flow of geometric, curved elements. The stunning frame-up bay window immediately emerges as the focal point of the entire apartment interior.
Lounge Area
If you've always wanted a seating area in your bedroom's private haven but lack room for additional furniture, why not utilize your bay window? If you want to stay in and binge watch your favorite shows, consider installing a seat with a backrest (as in the first example). Think of merging your bed's headboard with the bay window ledge if your space is limited. The remaining section can be utilized as storage or as a seating area.
Home Garden
Have a love for plants and green thumbs? Think of creating your own plant paradise in the empty space beneath your bay window! Simply move your potted plants to this sunny location if you aren't picky about design so they can flourish. Create your own home garden by using the ideas above as inspiration and the tips below as guidance.
Platform Bed
Make the ledge in your bay window into a platform bed with a view to wake up to if it is longer! This frees up space in your room for larger installations like a study desk, bookshelf, or bigger closet. Purchase shorter curtains to meet the increased "height" (from the curtain pole to the bed) for a neater appearance, or invest in sliding blinds. Consider installing shelves for more storage if there is additional room at the foot or head of the bed.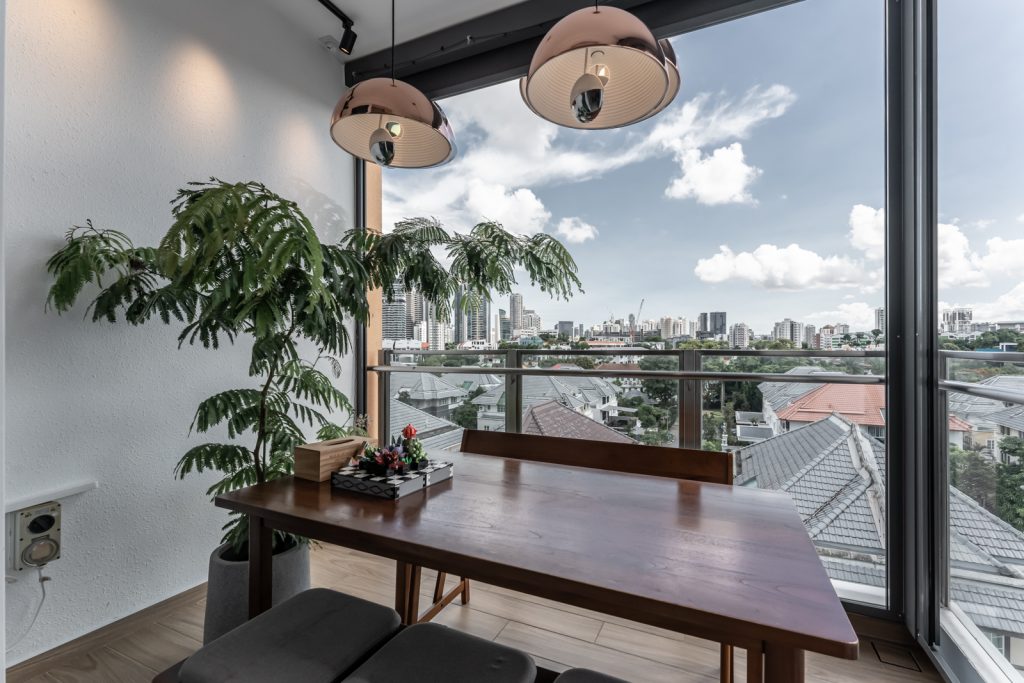 Bedroom Feature
This Singaporean residence's original HDB interior features a full-height curved beam window structure. The bay window that serves as the bedroom interior design serves as the inspiration for an unique bedroom feature that conceals the curving beam while maintaining the bedroom's lone light source.
Vanity
Love getting ready in the morning and unwinding at night? Set aside a small dressing table for the area. Consider integrating slide-out drawers with a mirror for a neater appearance and a space-saving option. A shorter table can also be bought and outfitted with necessities like a mirror and holders for cotton buds and pads. Additionally, you have the option of standard dressing tables in miniature.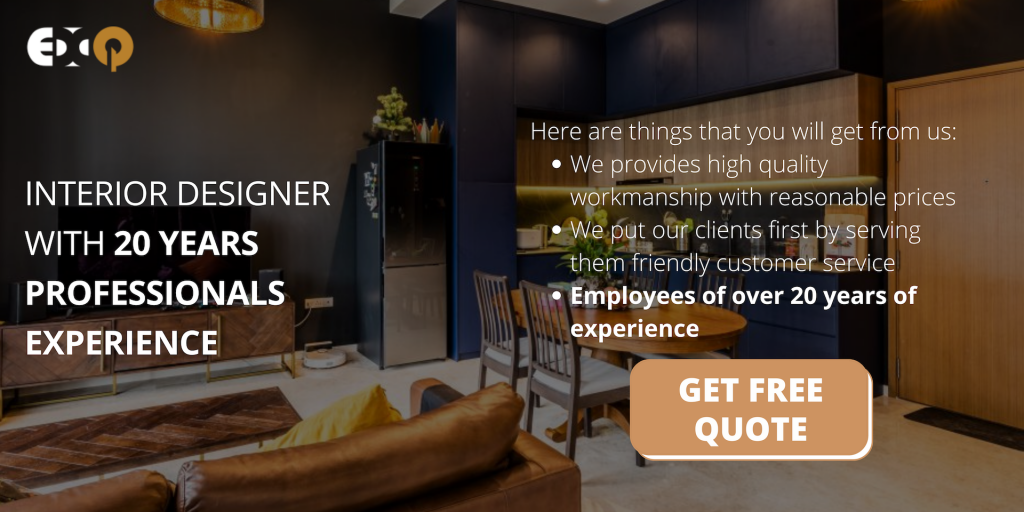 TV Console
On quiet nights at home, watch movies in front of your TV! Put your setup right on the bay window. To increase vision throughout the day, consider putting up shades or drapes that block off light from the sun or nearby neighbors.
20 years professionals experience
In Exqsite, our team of 20 years professionals experience will make your house beautiful and functional in every aspect, with an eye on detail and perfection. We guarantee you will be satisfied! Here are things that you will get from us:
We provides high quality workmanship with reasonable prices
We put our clients first by serving them friendly customer service
Employees of over 20 years of experience
Make your renovation situation easier with us. Click here for the solution of your renovation problems.
Bay Window Bedroom Designs for a Modern Living Space in Singapore