A small bedroom, especially a bedroom in a condo, can be a real challenge to furnish. With limited space, a small bedroom is usually cramped, with a lot of room for only one bed and maybe a dresser or sideboard. This may not be much of an issue for most Singaporeans, but some choose to live in condos with smaller rooms because of the limited living space in Singapore. However, many condominiums provide a larger common room or lounge area for residents to socialize. So, it's best for homeowners to consider the following space-saving ideas for Singapore bedroom design for small spaces.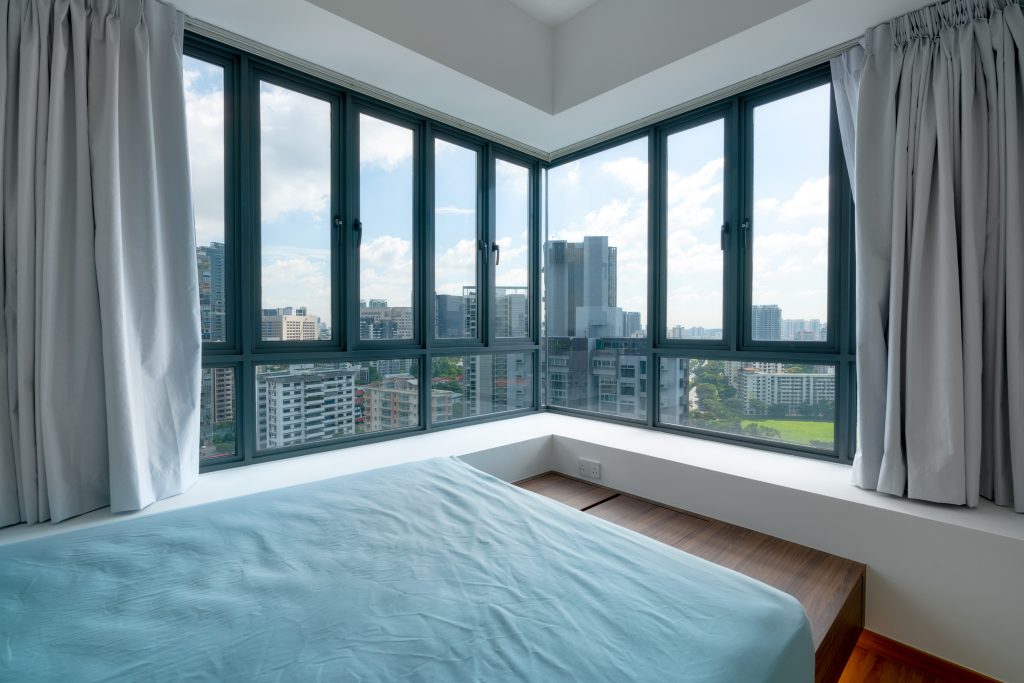 Platform Bed
A platform bed is an excellent choice for adding storage to your bedroom. And we advise you to add a few steps that go to the bed made up of open and closed storage containers to give it a pleasant and cozy feel.
Add Mirrors
Mirrors are excellent décor items because they add light and give the impression that the area is larger than it actually is. There are various ways to use mirrors as decor, but for small spaces, designers advise choosing a full-length mirror leaning up against the wall. Another thing to consider is closet door mirrors.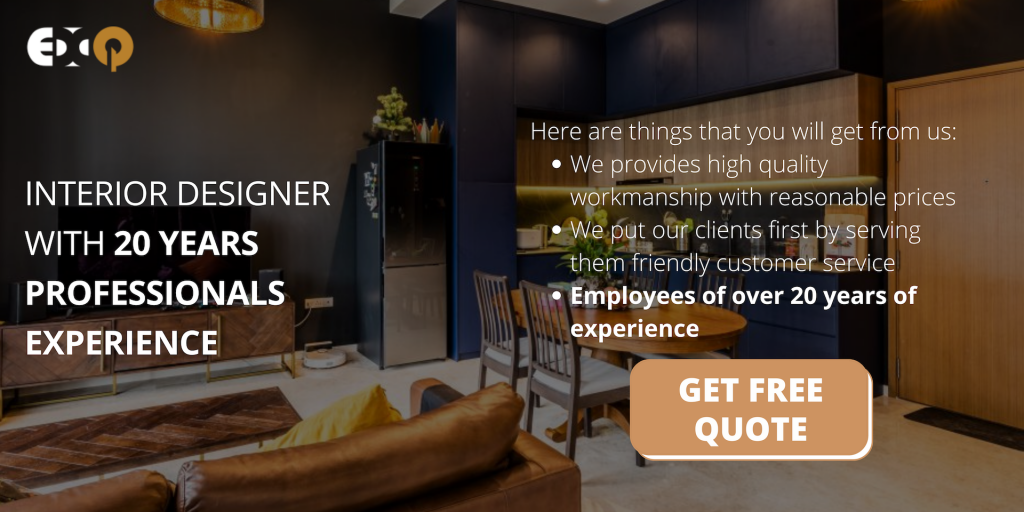 Mesh Boards
Hats, handbags, and shoes are examples of fashion items that frequently have strange Singapore bedroom designs and are challenging to store. Therefore, why not find a more decorative manner to display them rather than stuffing them inside the cabinet? You can use a wire mesh board as a mood board to decorate your room in addition to using it as a space-efficient way to store headwear.
Maximize Floor Space
See how the addition of a loft bed increased the amount of space in this small bedroom! Lifting the bed off the floor will help the room make the most of its small amount of floor space as beds frequently take up the most in a bedroom.
Floor Cabinet
Why not construct a platform in your bedroom that essentially converts the entire floor into a cabinet if you don't mind giving up a few inches of ceiling height?
Multifunctional Furniture
In compact homes, multifunctional furniture is a need. It is a wise decision, especially if you want to give the family comfort and functionality. Functional furniture can take on a variety of shapes for easy use in compact spaces. These include beds with under-bed storage shelves, sofa beds, folding chairs, couches with under-sofa storage, and many more.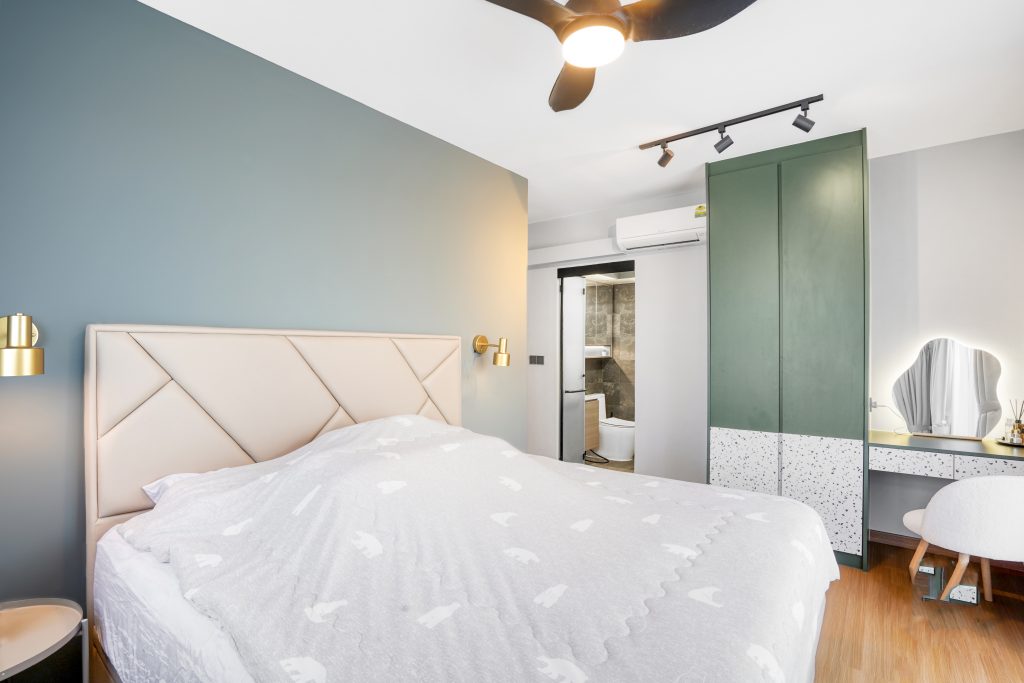 Bedframe With Drawers
Get a bed frame with drawers integrated into its base to free up the valuable wardrobe space in your bedroom. By doing this, you can be sure that your additional pillows and bed sheets are conveniently stowed away but still accessible.
Conceal
Using hide-and-seek pieces to hide specific features is another interior design strategy pros employ to keep small rooms seem uncluttered. In one instance, a vanity counter was concealed by a door panel.
Hidden Storage
Any room appears huge and organized when there are hidden storage areas. The key here is to get rid of any clutter that can make the space feel crowded. You can't have items like books, toys, textiles, extra pillows, etc. laying around in your tiny bedroom. Make secret storage spaces by building them into your walls, behind your bed, and even behind closet doors.
Proper Lighting
The absence of sufficient lighting and inadequate ventilation are two elements that might exacerbate a crowded environment. Does your room really seem so uneasy? Perhaps it's because the room isn't oriented in the best way, which means that airflow and daylight are having an impact on the mood in your bedroom. Choose a decent window covering that fits the space to boost the ambiance. If the space is too gloomy or the temperature is too high, consider blinds instead of light sheer curtains.
Floating Shelves
Floating shelves are ideal for keeping small decorative accents in your bedroom organized. You can use floating shelves to store your additional books. Perhaps a few accent pieces and a tiny succulent plant in a container to inject color and create a visually appealing freshness in the bedroom. Floating shelves are simple to set up and remove from the wall if you want to move them to a different location.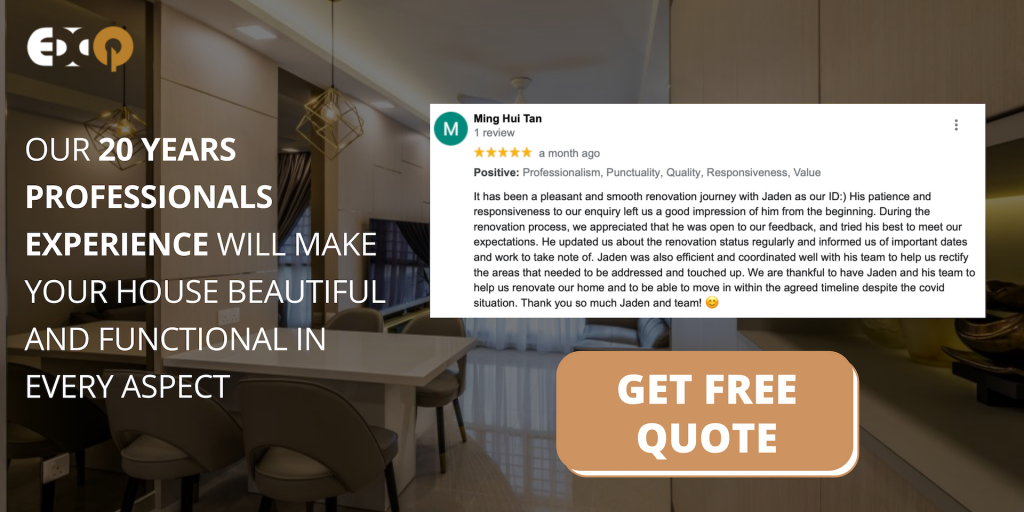 20 years professionals experience
In Exqsite, our team of 20 years professionals experience will make your house beautiful and functional in every aspect, with an eye on detail and perfection. We guarantee you will be satisfied! Here are things that you will get from us:
We provides high quality workmanship with reasonable prices
We put our clients first by serving them friendly customer service
Employees of over 20 years of experience
Make your renovation situation easier with us. Click here for the solution of your renovation problems.
11 Space-saving Ideas For A Small Bedroom in Singapore