The office design is one of the most important aspects of any office. It reflects the personality and branding of your company, as well as provides a space for employees to work together in comfort. The office environment can also play an important role in retaining or attracting talented employees.
To give your place design and individuality, you don't have to be a Fortune 500 company like Zappos, Google, or Groupon. Here are five cost-effective design tips to get you started in designing or remodeling your workplace space.
Here are 5 affordable office design ideas that will make you drool!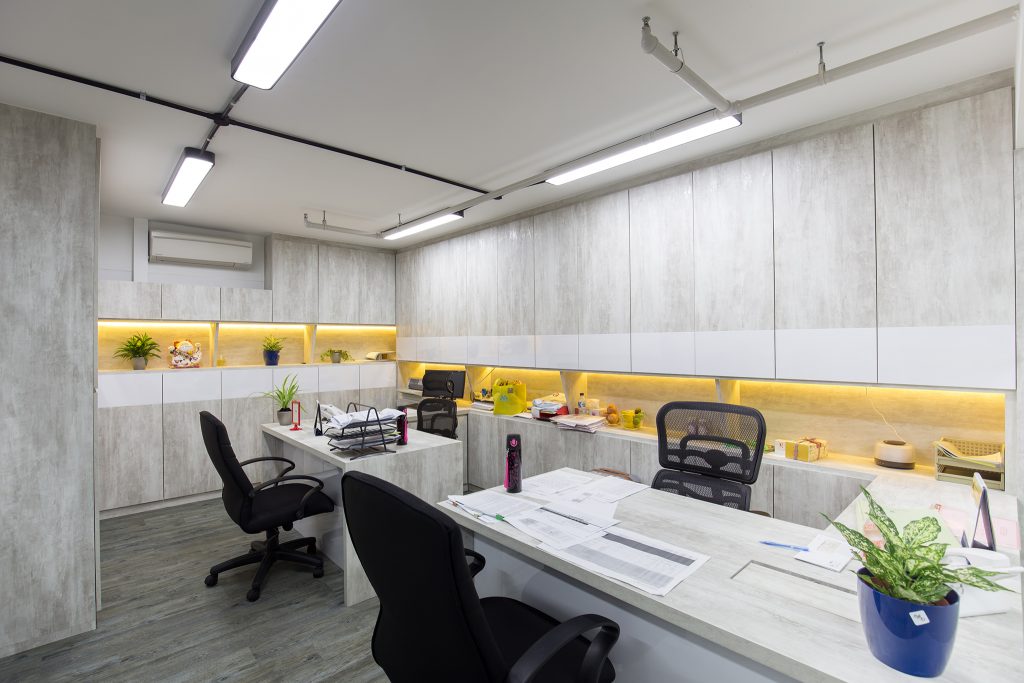 PAINT
One of the most cost-effective ways to remodel and redesign your workplace space is to use paint. Choosing the right colors for your office can help to define and bring it to life. Bold and vivid hues are among the most recent workplace furniture and decor trends. Paint colors can be chosen to compliment or contrast the colors of the desk or cubicles, as well as the textiles of the desk chair. Take a look at the photographs below.
ARTWORK
Office artwork is a way to add color, personality and story to your office space. The art work can tell the company origins, stories style and purpose through creative paintings or design on walls,. as well as on office furniture. When designing your office space, consider going with a gallery wall to give it character and personality.
STORAGE
Storage is another area where you have the opportunity to bring out creativity in office design ideas that will make you drool! One of the easiest ways is through decorative storage containers or totes which can be used to store office supplies such as paper, pens and pencils. This creates a more organized space that is aesthetically pleasing at the same time.
SIGNAGE
Office signage is a vital part of your office's overall look and feel, as well as your company's identity. Vinyl decals are being used in office spaces to clearly display the company's goal, vision, and inspiration on the walls. Vinyl decals are a popular trend in workplace decor that adds enormous, bold artwork to large, barren walls. The cost of decals varies.
WHITEBOARDS
Although whiteboards are useful in conference rooms, the office space trend is to move them out into open areas. Whiteboards are composed of a variety of materials, including paint, vinyl decals, and glass, and are increasingly being used in public settings. In order to provide regions a fresh and dynamic aesthetic, many of these are available in a variety of colors rather than the typical white or. black.
PLANTS
Plants in the office not only look nice, but they also help to filter the air, reduce tension, and minimize noise. Adding plants to a workplace has been shown in numerous studies to enhance staff productivity by 15%. It enables the workplace to become a more enjoyable place to work, resulting in increased employee happiness and, as a result, increased earnings.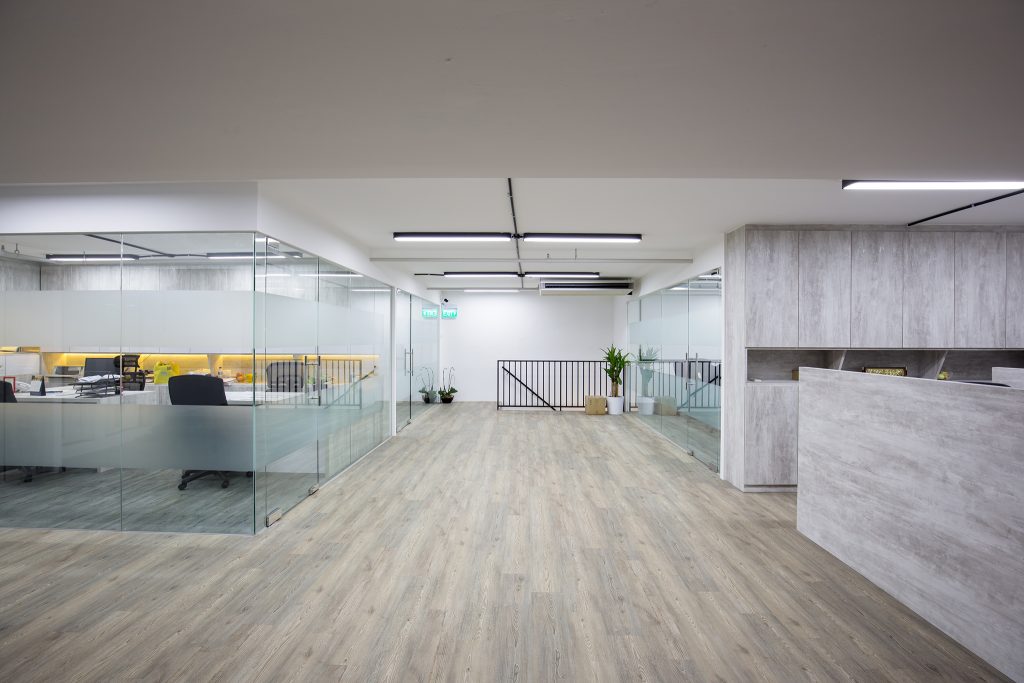 What you should do before heading into Office Renovation
Talk to your employees
Employees are the ones who will be utilising this office space to generate results for the organization. As a result, speak with them and learn about their needs. A contented workforce will inevitably increase their output. Inquire about meeting room requirements, office layouts that will satisfy their demands, collaborative workplace requirements, leisure areas, and so on. A thorough preparation of the necessities can assist you in creating the ideal layout for your office.
Find out the available office space
The next step is to figure out how much space you actually have. What is the size of the space you intend to renovate and what are your requirements? It's a good idea to make a rough estimate of the renovation expenditures. For example, in a constrained office space that needs to be renovated, you might estimate the number of people you want to bring, the number of cabins and workstations needed, and so on.
Thinking in an environment manner
While lighting, water, air conditioning, and everything else will cost you a lot of money, you may think of methods to make your place more environmentally friendly while also saving money on the copious energy that will be used. For example, a recreational or meeting space could be designed in an open atmosphere with a natural air cooling system.
Plan on the business continuity
Renovations are an investment that pays off in the long run. As a result, determine your renovation's objective as well as the influence it will have on the entire company and its staff. For example, if you want a comprehensive remodeling, you may need to consider renting an office or renting a temporary location. If you don't need it for a long time, though, you can save money by allowing your workers to work remotely. However, for minor repairs where you don't want to spend money on a rented office or when working from home isn't an option, you can renovate over the weekend or during the holidays.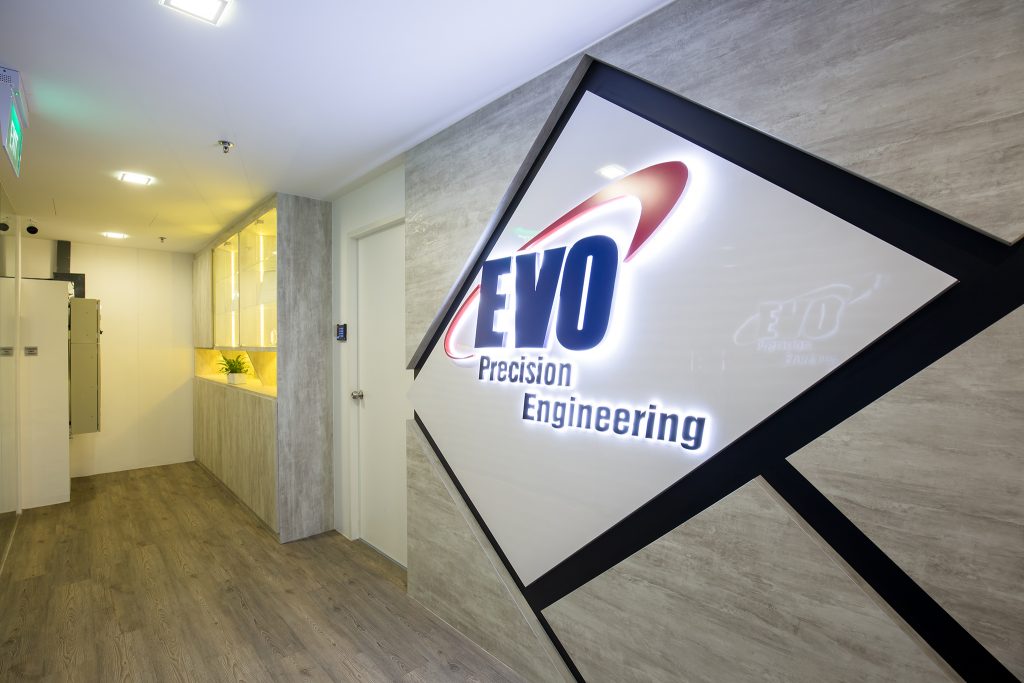 Maintain your Corporate Identity By Office Interior Design Project
When someone walks into your office, the first thing they see is the layout. As a result, the design draws immediate attention to your brand identity. The office design makes a first impression on whoever looks at it, just like we make a first impression on ourselves.
Along with the requirements and expenditures, you should consider whether the design and layout truly reflect your corporate identity. When it comes to remodeling, it's critical to think differently and creatively.
Note: When choosing a renovation contractor, don't just go with the one who offers the cheapest services.
After all, renovating your office is akin to putting on new clothes for your business.
Exqsite Office Interior Design Singapore
Do you want to renovate your office in Singapore? Are you looking for a professional interior design project management in Singapore? You can contact Exqsite. Exqsite can help you to renovate your house, office and other places. Exqsite always places our homeowner's needs and requirements, provides creative and effective solutions to all problems, Exqsite always obtains feedback, monitoring and inspecting the renovation process closely to give homeowners a peace of mind.
You can totally trust Exqsite because Exqsite is a professional interior designer company and has received a lot of achievements such as HDB licensed renovation contractor, ACS registrars, ACS registrars and bizSafe star. So what are you waiting for? Call Exqsite and discuss your new interior design!

5 Affordable Office Design Ideas That Will Make You Drool