Welcome to the vibrant world of home decor in Singapore, where personal style meets cultural diversity in a captivating dance of creativity. In this bustling city-state, home decoration has emerged as an essential expression of individuality, transforming living spaces into personalized sanctuaries. With an ever-growing trend of interior design enthusiasts, finding the perfect decor to suit your taste and lifestyle is an exhilarating adventure.
From sleek and modern minimalist styles to the rich heritage of traditional and ethnic decor, Singapore offers an array of choices to cater to every aesthetic preference. So, join us as we embark on a thrilling journey through the bustling shopping districts, uncover hidden gems in flea markets, explore the realms of online retailers, and discover eco-friendly and sustainable options to adorn your living spaces. Whether you're a seasoned interior design aficionado or a first-time decorator, get ready to be inspired by the abundance of possibilities that await you in the dynamic world of home decor in Singapore.
What are the most popular home decor designs in Singapore?
When it comes to home decor styles in Singapore, the city embraces a diverse range of aesthetics to suit different tastes and preferences. Whether you prefer clean lines and simplicity or are drawn to the rich heritage of traditional designs, Singapore has something for everyone.
Minimalist and Contemporary
Minimalism and contemporary styles are highly favored among modern urban dwellers in Singapore. These styles prioritize clean lines, uncluttered spaces, and a neutral color palette, creating a serene and calming ambiance within the home. Furniture pieces often feature sleek and functional designs, promoting a sense of openness and airiness. Decorative accents are kept to a minimum, with a focus on purposeful and statement pieces. The minimalist and contemporary style appeals to those seeking a clutter-free and sophisticated living environment.
Neutral Color Palette: Minimalist and contemporary decor often incorporate neutral color schemes, including whites, grays, and earthy tones, which contribute to a timeless and elegant appeal.

Functional Furniture: Emphasis is placed on functional furniture pieces that serve their purpose without unnecessary ornamentation, promoting a sense of simplicity and practicality.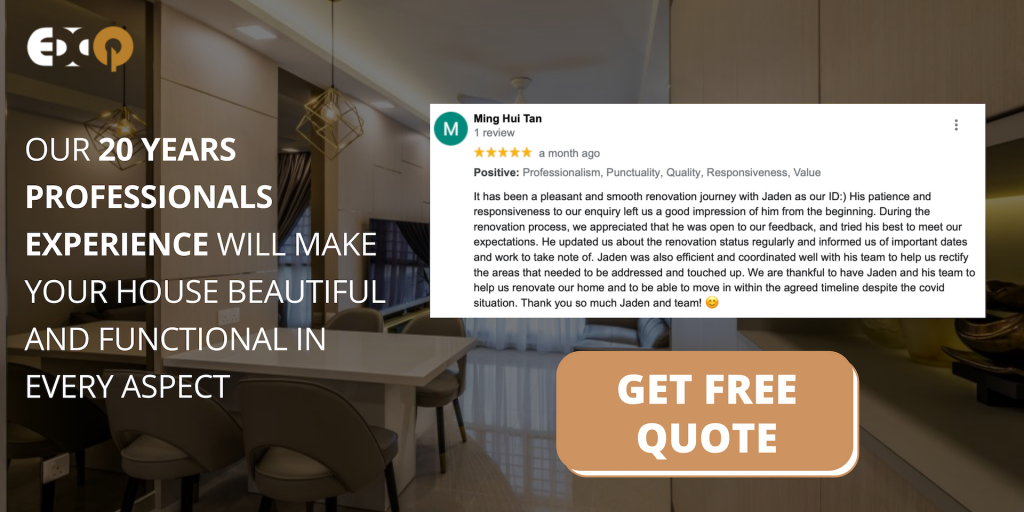 Traditional and Ethnic
Singapore's multicultural heritage is reflected in the popularity of traditional and ethnic home decor styles. These styles celebrate the rich history and cultural diversity of the city, infusing homes with warmth, vibrancy, and a touch of nostalgia. Traditional decor often features ornate details, intricate patterns, and vibrant colors, creating a welcoming and expressive atmosphere that honors the past.
Vibrant Color Schemes: Traditional and ethnic decor styles embrace vibrant color palettes, including bold reds, blues, and yellows, reflecting the energetic spirit of various cultures.

Intricate Patterns and Designs: Decorative elements such as intricate carvings, detailed motifs, and artisanal crafts showcase the skilled craftsmanship and cultural significance behind each piece.

Modern and Industrial
For those who gravitate towards a more edgy and contemporary vibe, modern and industrial styles offer a compelling option. Inspired by the urban landscape, these styles fuse raw materials and sleek designs, resulting in a chic and urban aesthetic. Exposed brickwork, metal accents, and minimalist furnishings come together to create a stylish and sophisticated ambiance that resonates with the city's modern atmosphere.
Industrial Materials: Modern and industrial decor often feature industrial materials such as concrete, steel, and distressed wood, contributing to an urban and loft-like feel.

Clean and Streamlined Designs: The focus on clean and streamlined designs adds a sense of sophistication and modernity to the space, accentuating its urban charm.

Where to shop for home decor in Singapore?
Singapore is a treasure trove for home decor enthusiasts, boasting various shopping districts that cater to diverse tastes and styles.
Orchard Road
Among the most famous districts is Orchard Road, a bustling hub of fashion and design, where you can find an extensive array of home decor wonders.
Department Stores: Orchard Road's prestigious department stores offer a wide range of home decor items, from exquisite rugs to elegant wall art and chic furnishings, catering to various tastes and preferences.

Designer Boutiques: Embrace sophistication and individuality with the exclusive and distinctive pieces showcased in Orchard Road's designer boutiques. These boutiques curate collections that exude luxury and artistry, making them perfect for those seeking unique statement pieces.

Furniture Showrooms: Explore the latest interior design trends and innovations at Orchard Road's furniture showrooms, where you'll find an impressive range of furniture to suit diverse interior themes, from contemporary to classic styles.

Chinatown
Venture to Chinatown, a charming district where echoes of tradition and culture resonate in every corner, offering a delightful selection of traditional and ethnic home decor.
Specialty Shops: Chinatown's specialty shops display an array of traditional home decor items, such as ornate lanterns, embroidered tapestries, authentic Chinese ceramics, and antique pieces, offering a glimpse into Singapore's rich cultural heritage.

Antique Stores: Delve into history and uncover rare and exquisite home decor pieces at Chinatown's antique stores, which add an air of elegance and historical charm to your living space.

Artisanal Crafts: Experience the artistry of local craftsmen as you explore Chinatown's craft shops, where meticulously handcrafted decor items reflect Singapore's cultural tapestry.

Joo Chiat/Katong
In the district of Joo Chiat/Katong, the essence of Peranakan culture blends seamlessly with modern influences, making it a delightful destination for quirky and unconventional home decor finds.
Peranakan Decor: Joo Chiat/Katong boasts a vibrant selection of Peranakan-inspired home decor items, from intricate Nyonya porcelain to eye-catching decorative tiles, adding cultural flair to your living space.

Quirky Boutiques: Embrace creativity with the eclectic boutiques in Joo Chiat/Katong, offering one-of-a-kind decor pieces perfect for those seeking a whimsical and playful touch.

Dempsey Hill
For those with a taste for upscale home decor and garden beautification, Dempsey Hill is a must-visit destination.
Upscale Home Stores: Dempsey Hill hosts upscale home stores featuring exquisite furnishings and decor pieces that exude luxury and refinement.

Garden and Outdoor Decor: Spruce up your outdoor spaces with Dempsey Hill's garden decor offerings, including tasteful ornaments and furniture to transform your garden into a tranquil oasis.

From luxurious designer boutiques to culturally rich specialty shops and the charm of Peranakan-inspired finds, each shopping district in Singapore offers a distinct and captivating experience.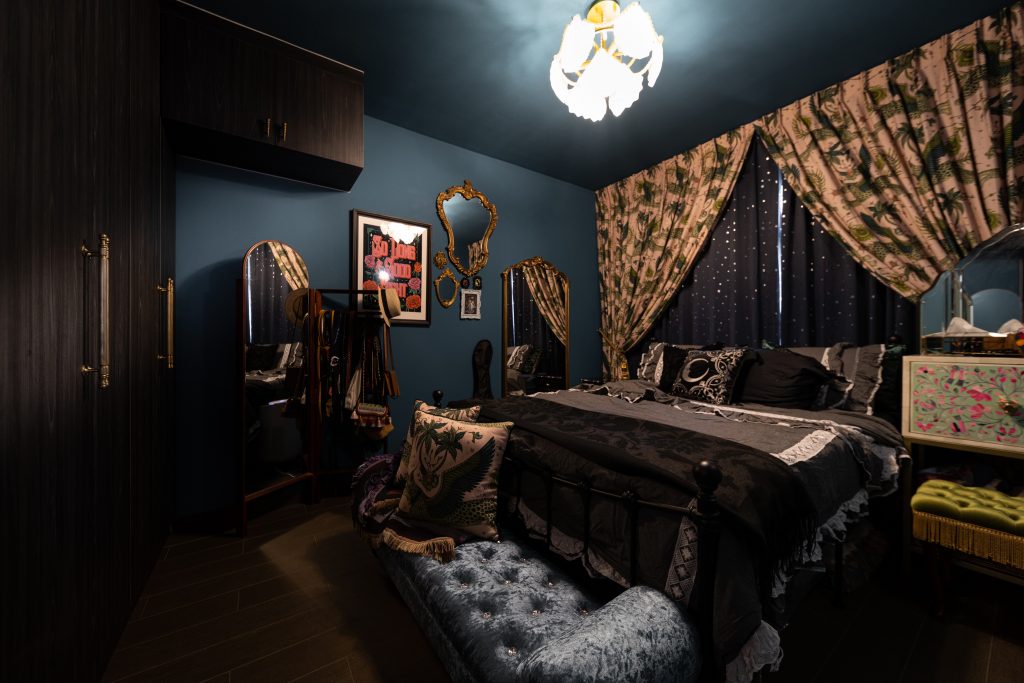 Is there a website or online retailer to shop home decor in Singapore?
In the digital age, online shopping has become an indispensable part of the home decor experience, offering convenience and an extensive array of options. Singapore boasts several reputable online retailers that cater to various home decor preferences and needs.
Lazada
Lazada is a prominent online marketplace that stands out for its wide range of home decor products, making it a one-stop destination for all your interior needs.
Range of Products Available: Lazada offers an extensive collection of home decor items, from furniture and lighting fixtures to wall art and decorative accents. Whatever your style, you're sure to find the perfect pieces to adorn your living space.

Customer Reviews: Gain insights into the quality and authenticity of products through customer reviews, helping you make informed decisions and ensuring a satisfactory shopping experience.

Shopee
Shopee, another popular online shopping platform in Singapore, entices home decor enthusiasts with its attractive deals and discounts.
Deals and Discounts: Shopee regularly offers appealing deals and discounts on home decor items, making it a cost-effective choice for budget-conscious shoppers without compromising on style.

Seller Ratings: Shop with confidence as Shopee provides seller ratings, allowing you to evaluate the reputation and reliability of sellers before making a purchase.

HipVan
HipVan is renowned for its unique and stylish home decor selection, providing shoppers with a curated collection of trendy and distinctive pieces.
Unique and Stylish Selection: HipVan curates a collection of decor items that stand out from the ordinary, allowing you to infuse your living spaces with your individual flair and personality.

User-Friendly Interface: Navigate through HipVan's user-friendly website with ease, making your online shopping experience seamless and enjoyable.

Naiise
Naiise is a haven for those seeking home decor items that support local talent and eco-friendly initiatives.
Local and Independent Designers: Naiise champions local and independent designers, offering a platform for unique creations that reflect Singapore's vibrant artistic community.

Eco-Friendly Options: For eco-conscious shoppers, Naiise provides a selection of eco-friendly home decor items that promote sustainability without compromising on style.

With these reputable online retailers, finding the perfect home decor pieces has never been easier.
Where to find unique finds in flea markets or thrift stores?
For those in search of unique and one-of-a-kind home decor finds, Singapore offers a treasure trove of hidden gems in thrift stores and flea markets. These places not only provide an exciting shopping experience but also allow you to discover eclectic pieces that add character and charm to your living spaces.
Haji Lane Flea Market
Nestled in the heart of the bustling Kampong Glam district, Haji Lane is a vibrant and colorful enclave known for its trendy boutiques and quirky cafes. On weekends, Haji Lane comes alive with its charming flea market, where local artisans and independent sellers gather to showcase their handcrafted goods and vintage treasures.
Artisanal Crafts: At Haji Lane's flea market, you'll find an array of artisanal crafts, including handmade ceramics, unique artwork, and bespoke home decor items that embody Singapore's creative spirit.

Vintage Finds: Embrace the thrill of hunting for vintage pieces as you explore the flea market's offerings, from retro furniture and classic home accessories to nostalgic collectibles.

Zhai Eco Collection
For eco-conscious shoppers who seek sustainable and eco-friendly home decor, Zhai Eco Collection provides a thoughtfully curated selection of eco-conscious products made from natural and renewable materials.
Sustainable Materials: Zhai Eco Collection focuses on sustainable materials such as bamboo, rattan, and reclaimed wood, offering an eco-friendly option to decorate your living spaces.

Handcrafted and Ethical: Each item in the Zhai Eco Collection is handcrafted with care, ensuring ethical and responsible production practices that align with your eco-conscious values.

Salvation Army Thrift Stores
Singapore's Salvation Army thrift stores offer a unique shopping experience while supporting a good cause. These thrift stores sell second-hand items, including home decor pieces, at affordable prices, making them ideal for budget-conscious shoppers.
Budget-Friendly Finds: Browse through the aisles of the Salvation Army thrift stores to discover budget-friendly home decor finds that don't compromise on style or quality.

Sustainable Shopping: By shopping at Salvation Army thrift stores, you contribute to sustainable shopping practices, reducing waste and giving pre-loved items a new lease on life.

In conclusion
As we conclude our adventure through the captivating world of home decor in Singapore, let your imagination take flight, guided by the boundless possibilities that surround you. Your living space is not merely a structure; it is a canvas upon which you can paint your personality, a sanctuary where you can express your true self.
From the bustling streets of Orchard Road to the charming alleys of Chinatown, and the hidden treasures of Joo Chiat/Katong, Singapore offers a kaleidoscope of styles, colors, and textures to breathe life into your home. Embrace the excitement of uncovering unique finds in thrift stores and flea markets.
So, embrace the spirit of adventure, blend innovation with tradition, and turn your house into a reflection of your soul. Let the spirit of Singaporean home decor awaken your inner artist and elevate your living space into a mesmerizing masterpiece. Your dream home awaits, so step into this enchanting world and let your decor journey begin!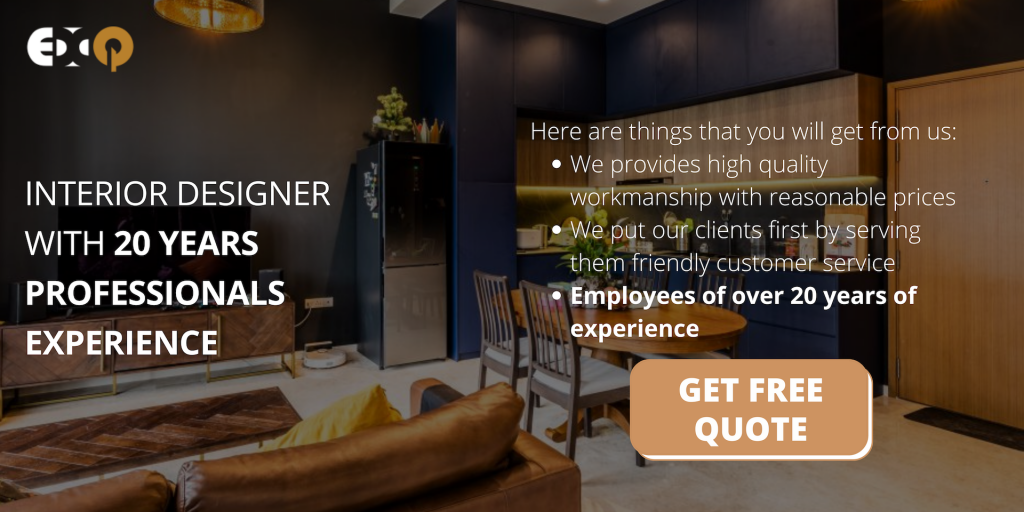 Design your dream house with Exqsite
20 years of professionals experience
In Exqsite, our team of 20 years of professional experience will make your house beautiful and functional in every aspect, with an eye on detail and perfection. We guarantee you will be satisfied! Here are things that you will get from us:
We provide high-quality workmanship at reasonable prices
We put our clients first by serving them friendly customer service
Employees with over 20 years of experience
Make your renovation situation easier with us. Click here or visit our showroom at 8 Boon Lay Way Tradehub21 #01-18 Singapore, Singapore 609964 for the solution to your renovation problems.
Frequently Asked Question
1) Where can I find trendy and modern home decor styles in Singapore?
Answer: You can find trendy and modern home decor styles in popular shopping districts like Orchard Road, which houses various department stores, designer boutiques, and furniture showrooms with contemporary designs to suit your taste.
2) Are there options for those who prefer traditional and ethnic home decor in Singapore?
Answer: Absolutely! For traditional and ethnic decor enthusiasts, Chinatown is a fantastic destination with specialty shops, antique stores, and artisanal crafts that showcase Singapore's rich cultural heritage.
3) Are there any unique and quirky home decor boutiques in Singapore?
Answer: Yes, you can explore Joo Chiat/Katong, an area known for its Peranakan decor and quirky boutiques that offer unconventional and distinctive pieces to add character to your living space.
4) What are some reliable online retailers for home decor in Singapore?
Answer: Singapore has several reputable online retailers like Lazada and Shopee, which offer a wide range of products, customer reviews, and seller ratings, making it convenient to shop for home decor from the comfort of your home.
Where to Buy Home Decor in Singapore?