Welcome to the ultimate guide on choosing the perfect commercial interior design firm for your business needs in Singapore. Whether you're starting a new venture or looking to revamp your existing workspace, making the right choice can significantly impact your brand image and overall success.
In this article, we'll explore the ins and outs of commercial interior design and provide ten actionable tips for finding the ideal firm even on a small budget. Additionally, we'll uncover the key benefits of investing in interior design for commercial purposes. So, let's dive in and create a space that inspires!
What is Commercial Interior Design?
interior design goes beyond aesthetics; it's about creating functional spaces that align with your brand and business goals. It involves utilizing design, color, lighting, and spatial arrangement principles to transform an ordinary space into an extraordinary one. By understanding how commercial interior design impacts customer perception, employee productivity, and overall business performance, you can harness the true power of your workspace.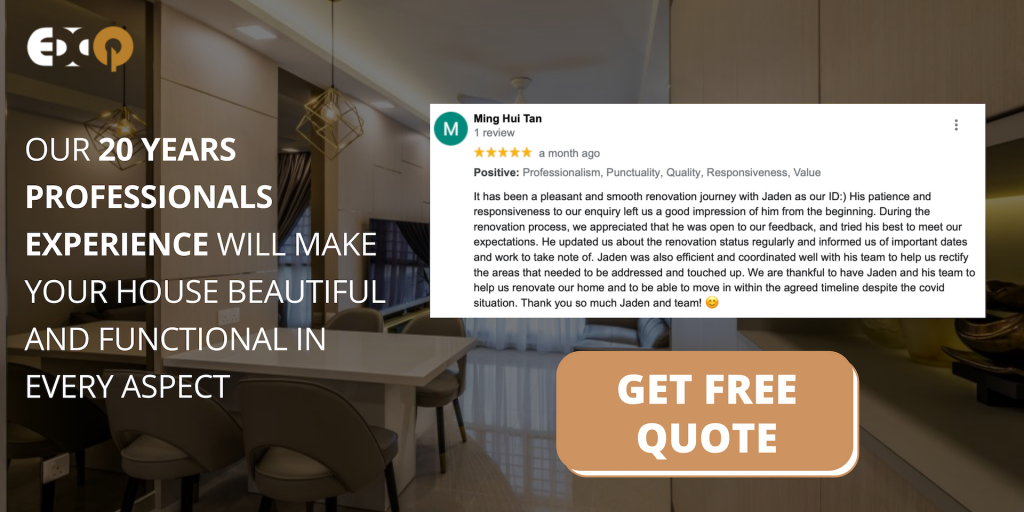 What are the Elements that Shape Exceptional Commercial Interiors?
Successful commercial interior design is a delicate balance between creativity and functionality. It encompasses various elements such as space planning, furniture selection, lighting design, color schemes, and branding integration. These elements contribute to creating an environment that reflects your brand identity, enhances workflow, and optimizes the customer experience.
How to Find Perfect Commercial Interior Design in Singapore with a Small Budget Renovation?
1) Researching and Shortlisting
Navigating the Interior Design Jungle Begin your journey by researching and shortlisting potential commercial interior design firms in Singapore. Explore online directories, check websites, and gather recommendations from trusted sources. Pay attention to firms that specialize in commercial projects and align with your specific industry or design preferences.
2) Portfolio Evaluation
Unveiling the Designer's Creative Superpowers Take a closer look at the portfolios of the shortlisted firms. Please be sure to look for projects similar to yours, paying attention to their design style, versatility, and attention to detail. A firm with a diverse and impressive portfolio demonstrates its ability to adapt to different business needs and deliver outstanding results.
3) Quotes and Pricing
Balancing Quality and Cost Request quotes from the shortlisted firms and compare their pricing structures. Remember that price alone shouldn't be the sole determining factor. Consider the quality of their work, the level of expertise they offer, and the value they bring to your project. Strive for a balance between quality and cost to ensure you get the best return on your investment.
4) Client Reviews and Testimonials
A Glimpse into the Designer's Superhero Abilities Explore client reviews and testimonials to gauge the experiences of previous clients. Pay attention to factors such as communication, timeliness, problem-solving skills, and overall client satisfaction. Positive reviews and testimonials serve as a testament to the designer's professionalism, reliability, and ability to exceed client expectations.
5) Negotiation Ninja
Striking a Deal That Works for You Once you've identified your preferred firm, engage in negotiations to finalize the terms of the project. Discuss pricing, project scope, timelines, and any specific requirements you may have. A successful negotiation ensures both parties are aligned and sets the foundation for a fruitful collaboration.
6) Trusted Recommendations
Harnessing the Power of Word-of-Mouth Seek recommendations from trusted sources such as colleagues, friends, or industry professionals who have worked with commercial interior design firms in Singapore. Their firsthand experiences can provide valuable insights and help you make an informed decision.
7) Showrooms and Projects
Experiencing the Designer's Signature Style Visit showrooms or completed projects by your shortlisted firms. Experiencing their work firsthand allows you to assess the quality of craftsmanship, attention to detail, and overall design aesthetic. It also provides an opportunity to visualize how their style aligns with your vision.
8) License and Certifications
Ensuring a Legit Superhero Designer Verify the licenses and certifications of the shortlisted firms. Legitimate commercial interior design firms should possess the necessary accreditations and certifications to ensure compliance with industry standards and regulations. Working with licensed professionals gives you peace of mind and reassurance of their expertise.
9) Contract and Timeline
Sealing the Partnership Before finalizing your choice, ensure you have a clear and comprehensive contract in place. The contract should outline the project scope, timelines, deliverables, payment terms, and any other relevant details. Review the contract carefully and address any concerns before signing to avoid misunderstandings or disputes later.
10) Search for A Resourceful Designer that Understands Your Budget
Budget Constraints? No Problem! A Resourceful Designer Makes Magic Happen Don't let a small budget limit your possibilities. Look for commercial interior design firms that understand the importance of budget constraints and have a track record of delivering exceptional results within limited resources. A resourceful designer can find creative solutions, suggest cost-effective alternatives, and maximize the impact of your budget.
What are the Benefits of Doing Interior Design for Commercial Purposes?
1) Branding Brilliance
Elevating Your Business's Image Commercial interior design plays a crucial role in establishing and reinforcing your brand identity. Through strategic use of colors, branding elements, and visual storytelling, your workspace can create a lasting impression on clients and enhance brand recognition.
2) The Magic of Functionality
Crafting an Efficient Workspace Efficient space planning and ergonomic design contribute to a well-organized and productive workspace. A thoughtfully designed layout can optimize workflow, facilitate collaboration, and improve employee efficiency and satisfaction.
3) Productivity Power-Up
Inspiring Your Superhero Team A well-designed commercial space has the potential to inspire and motivate employees. Incorporating elements like natural light, comfortable furniture, and inspiring decor can boost employee morale, creativity, and productivity.
4) Customer Experience Exemplified
A Space That Wows A visually appealing and customer-centric environment can leave a lasting impact on your clients. Thoughtful design choices, such as creating welcoming reception areas or designing engaging retail spaces, can enhance the customer experience, encourage repeat business, and generate positive word-of-mouth.
5) Value Vortex
Amplifying Your Property's Market Worth Investing in commercial interior design can increase the market value of your property. A well-designed space attracts potential buyers or tenants, making it a valuable asset should you decide to sell or lease in the future.
Frequently Asked Questions (FAQs) on Choosing a Commercial Interior Design Firm
1) What Should I Consider When Selecting a Commercial Interior Design Firm?
Consider factors such as their experience in commercial projects, expertise in your industry, design style, client testimonials, and the ability to work within your budget and timeline.
2) How Can I Determine the Expertise of a Commercial Interior Design Firm?
Assess their portfolio, client references, certifications, and awards. Look for a track record of successful commercial projects and their ability to deliver on clients' requirements.
3) Designing on a Budget: Can I Achieve Quality Results?
Yes, working with a resourceful and experienced commercial interior design firm can help you achieve remarkable results even on a limited budget. They can suggest cost-effective solutions, prioritize essential elements, and maximize the impact of your investment.
4) Time Travel: How Long Does a Commercial Interior Design Project Take?
The duration of a commercial interior design project depends on various factors, including the scope and complexity of the project. Typically, it can range from a few weeks to several months. Discuss timelines and project milestones with your chosen firm to establish realistic expectations.
5) Superhero or Sidekick: How Involved Should I Be in the Design Process?
Your level of involvement in the design process depends on your preferences and availability. While it's important to provide input and communicate your vision, trust the expertise of your chosen firm and allow them to unleash their creative powers.
Congratulations! You're now equipped with the knowledge and superhero-like insights on choosing the perfect commercial interior design firm. By understanding the fundamentals of commercial interior design, conducting thorough research, and considering your budgetary constraints, you'll discover a partner who can bring your vision to life.
Remember, a well-designed commercial space has the power to transform your brand, enhance productivity, and create unforgettable experiences. So go ahead, embrace your inner superhero, and embark on an exciting journey of creating a workspace that inspires success!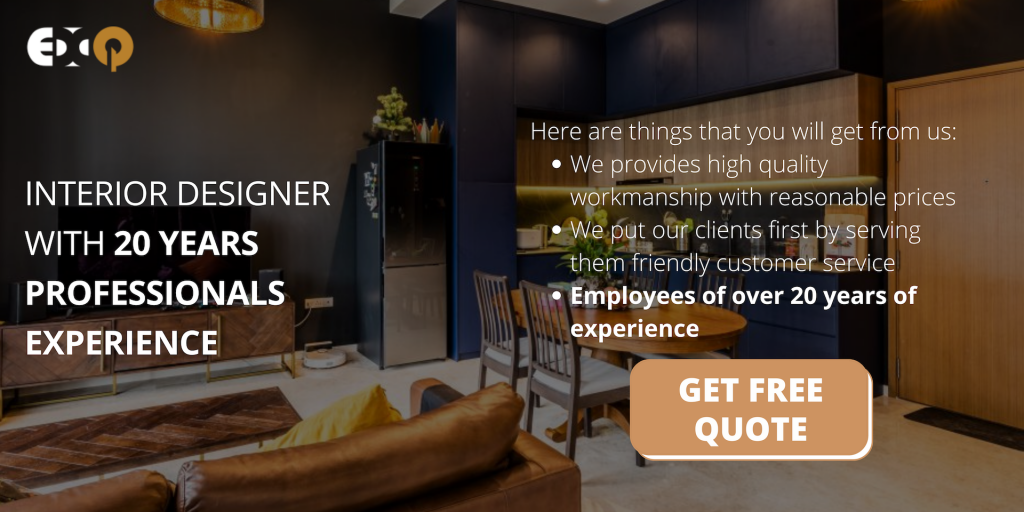 Unleash Your Business's Potential with Exqsite
20 years of professionals experience
In Exqsite, our team of 20 years of professional experience will make your house beautiful and functional in every aspect, with an eye on detail and perfection. We guarantee you will be satisfied! Here are things that you will get from us:
We provide high-quality workmanship at reasonable prices
We put our clients first by serving them friendly customer service
Employees with over 20 years of experience
Make your renovation situation easier with us. Click here or visit our showroom at 8 Boon Lay Way Tradehub21 #01-18 Singapore, Singapore 609964 for the solution to your renovation problems.
How do I Choose a Commercial Interior Design Firm for Small Budget Renovation?