Have you been longing for a new home decor Singapore? Or do you need to have your home renovated, but still confused about how to choose the home furniture shop in Tradehub 21 Singapore? Well, you have come to the right place. Here, you will find several home accessories shops to fulfill your desires to renovate your HDB flat, condo, or a new landed property!
How to Choose a Furniture or Home Decor Shopping in Singapore?
In Singapore, you will find a lot of home decor stores in every corner of the whole area. Especially if you live around Tradehub 21, you might be confused whether to visit this one shop, that shop, or the shop over there with sofa sale 2020 – 2021? Oh, wow, a lot to consider! But, do not worry, here is the list of things that you should check before heading to the stores to buy some SG home furnishing.
The quality of the furniture in Singapore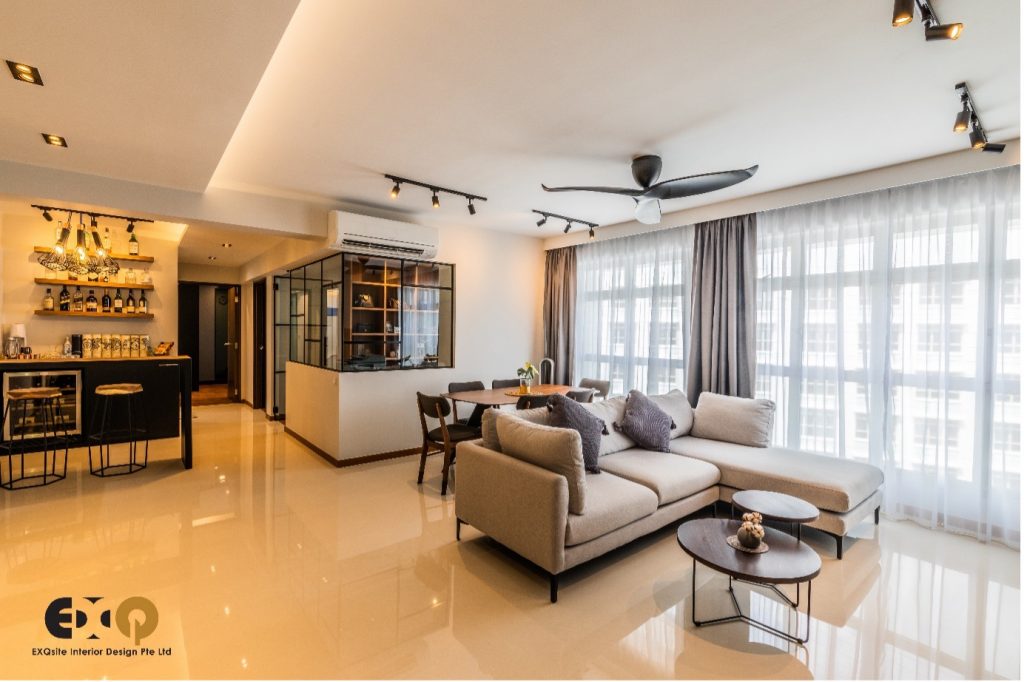 First, see the quality of each product. Does the store sell high quality products, or basic quality products with minimum price? That might be tricky, but you can make sure by doing some research on home materials online so you understand which one has an everlasting quality and which one is not.
The price of the furniture
Sometimes when going home decor shopping, you will be offered two options; pricey and cheap products for shopping home. But, one thing you should know is that costly items do not always carry the perfect quality. Usually, it is best to suit everything with your needs and budget when you are shopping. You can always choose between buying some expensive things to fit the aesthetic desires for your home renovation or less costly things with good qualities.
You do not need to sigh, Exqsite Interior Designer can help to give you recommendations of excellent quality and adjustable prices based on your budget when you are on a shopping spree for new furniture. Try to contact Exqsite Interior now and see what we have gotten for you!
The after-sales and service of the furniture
Next, make sure the workers provide you good service when you are shopping, such as responding to your problems (for instance, which one to choose bathroom accessories that match the room's dominant color, or what to buy for your bedroom lighting when shopping home furniture?), or simply give you a friendly and polite discussion. Good service leads to good results, especially if you need some advice regarding home decors.
With Exqsite Interior, you will get good feedback and recommendations that are related to your dream home interior design or furniture shopping home! Just discuss every little detail with us and we assure you obtain the design you have always dreamed of.
Where to Buy SG Home Decor pr furniture in Tradehub 21 Shops?
You can drive along the Boon Lay Road, and there you will find buildings that stock excellent and complete furniture stores worth your shopping visit.
Shopping home for furniture in Singapore
We've picked out the best furniture stores for you to go shopping home and spend your money on.
This is the definitive book on which Singapore furniture stores you should visit and where you can buy what you need for shopping home. If you're looking for a new sofa, table, chair or bed, this is the book you've been waiting for.
There are many kinds of furniture shops including Asian, contemporary, chic, recycled and vintage furniture for you to go shopping.
If you're after a good sofa, antique lamp, modern dining table, or a cute kid's bed, then you need to shop! And Amazon makes it easy.
Originals
Take a trip to the massive warehouse space at Bukit Batok for recycled furniture from India and Java as well as functional and contemporary tables and chairs, sofas, coffee tables, beds and accessories for you to shopping home.
You'll find bright and neutral rugs, throw pillows, and bedding. If you love the outdoors, then you need to see this! They got a brand new line of products, including beautiful rugs and hand-knotted throws, plus an outdoor section. You should definitely check this stuff out when you go on a shopping spree.
V-Hive
V-Hive has a collection of cheap, chic, and trendy furniture pieces that are mostly suitable for any type of home. Make sure you understand what you need for your home renovation, probably adapting a modern style, classic, one, or even Japanese interior.
Scanteak
Next to V-Hive, there is Scanteak which has a lot of teak-made furniture. The designs are simple but classy. If you are looking for any Scandinavian style of furniture, materials, or accessories, just try this place and find things that suit you the best.
Oriental Handicraft
As the meaning of its name, Oriental Handicraft serves you the combination of traditional and modern furniture styles. The furniture can be called timeless and mostly made of rosewood so they will last longer than usual materials used for making furniture and home accessories.
King Furnishing
Looking for some furniture sets? Here we are at King Furnishing. You can find lots of good stuff such as sofa sets, bed frames, wardrobes, and many more.
Exqsite Interior
Okay, the last but not least recommendation goes to Exqsite Interior in Singapore! Exqsite Interior was established in 2027 and has been making a huge impact toward the interior design industry. Exqsite has won several achievements such as HDB licensed renovation contractor, bizSafe Star, and more. Still wondering how Exqsite works for designing your home interior?
With Exqsite, you will always be monitored and inspected regarding the renovation process in order to give you a peace of mind. Besides, we will provide you creative and effective solutions to all your problems such as picking up the best furniture for each area in the house, or choosing the right tones.
Exqsite Interior: The Best Solution for Your Home Interior Designer
Have you ever wondered about hiring a professional home interior designer in Singapore? Well, come to our showroom at 8 Boon Lay Way Tradehub Singapore or simply give us a warm call. With our affordable home decor, we assure you get the home interior design as you wish!

5 Stores Where to Buy Home Decor in Tradehub21 Singapore